For Ukrainian American artists, music made in the U.S. can benefit a country under attack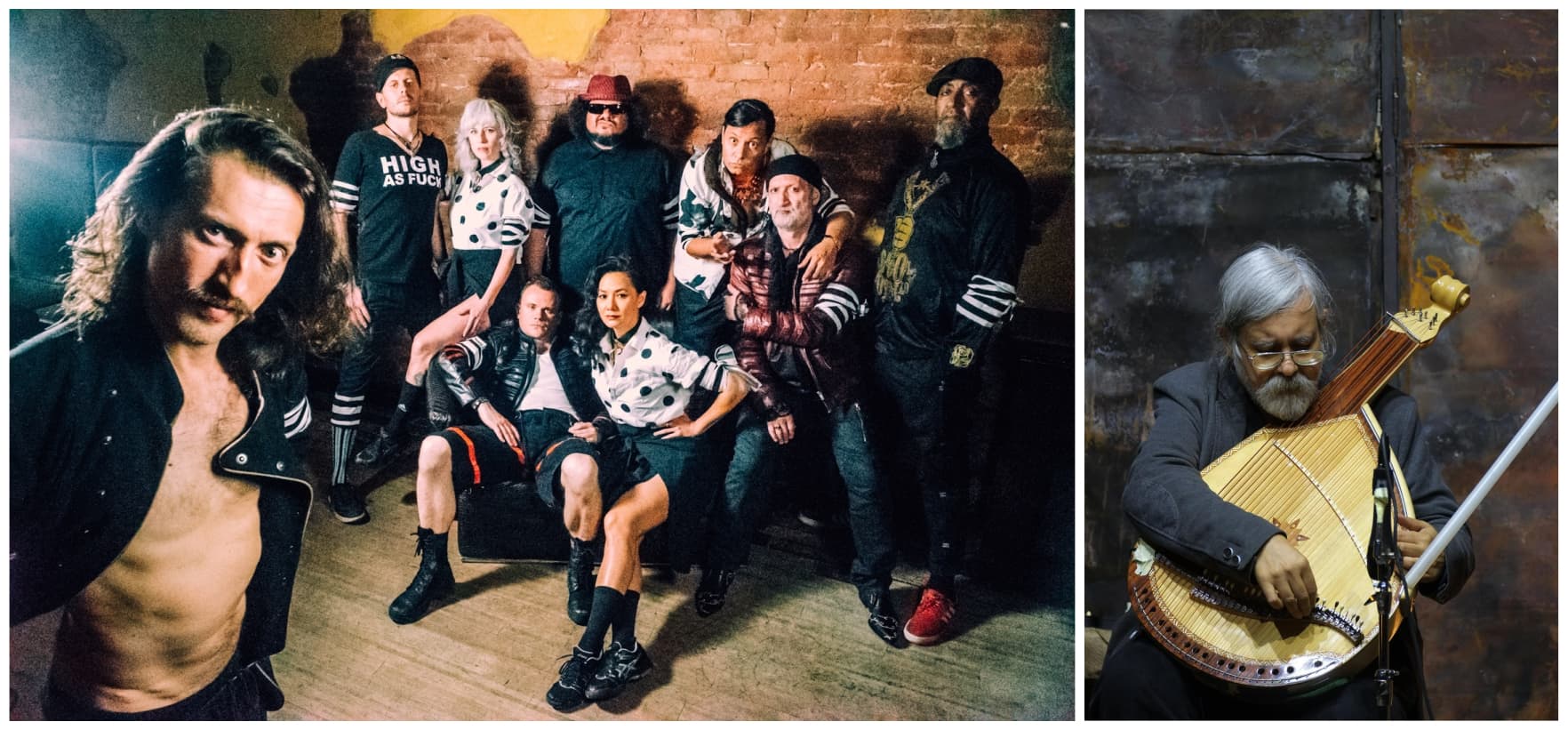 The long-running, self-described "gypsy punk" band Gogol Bordello had just finished recording its first new album in five years in February. Days later, Russia began its full-scale invasion of Ukraine, where the band's frontman Eugene Hütz was born and raised.
"We realized we had to get more Ukrainian voices involved," says Hütz. "So we're adding collaborations with the Ukrainian poet Serhiy Zhadan, and the singer Sasha [Zaritska] from the band KAZKA."
Gogol Bordello, which starts a lengthy U.S. tour at the Royale in Boston on May 4, has also been using the band's social media feed to promote ArtDopomoga, which sells art created in Ukraine during the current war.
"I've always preserved my connections with artists and musicians there, because these are my buddies that I grew up with: painters, sculptors, fashion designers," says Hütz. "It's been repurposed at the moment to strengthen the Ukrainian defense and resistance. But also, the moral support really goes a long way. When people are in the harsh realm of combat, trying to find a safe place for their children, they may feel fragmented and forlorn and completely disconnected from the world. Any glimpse of remembrance reignites their hope that the world is coming to the rescue."
Earlier this month Hütz and Gogol Bordello violinist Sergey Ryabtsev (a Russian-born critic of the invasion) released a benefit single with Primus bassist Les Claypool which pays tribute to Ukrainian President Volodymyr Zelenskyy. "Zelensky: The Man With the Iron Balls" also features Sean Lennon, Billy Strings and Police drummer Stewart Copeland. It may have an eye-popping title, but "I don't see anything irreverent about it," says Hütz. "'Balls of steel' is a common Ukrainian expression about someone who is admired. Les was really shaken up when this whole catastrophe started, and we both agreed that we needed to put out some affirmative music that comes from an insightful place so people know what's happening."
At the heart of Gogol Bordello's sound is Hütz's Romani background mixed with the punk rock that he says was like a "cultural humanitarian corridor to the rest of the world" in his youth. (He was in the audience at a 1989 Sonic Youth show in Kyiv that the band just released as a benefit for World Central Kitchen.) He and his family left Ukraine in 1989 following the Chernobyl meltdown, and lived in a series of European refugee camps before arriving in the United States. Upon seeing the current flood of refugees fleeing the war, Hütz stresses that "the current situation is much more extreme, but at the same time, once again you have the Ukrainian people fighting for identity survival, which they've done for hundreds of years against invaders."
The sight of Ukrainian refugees has also hit home for another heralded Ukrainian American musician, Julian Kytasty. The third-generation master of the lute-like bandura, Kytasty's father and grandfather were leaders of an ensemble known as the Ukrainian Bandurist Chorus, which was reconstituted by refugees who arrived in Detroit in 1949.
"The group had been functioning in Kyiv in the early months of the German occupation, and then in 1942, they were put on a train and shipped to Hamburg to manufacture U-boat parts. They managed to keep the group going in displaced persons camps after the war, and the group still continues to this day," says Kytasty, who was named an Honored Artist of Ukraine at a New York ceremony that featured Zelenskyy last September. Kytasty appears at a benefit concert produced by Journeys in Sound at the Swedenborg Chapel in Cambridge on May 1 that also includes a trio of Ukrainian Berklee students as well as klezmer, South African, and Iranian musicians.
Kytasty's first visit to Ukraine took place the same year as that fateful Sonic Youth show: 1989, right before the collapse of the Soviet Union. "You could see the plainclothes KGP guys around the fringes of events taking pictures of people, and you really got a sense of how oppressive everything must have been just a few months before," he recalls. "But it was a time when things were bubbling and it also showed that the work we'd done in the U.S. and other countries to safeguard the bandura tradition meant that it could be very quickly reintroduced into Ukraine — because at the time that tradition was almost entirely unknown there."
Even though many of the pieces in his repertoire are hundreds of years old, Kytasty finds that the lyrics seem straight out of today's headlines. One, called "Song of Truth and Falsehood," dates to the late 17th century and was a staple of the blind bandura players known as Kobzari. "It's about how the lie is passing itself out as truth and the importance of being able to tell the difference, and the song has remained timely ever since it was first sung," says Kytasty. "Another traditional song is about crowdfunding a war — it's about throwing some coins together to buy our biggest guy a horse and saddle because the enemy is coming and they want to chop down our grove and take our children captive."
For both Kytasty and Hütz, music can both show the world what is happening in Ukraine and provide aid and comfort. "We've always been about a community," says Hütz. "We share a cooperative mentality, and right now, we're going on all cylinders and we will not sleep until the victory."