Brookline teachers go on strike after failed weekend contract negotiations
Play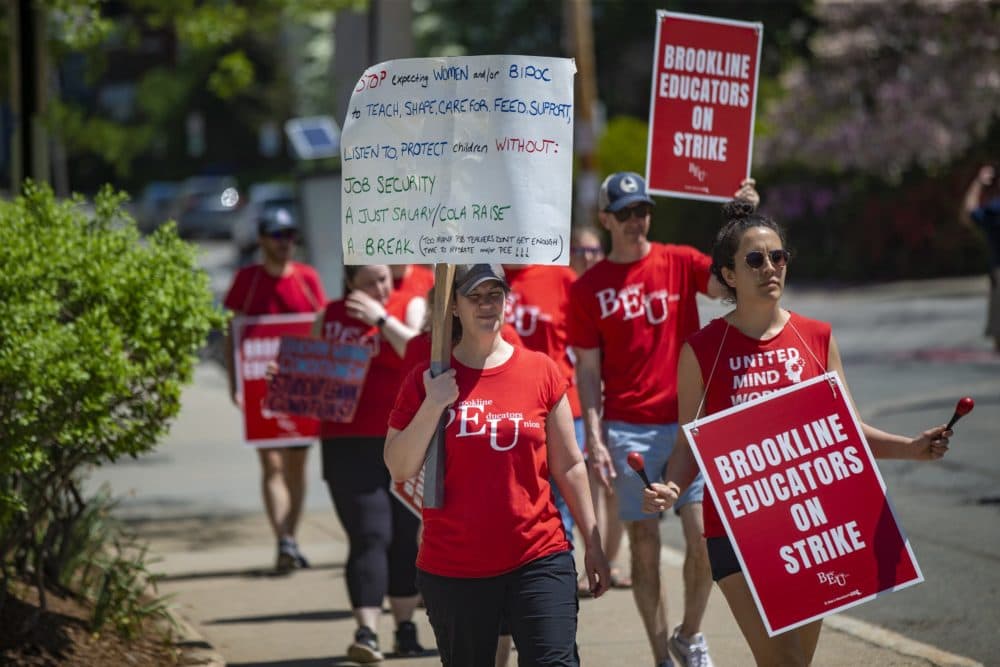 Hundreds of teachers in Brookline are on strike Monday, after the teachers' union and school committee were unsuccessful in reaching an agreement on a new contract.
Union leaders say they are fighting for higher pay, guaranteed prep time during the school day and reforms to attract and retain educators of color.
Brookline Educators Union President Jessica Wender-Shubow said the union and school leadership remain far apart on key issues after multiple rounds of negotiations over the weekend.
"We feel deeply, deeply disregarded, and that the school committee is not understanding what is happening in schools today," she said.
Brookline Superintendent Linus Guillory sent a letter out to parents Sunday night informing them schools would be closed because of the strike.
"There will simply not be the staffing capacity to operate all schools safely," the letter said.
Dozens of teachers dressed in red and holding signs picketed outside their schools Monday in a public show of solidarity.
"I think morale is great, I think we're all united to get something done and to make a point," said Eric Schiff, a Brookline High School guidance counselor and the union's chair of negotiations. "This isn't what anybody wants to do, and they're doing it. So that tells you how important it is."
School psychologist Robin Toback said she hoped the strike would lead to a breakthrough in contract negotiations.

"It's a big disruption to not only our schedule, but the kids'," she said. "We hope it gets resolved and this is only a one-day thing."
The school committee points out that strikes by public employees are illegal in Massachusetts.
Teachers' strikes are relatively rare in Massachusetts; Brookline's is the first since teachers in Dedham picketed in 2019.
The Brookline Educators Union represents over 1,000 teachers. Brookline public schools serve about 7,000 students.
The two sides are scheduled to reconvene for another mediation session Monday evening.
This article was originally published on May 16, 2022.