Dozens gather to remember Uvalde shooting victims in Copley Square
Copley Square became a love letter to Uvalde, Texas on Thursday. Nineteen backpacks were placed on the ground in the shape of a large U representing the 19 children and two teachers murdered in a mass shooting at Robb Elementary School this week. Each backpack held a bouquet. Someone added a teddy bear, another a poem by Langston Hughes called "Tired."
"I am so tired of waiting,
Aren't you,
For the world to become good
And beautiful and kind?
Let us take a knife
And cut the world in two -
And see what worms are eating
At the rind."
Strangers found solace in sharing an acute and almost tangible sense of communal grief. Many stumbled upon the event and chose to stay. The crowd swelled from a handful of people to more than three dozen people standing vigil, holding each other up and offering support. The memorial grew lush with flowers, both real and drawn in chalk around the names of each victim.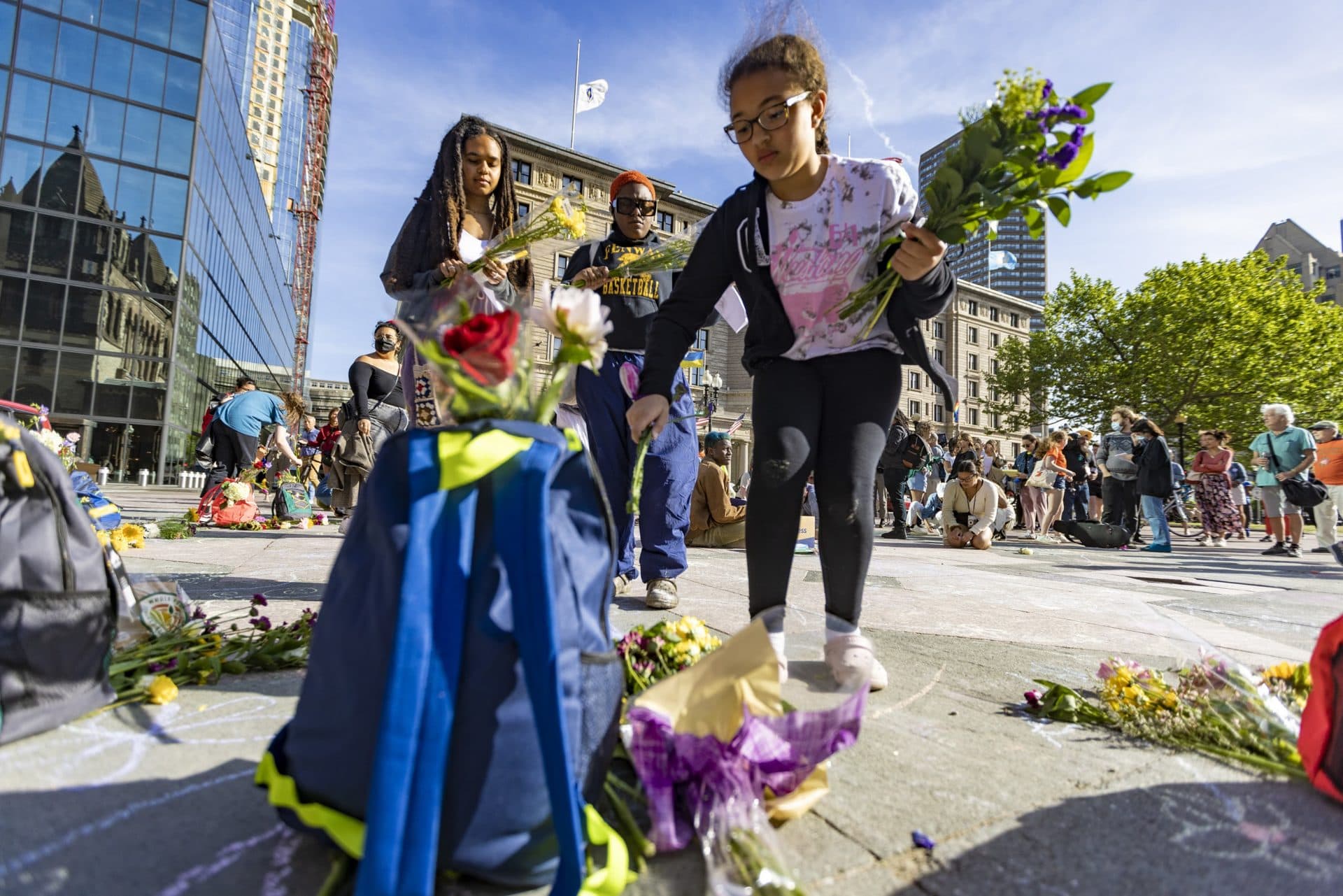 Artist Amanda Shea burned sage around the site. "I think it's important in these moments to understand that all we do have is one another," Shea said. "These things need to stop. And until we start actually putting actions in order, it's not going to stop. It's just a really sad time right now. And it's a really mournful place right now, but we have to have hope in one another and within unity that we're going to create real change."
Strangers found themselves praying together. They sang together with a chorus that encouraged them to keep the faith. They wrote tender messages in chalk in several different languages. "You will live in our hearts forever," "Rest Easy," and "Stay Loved." They shouted: "We are here for humanity's sake."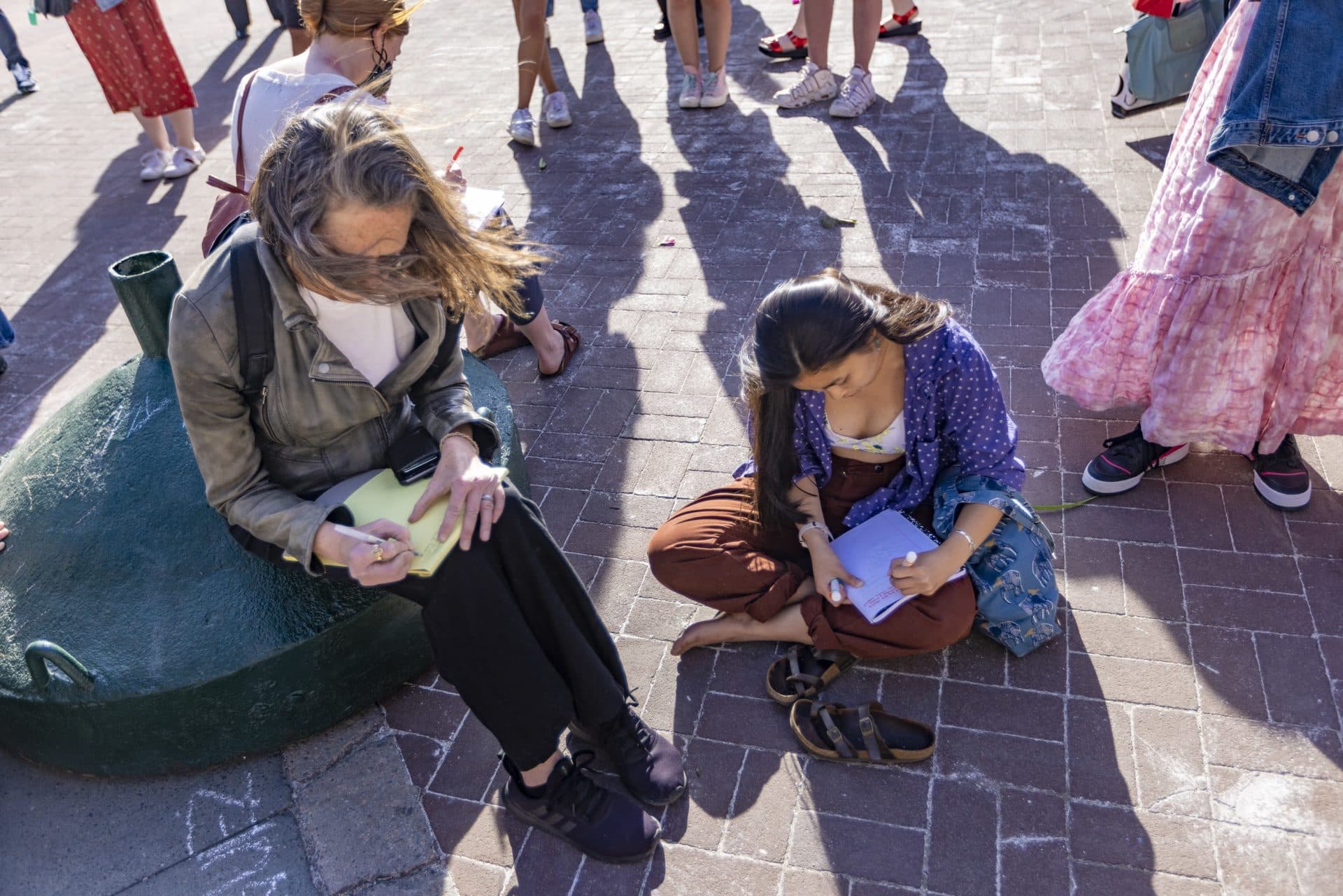 Many, like Erin Young, 20, sat on the ground and wrote missives to their elected officials, which organizers plan to deliver. By the end, there was a stack of notebooks filled with the thoughts of passersby. Young dreams of being a first grade teacher, but tragedies like this make her question her plans.
"I'm afraid to be an educator because I could not possibly live with the anguish of losing my own students," Young said.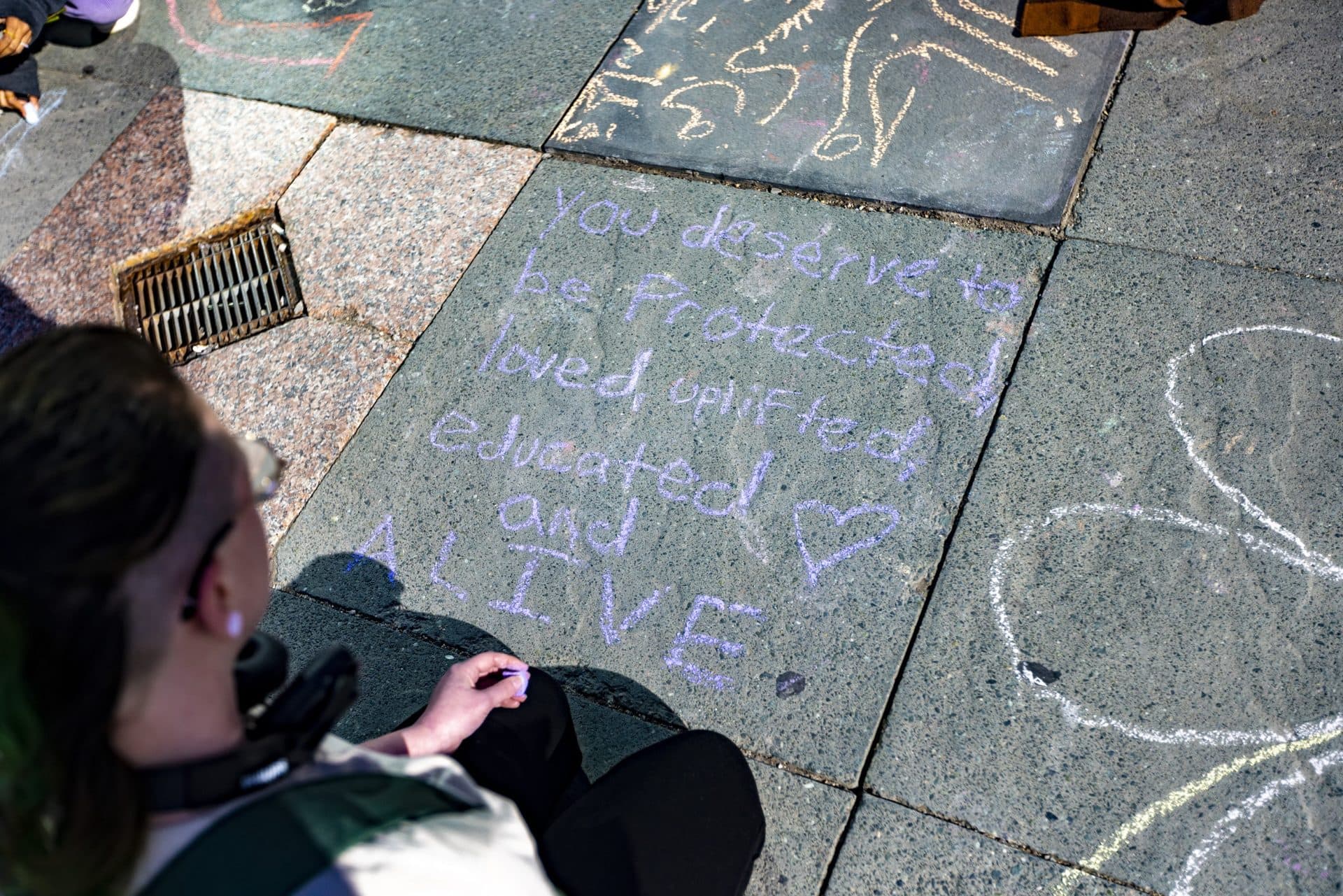 Daniel Rivera, an artist, activist and founder of the Artist Initiative for Revolution, said he knew the only way to respond to this tragedy was through music and art. "We said, if we don't mobilize, if we don't do something about this and create space that no one will," Rivera said. "If not us, then who? Right. If not now then when? It's our duty. It's our responsibility to. To respond."
More than one mother said she found herself holding her child closer this week, trying to not let fear take hold. Maggie Levine stood silently crying, for those lives lost senselessly, for their parents, for her two-year-old son's future. "How do we teach him in a way that he doesn't grow up with fear as his first impulse?" Levine asked.
Marisa Bono is from San Antonio, which is about 80 miles from Uvalde. She knows people in that town. She too is the mother of a fourth grader in public school. Her voice cracks as she tries to explain what this week has been like. "It's hard to have conversations with my son about his safety in school," she said crying. Bono's son wrote a letter to their local politicians. He said he feels unsafe, and went on to say, "Unsafe and upset that people are acting like this."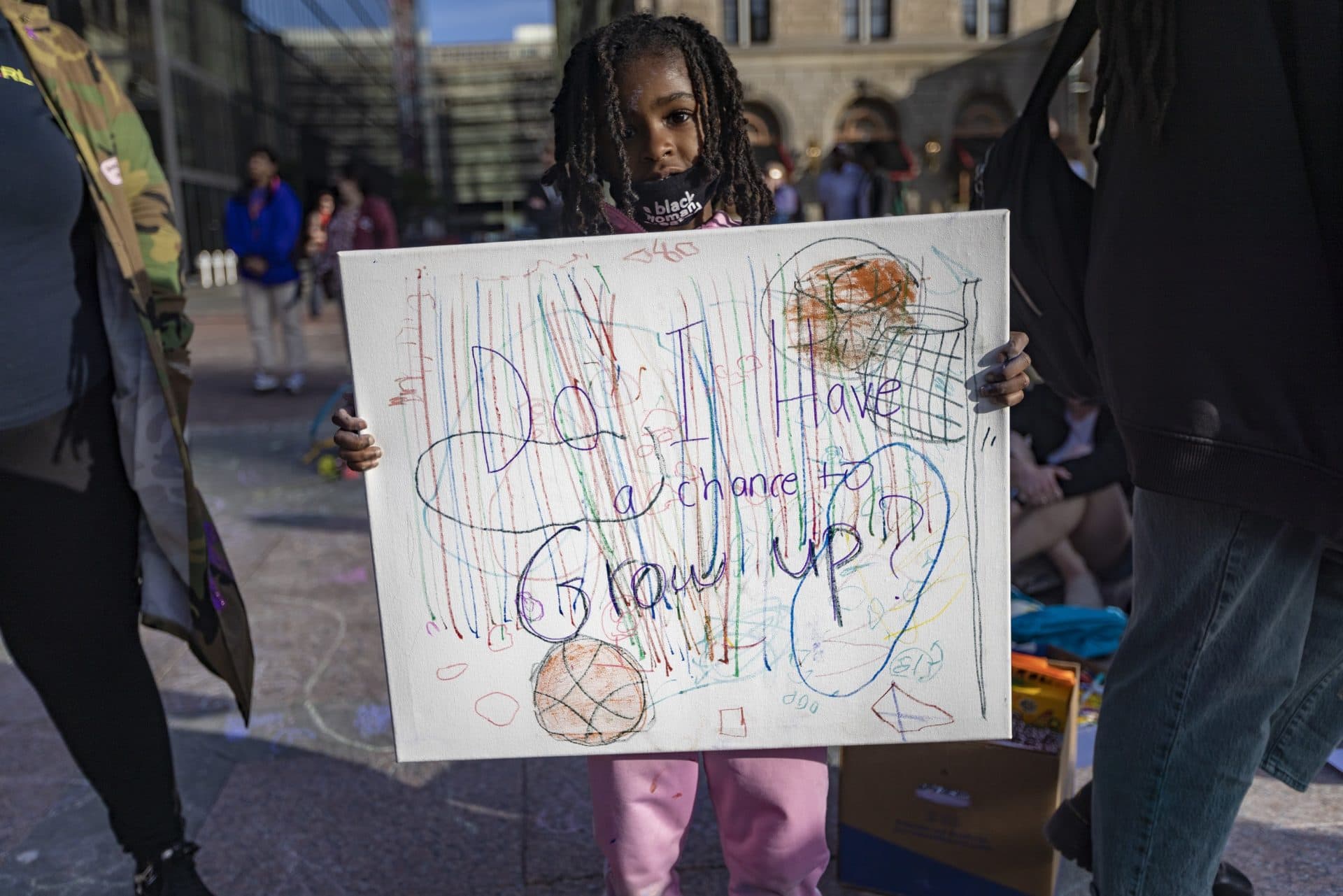 One 6-year-old girl held a sign aloft as she walked next to her mother. It said: "Do I have a chance to grow up?" Her mother, Shaquera Robinson of Dorchester works with survivors of domestic violence. She said they felt a duty to come that evening.
"My heart aches for our babies," Robinson said. "The burden that teachers bear with the circumstances we are living in as a nation is unfathomable. We stand in solidarity with the parents who have lost their children, with educators, with those who are mourning across this nation. And we know that in numbers, we make a sounding voice."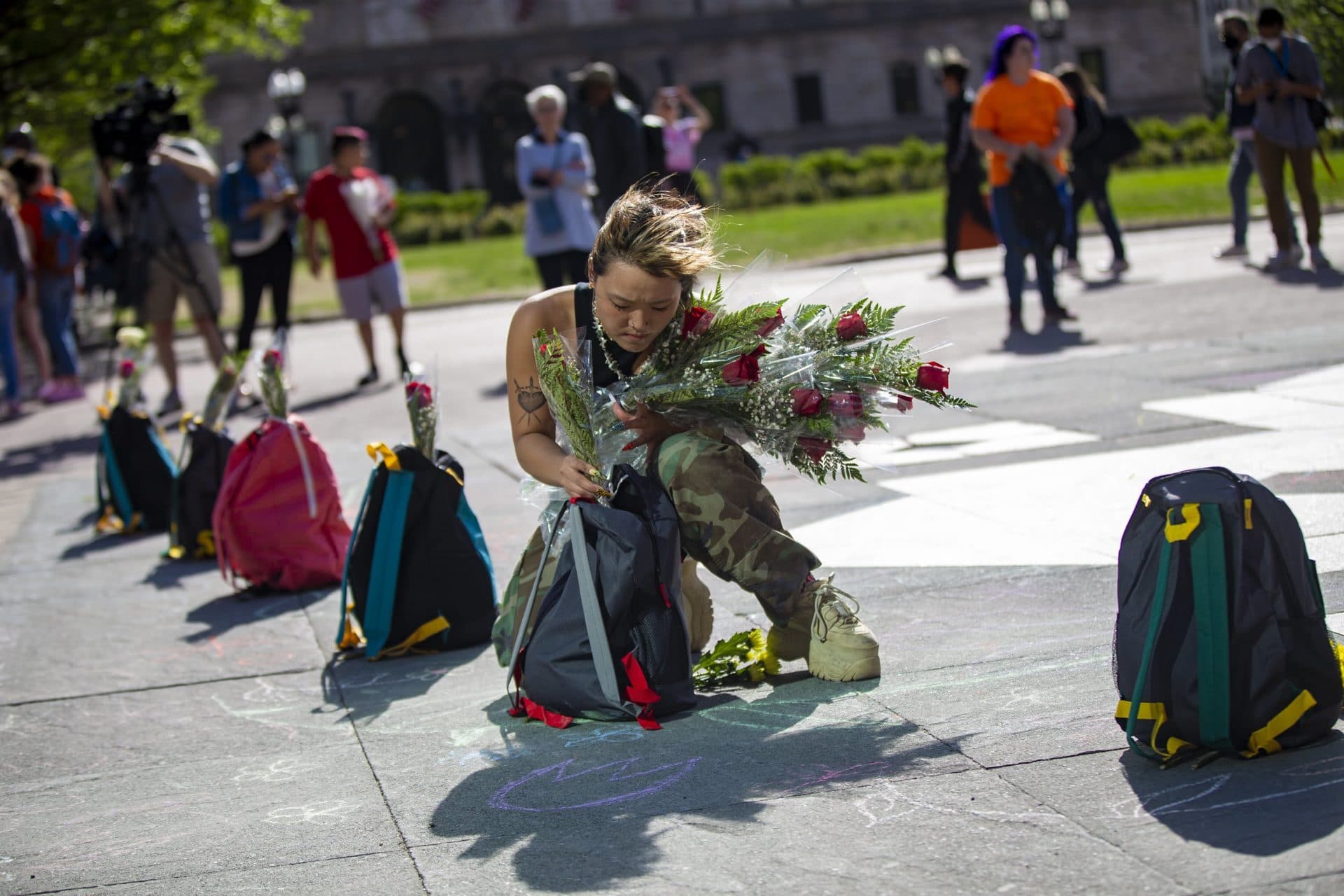 Like so many parents this week, the conversations of safety were ongoing. Robinson said she would start allowing her daughter to take a cell phone to school. "She does not yet know my phone number and we are working on that. But before she learns my number, she needs to know how to call 911 and she can do that."
Robinson knows there are those who feel strongly that the solution to this epidemic of mass shootings is more guns. She disagrees.
"Arming teachers with weapons such as guns in public school settings," Robinson said. "Means more black and brown children will die."