Boston Calling Music Festival returned with joyful crowds and a few pitfalls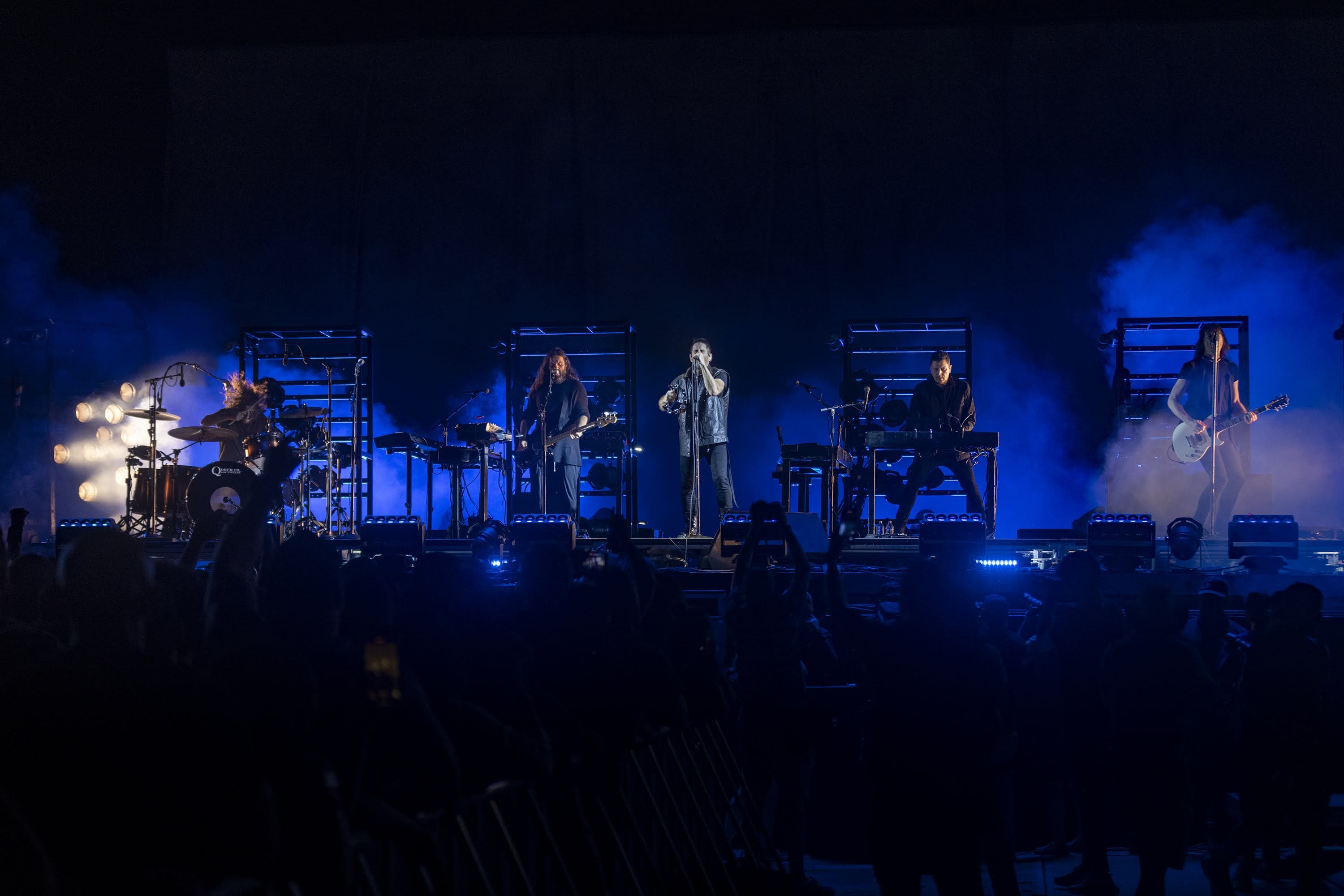 This past weekend, Boston Calling made its long-awaited return to Harvard University Athletics Complex after two years of cancellations, and for a moment — as Friday's overcast skies gave way to a sunny afternoon just as the main gates opened — it appeared that the festival's luck might be changing for the better.
It had been a rough three years: calling off the fest in 2020 and 2021, finding three replacement headliners for 2022, planning a major event amid swelling COVID variants. But as Paris Jackson and Pom Pom Squad warmed up Friday's early crowds, the mood was optimistic. By the time British glam-rock act The Struts swaggered across the main stage, it became downright celebratory.

Sure, this year's festival was different — thanks to heavier headliners Nine Inch Nails and Metallica, a more eclectic undercard than ever, and nixed arena events — but it offered pleasant surprises, too. The addition of a fourth stage allowed the festival to showcase more Boston-area acts, and an afternoon set from Roxbury rapper Avenue brought out just as much energy as anything happening elsewhere on festival grounds. But the night's biggest twist came midway through Avril Lavigne's nostalgic pop numbers, when the crowd received what would be the first of several unfortunate notifications: The Strokes, who were set to headline Saturday night, would no longer be able to perform due to a COVID case within the band. Instead, Nine Inch Nails would headline both Friday and Saturday nights. Despite some fan disappointment, the overall mood bounced back quickly — and once Nine Inch Nails' heavily strobe-lit, fog-laced set started up, their pulsing performance of favorites from "The Downward Spiral" and other early singles left room for little thought of anything else.

But if the Strokes' unfortunate news cast a metaphorical dark cloud over the lineup, those clouds actually materialized on Saturday afternoon as thunderheads rolled in over excellent sets from Madrid garage-pop act Hinds and rising rock 'n' roller Celisse. Just as local indie-popper Frances Forever was about to take the stage, a festival-wide announcement urged attendees to proceed to the exits to seek shelter in Harvard Square, or, more ambiguously, "shelter on sight," leading some to seek refuge beneath metal concession tents. Others headed into the belly of Harvard Stadium, which had been opened to attendees but was not clearly announced, perhaps due to limited space. Sending tens of thousands of people out to cross a few busy intersections amid dangerous weather seems to offer little real benefit for festivalgoers' safety, and Saturday's upheaval suggested that evacuation plans might need some work in order to prepare for future events.
When the downpour broke and the grounds reopened around 6 p.m., crowds cheered at the news — only to read the festival's statement further and realize that prolific jammers King Gizzard and the Lizard Wizard had also dropped off the night's lineup due to a positive COVID test. Kennyhoopla helped revive the mood with a raucous pop-punk set, complete with a casual backflip and crowd-surfing performance that delighted enthusiastic young fans. Later, high-energy performances from Atlanta hip-hop duo EarthGang and festival mainstays Run the Jewels quickly built momentum, and by the time Nine Inch Nails took the stage for a second time, it seemed that much of the crowd--even those who'd been looking forward to The Strokes — had decided to stick around. Those who did were rewarded with a set that focused on deeper cuts, along with a cover of David Bowie's "Fashion." Bandleader Trent Reznor once again stepped into the role of affable host, apologizing to those who'd been looking forward to the night's original lineup, reminiscing about his early days recording at Syncro Sound on Newbury Street, and joking his way through the awkwardness of the occasion: "I promise you, we aren't playing tomorrow… as far as I know."


The festival's final day arrived without additional surprises—aside from the size of the crowd, perhaps. While Friday and Saturday each boasted a healthy turnout, people poured through the gates all day Sunday, offering a lively reception for early afternoon sets from locals Oompa and Cliff Notez. Fresh off last weekend's Saturday Night Live performance, Japanese Breakfast established herself as one of the day's biggest highlights while serving up glimmering, '80s-tinged indie-pop. Later in the day, somewhere between Modest Mouse's dutiful greatest-hits hour and Weezer's singalong-heavy set, the fields in front of the main stage area grew shoulder-to-shoulder packed. Metallica took the stage to what might've been one of the biggest Boston Calling crowds of all time, chugging through a set of '80s and '90s hits before closing out the festival with "Enter Sandman." It was a fitting note to end on: undoubtedly the festival's heaviest year yet, but nevertheless, a crowd-pleaser in the end.