On advice of city health commission, Boston will end mask mandate in schools
Boston Public Schools will suspend its indoor mask mandate for students and staff starting Monday, the superintendent announced Wednesday evening at a Boston School Committee meeting.
"I do understand that there are some families... who'd like us to continue to mask," Brenda Cassellius said. "But we are going on the guidance of our Boston health commission."
The state's largest school district has continued to require in-school masking for months even after the state mandate lifted on February 28.
But in a letter sent to Cassellius Wednesday afternoon, Bisola Ojikutu, Boston's commissioner for public health, recommended the local mandate be lifted given a "sustained downward trend in case rate and hospital admission" in the past two weeks.
Even as they announced the end of the mandate, both Ojikutu and Mayor Michelle Wu touted its effectiveness: Boston reported slower COVID-19 spread in schools than in other large Massachusetts school districts that lifted their mandates earlier.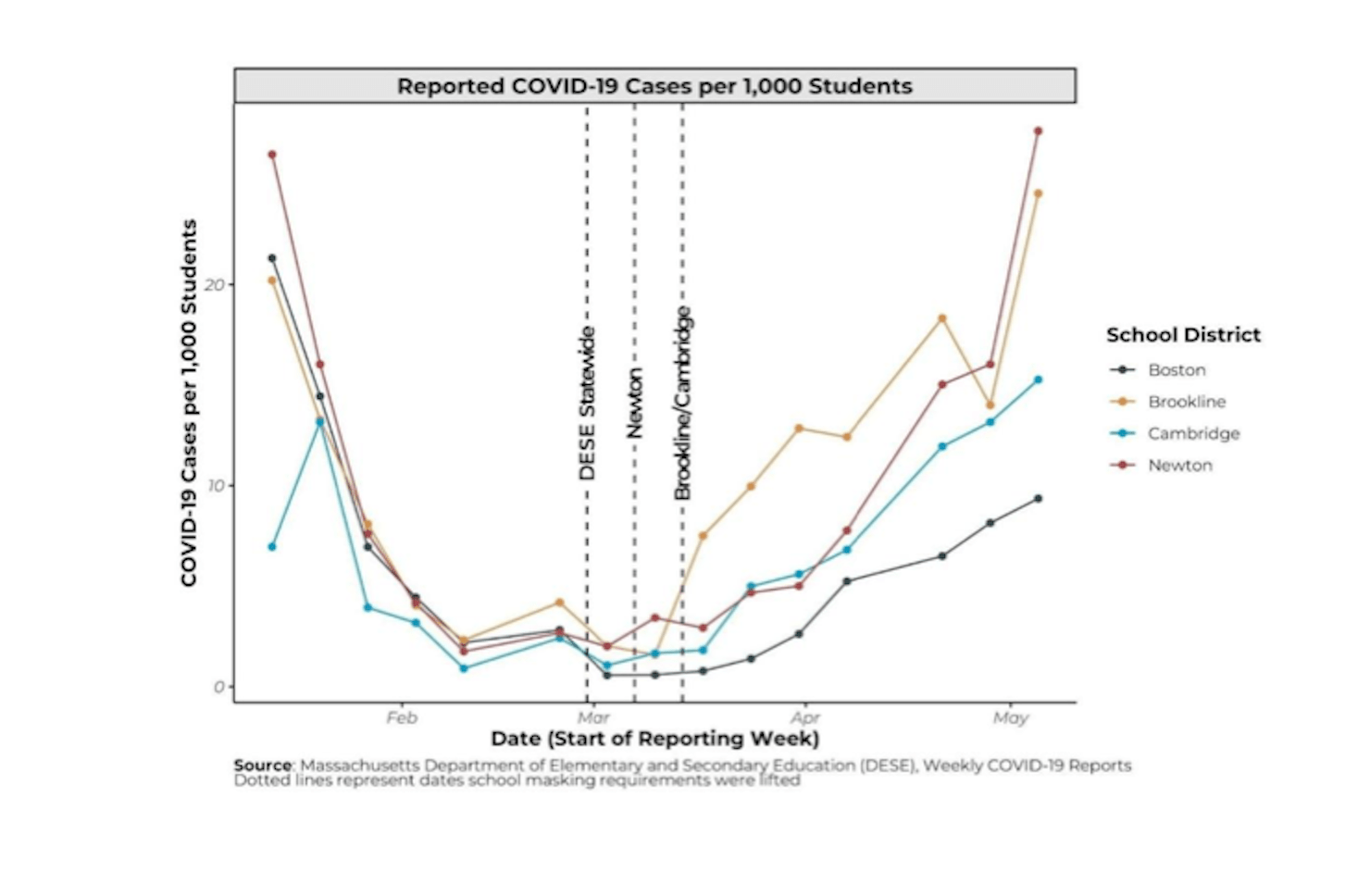 In a statement provided to WBUR on Wednesday, Mayor Wu noted data showing that Boston had "the lowest case rates among neighboring school districts."
Wu applauded the Boston Public Health Commission for its commitment to health and well-being in schools, and added her administration "will continue taking a tailored approach to masking based on careful monitoring of COVID wastewater data and other metrics."
Still, the announcement that the in-school mandate is ending — at the tail end of the school year -- inspired some pushback. Some parents and experts decried the decision to roll back an effective safety measure with just 10 days left in the school year.
"It's a shame to see the city end the mask mandate when community transmission is high," said Julia Raifman, an assistant professor of public health at Boston University.
Raifman pointed to the CDC's data tracker, which still classifies Suffolk County as at "high" risk for COVID-19 and recommends indoor masking. And she noted a recent analysis by MassINC's Steve Koczela that found that COVID outbreaks and quarantining have kept students out of class for 1.5 million days statewide.
Several other school districts have either recommended masking in light of climbing case counts, or even reinstated their mandates, as in Northampton and Brookline.
In her letter to Cassellius, Ojikutu, the public health commissioner, still "encouraged" indoor masking, and recommended the requirement stay in place for students and staff completing a 10-day quarantine after testing positive for COVID; for those showing symptoms; and for those who are identified as part of a potential cluster, as part of a "layered" approach to anti-pandemic measures.
"We continue to strongly urge all eligible individuals to receive the COVID-19 vaccine and booster, and we continue to support schools with vaccination clinics," her letter added.
At the start of Wednesday's Boston School Committee meeting, Cassellius — who steps down from her post later this month — greeted the move as a "significant milestone for our city," though she acknowledged that some parents would be upset.
One such parent spoke up a little over an hour later.
Courtney Feeley Karp, a parent at the Henderson School, noted that parents were only told of the policy change after sign-ups for the public comment period had closed.
Karp also said the decision seemed to contravene guidelines the health commission itself had laid out in March — namely, that the mandate should lift only after the incidence of COVID cases dropped below 10 per 100,000. (The latest municipal data shows it is trending down, but still above 31, in Boston.)
Karp said it seemed as though the district was "kowtowing to anti-masker bullies."
On Tuesday morning, two protesters triggered a brief lockdown at the Kenny Elementary School in Dorchester after they appeared on campus demanding a 9-year-old student be admitted into the building without having to wear a mask.