New effort will preserve Teen Voices, a Boston magazine that embraced girls' complexities
Play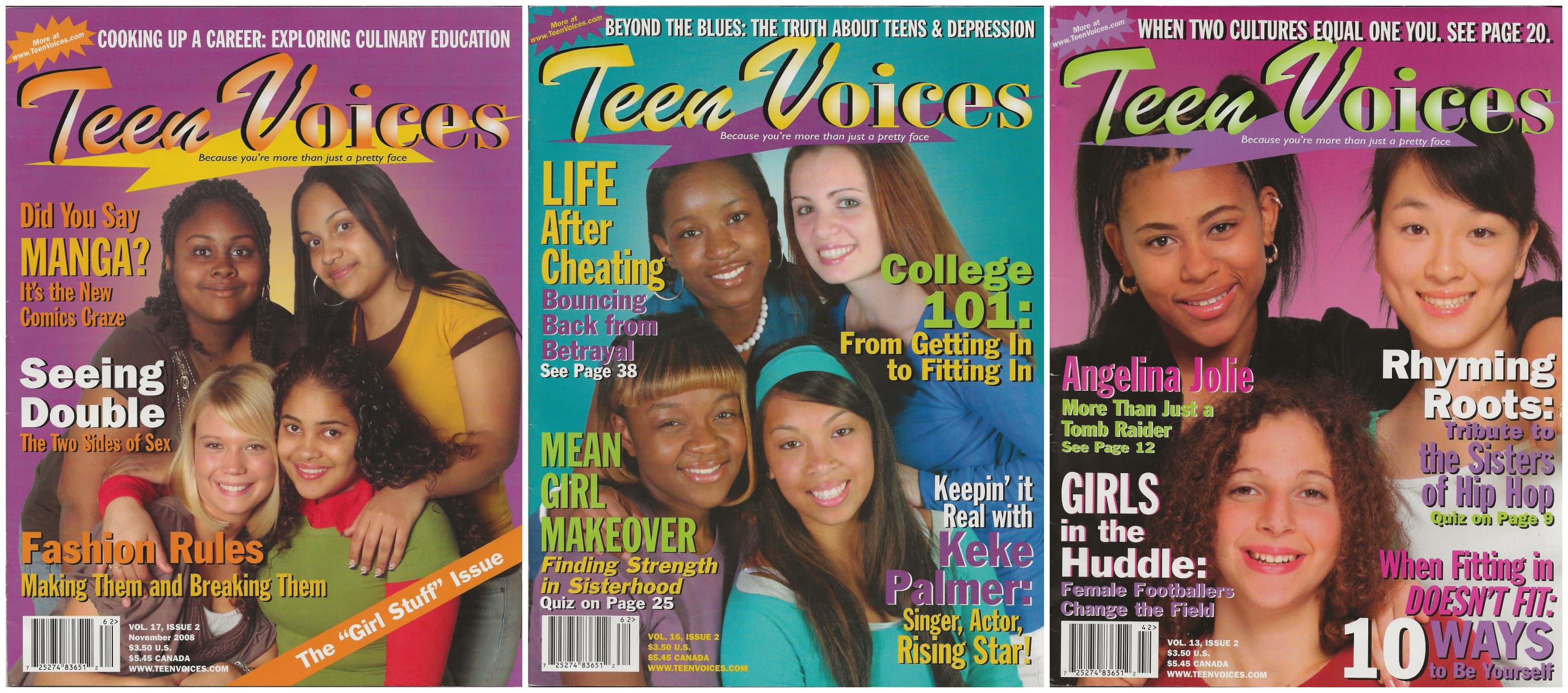 Not many adults have a soft spot for their teen years. But 29-year-old Agostinha Depina does. Especially when she flips through old copies of Teen Voices, a magazine meant to be judged by its covers.
"You have real diversity on the cover," she says. "You have real girls. There's no Photoshop. It's just all real." Depina describes the covers with girls arm in arm, flashing braces, wearing sports jerseys, hair styled in every way, as "beautiful" and "empowering."
Not only does she recognize some of the girls, she was one.
Written by and for teen girls, especially girls of color, Teen Voices started publishing in 1990. Over its 20-plus years, it evolved from a newsprint 'zine, circulated within Boston, to a glossy newsstand magazine with international readers and contributors.

The teen editors or peer leaders, including Depina, came from Boston. "There were girls from Dorchester, Roxbury Hyde Park, Mattapan," she says. After school or during summer break they took a rickety elevator up to an office in Downtown Crossing. There, they critiqued pop culture in terms of what was really going on in their lives.
"We talked about our vagina, period, sexual abuse. It was real. It was authentic," she says. She began the program her first year of high school, in 2009. "We were speaking out about everything and anything that was related to girls and women in the world. We did not hold back."
Then, they turned their conversations into articles, poetry, and art that dealt with mental health, human rights, and more. They pulled this off with help from adults like Saun Green, who for nine years took her job running Teen Voices' leadership program seriously – and personally. "I remember these girls," says Green. "These were my babies, like in the room with me, you know."

Green recalls how the girls arrived "ready to create and inspire other people despite what they themselves may have been going through." They often began by gathering in a circle and writing down something true about themselves that others may not know. Green would read off the slips of paper to the group as a reminder that "somebody in this room is dealing with that issue."
Green says the activity she called "hat circle" (though she laughs that they never had a hat) fostered compassion and helped the girls identify topics to cover in the publication. For her, leafing through the old magazines again makes the work of Teen Voices even more tangible in that way.
But in 2012, the organization closed due to lack of funds. Green still feels the pain from the last day. "It wasn't just the closing of the program," she says. "People were coming to take our stuff. You know, it was hard."
We were speaking out about everything and anything that was related to girls and women in the world. We did not hold back.

Agostinha Depina
Preserving that stuff has newfound meaning to the Teen Voices community. Earlier this year, Green and former Teen Voices executive director Jenny Amory reconnected to launch a project to safeguard the magazine's legacy. They issued a call to record oral histories and gather old pictures and files.
"If you have memorabilia, things that we did in the program that you remember or have collected, you know, send stuff in. We need it," says Green.
They've already recovered a fundraising message co-signed by Gloria Steinem and Liz Walker and a photo of Geena Davis with teen leaders. Amory says that watching the short videos recorded by former peer leaders "who are now young adult women accomplishing amazing things" has made her think again about "the importance of supporting young women and how we need to continue that work."

This month the collected material will find a new permanent home at the Schlesinger Library at Harvard Radcliffe Institute. Jenny Gotwals, the library's gender and society curator, explains that the Teen Voices archive will be in good company. She lists the records of Angela Davis, June Jordan, and Pauli Murray to illustrate the library's collections, which focus on American women. She also points to the Boston Women's Health Book Collective and "organizations that have fought for women's rights for 40 or 50 years."
Historically, and still today, young women can have trouble finding media that showcases what they think, or how they look, no filters. And while Schlesinger has a robust collection of girls' diaries, and magazines from mid-century on, Gotwals acknowledges that no single form can tell the whole story.
As a published magazine that features first-person narratives from young women, Gotwals says, "Teen Voices is sort of an in-between from 'I have a locked journal' to 'I'm all, my life is on Tik Tok.'" She sees it as an important cultural bridge, relevant then and now.
Teen Voices taught its editors and readers to question media images and messages. By working alongside other young women, Agostinha Depina says she also learned the strength of sisterhood. That experience left an indelible mark. She wishes other women – of all ages and stages – could have a similar experience, one she calls "revolutionary."
"There was no other program in Boston or any other place, like Teen Voices," she says. Now, with its legacy secure, future generations can discover that power, too.
---
Anyone impacted by Teen Voices can contact the Legacy Project at teenvoiceslegacy@gmail.com.
This segment aired on June 13, 2022.