Two local finalists emerge to become Boston's next superintendent of schools
A nationwide search for the next superintendent of the Boston Public Schools has produced two finalists in the city itself, both with extensive histories in the district.
The school district announced the names of the two finalists in an email Tuesday, three months since the search began in March, and just nine days before the current superintendent, Brenda Cassellius, is set to step down after three years at the helm.
Mary Skipper has served as superintendent of the Somerville Public Schools since 2015 — the same year Tommy Welch, now a regional superintendent focused on East Boston, Charlestown and the North End, came to the district from Los Angeles.
During her seven years in Somerville, Skipper oversaw a changing school district, the construction of a new high school and a careful approach to COVID-19. But Skipper, who lives in Dorchester, worked for BPS for nearly 18 years, as a founding director of TechBoston Academy in Dorchester and an assistant superintendent overseeing the city's high schools.
Joseph Curtatone, Somerville's mayor from 2004 to 2022, said Skipper would "certainly be [his] first choice" to take over the top school position in Boston.
"We were lucky to have Mary as long as we did — I was sure she'd be plucked off to an even bigger stage," Curtatone said. He applauded Skipper's ability to build partnerships in the community and beyond, as well as her "humanity."
Curtatone said that quality was on display during the pandemic in a city where a third of residents are immigrants, many working frontline jobs. He said he and Skipper shared "one clear focus": "that everyone's life, everyone's well-being, was paramount — not making decisions based on the conveniences of one part of our population."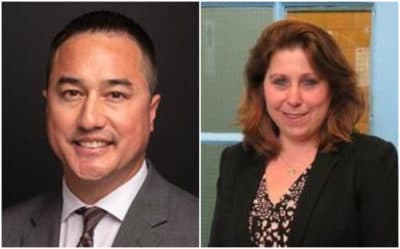 Meanwhile, in a statement, Welch expressed his excitement at being named a finalist.
Welch led both a middle and high school in Los Angeles — the nation's second-largest school district — before coming to Boston under then-superintendent Tommy Chang, also an L.A. transplant.
As a "biracial, bilingual educator," Welch said, "equity has always been at the center of my work." He noted that nine of the 15 schools he oversees have been awarded the "School on the Move" prize, which is awarded annually by the nonprofit EdVestors.
The two finalists satisfy a common request that school committee members like Michael O'Neill said they heard from community members: that the next superintendent be no stranger to Boston and its complexities.
Cassellius was a newcomer to Boston in 2019, with her prior time in education leadership spent in Minnesota and Tennessee. Cassellius is set to step down on June 30, and the district's deputy academic superintendent, Drew Echelson, will serve on an acting basis between her departure and the next superintendent's formal appointment.
Whoever is named superintendent would take over during a fraught moment for BPS.
The city is still negotiating an agreement with state education officials, who charge that district administration has failed to deliver essential services for its approximately 46,000 students, from reliable transportation to clean, functional bathrooms and trustworthy data.
Both Skipper and Welch will participate in two full days of public interviews, to be livestreamed by the city, on Thursday and Friday, ahead of a vote tentatively scheduled for June 29. A statement from the district acknowledges that two candidates withdrew their names from consideration ahead of those final interviews.