Patrick Radden Keefe's essay collection showcases the illicit (and licit) lives of 'Rogues'
Dorchester's own Patrick Radden Keefe has achieved significant renown for his well-researched literary journalism, including "Empire of Pain," his expose on the Sackler family and their complicity in the opioid epidemic, and "Say Nothing," which explored the role of the IRA in the murder of Jean McConville. In "Rogues: True Stories of Grifters, Killers, Rebels, and Crooks" (out June 28), he collects 12 of his best essays from The New Yorker, demonstrating his ability to illuminate and illustrate what he calls "the permeable membrane separating the licit and illicit worlds, the bonds of family, and the power of denial."
Family is a common thread through many of Keefe's essays. There's Astrid Holleeder, who turned on her gangster brother, Wim, and now lives in hiding for fear of reprisals. Ken Dornstein, who devoted much of his adult life to finding those responsible for the bombing of Pan Am Flight 103 over Lockerbie, Scotland, which killed his brother David. Amy Bishop, who murdered her colleagues in a fit of pique over being denied tenure and was later revealed to have been responsible for the death of her brother, Seth, years earlier. Even when the subjects aren't related, family ties can crop up. Sid Gilman, a prestigious doctor who was implicated in an insider trading scheme, confessed that he was compelled to pass secret information to a broker from Steven Cohen's trading firm not for personal gain, but because the broker reminded him of his son, who had died by suicide.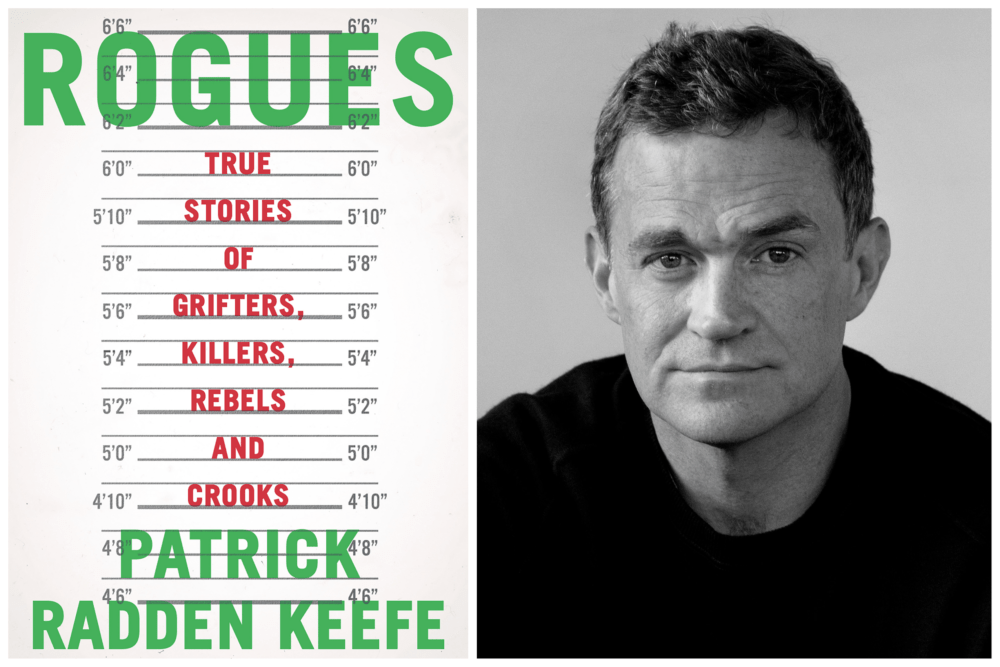 On some level, everyone in "Rogues," good and bad, is seeking importance. Astrid wants to finally escape the shadow of her domineering brother and show him she can be as tough as any man; Ken wants people to understand how important his brother's life was to him; Amy wants people to recognize how much smarter she is than the people who denied her what she felt she was entitled to. In a big world, these people want to be main characters. When they fail, the results can be explosive and disastrous, as in Bishop's case. And when they succeed, the results can also be explosive and disastrous, as with Dzhokhar Tsarnaev, or Sinaloa cartel leader Joaquín "El Chapo" Guzmán.
Also, it's clear that many of these people, even those in mortal danger, are getting a little thrill out of what they're doing. Astrid seems to delight in the various disguises she must don to evade her brother's henchmen. Defense attorney Judy Clark, who has become famous for saving some of the worst criminal offenders from the death penalty, appears to be motivated not just by a desire to ensure everyone's right to a strong defense, but also by a need to position herself as a selfless paragon of the law. No one is having more fun than the shifty Hervé Falciani, who exposed massive fraud at financial giant HBSC and got himself mixed up in all sorts of exciting international intrigue.
For whatever reason, we can't help but romanticize outlaws. Wim Holleeder became known in the Netherlands as the "huggable criminal," and here in the U.S., Dzhokhar Tsarnaev became an object of hybristophilic fascination for young women on social media. Even Keefe's book about the IRA was at times a little too starry eyed about the exploits of terrorists Brendan Hughes and Dolours Price. He largely keeps things in check throughout "Rogues," but that famous François Truffaut quote about how "there's no such thing as an anti-war film" could be applied to stories about crime, as well.
It's hard not to marvel at the complex schemes and savvy maneuvering. Through their wealth, influence, and willingness to bend or break the rules that govern the rest of us, people like financier Steven Cohen, Monzer al-Kassar and diamond magnate Beny Steinmetz can move markets, thwart governments, shape world events, and in Steinmetz's case, literally move mountains. Al-Kassar is described as "well mannered and stylishly dressed" and "projecting a roguish cosmopolitanism" while living in a white marble mansion on the coast of Spain. When writing about the Sinaloa cartel, Keefe says that the narcotraficantes have a saying: "Better to live one good year than 10 bad ones." Being bad can sometimes look very good.
Paradoxes such as these appear throughout "Rogues." In "The Jefferson Bottles," we learn about how "a flamboyant German wine collector" (falsely) named Hardy Rodenstock conned billionaire Bill Koch out of a few hundred thousand dollars by forging fake wine bottles purporting to come from Thomas Jefferson's personal collection. What's the real crime here? Forging old bottles or having enough money to drop six figures on one while others can't make ends meet? Bradley Birkenfeld, an American banker who leaked documents about illegal activity at UBS, served two and a half years in prison for his role in the misconduct and, when he got out of jail, was awarded a $104 million reward for blowing the whistle on himself. Nice work if you can get it.
Not all the subjects are so impressive. The weakest essay in the book, "Winning," tries to explain how television producer Mark Burnett, creator of "Survivor" and "The Apprentice," was responsible for creating a false aura of competence and success around Donald Trump that allowed him to win the presidency. But instead, what emerges is a banal portrait of a fairly shallow guy who is just good at making trashy, broadly appealing television shows. It didn't take a genius to notice that Trump, long a ubiquitous and attention-grabbing cultural figure, would make good television. It shouldn't have taken a genius to realize that making good television doesn't mean you're well-suited for higher office, either, and I don't think we can blame tens of millions of people failing to recognize that on Burnett.
"Rogues" ends on a high but sad note with a profile of the late Anthony Bourdain who presents us with a final paradox: a man who found purpose doing exciting work that showed us what's great about the world and its people, a true example of roguish cosmopolitanism and compelling television, who, though he managed to achieve great influence and the adoration of millions, ultimately succumbed to depression. Placing Bourdain at the end of the book provides a nice counterpoint to the various ne'er-do-wells who precede him. He's something of a kindred spirit for Keefe — curious, prolific, endlessly fascinated by the world and its variety, and compelled to share all the fascinating things he's found in great detail with whoever will listen.