Boston Mayor Michelle Wu turns belated inauguration into summer 'block party'
Inaugurations are usually formal events full of suits, dresses and long speeches.
Boston Mayor Michelle Wu's ceremony was a bit different. Wu celebrated her first term as mayor Thursday with a "block party" at Boston City Hall.
The inauguration came seven months after her swearing in, because the original date was pushed back by the omicron surge. But the timing also allowed Wu and her guests to take full advantage of the warm summer weather.
The free outdoor event featured a live band, a DJ, a soda bar and tables to do arts and crafts, like painting rocks and decorating tote bags.
Local residents and city workers shared the dance floor with politicians like Congresswoman Ayanna Pressley, Salem Mayor Kim Driscoll and Boston City Councilor Kenzie Bok.
"Honestly, this is more of a vibe than anything else people would do," said Joseph Headley, a city data analyst who stumbled across the block party on his lunch break.
Headley said he preferred the music and drinks to long speeches at an inauguration. "Like OK, you're doing that, but at the same time, are people really enjoying the time that they're having?"
Regis College student Leah Kihn sat at a picnic table just outside the main tent.
"I'm adopted from China, and I've never seen an Asian elected" before, she said. "I'm not very political, but I came out here just to support and see what it's about."
Wu did briefly pause the music to deliver a one-minute speech.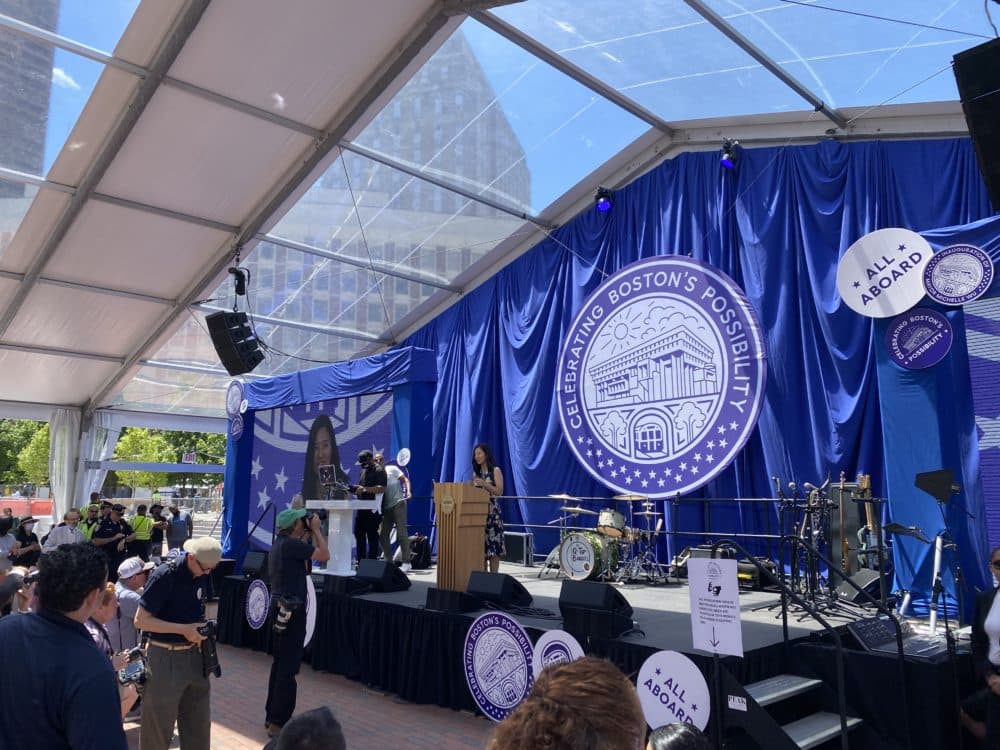 "This is what Boston looks like," she said. "I just want to pledge once again that the very same values and ideas and commitment to lifting up the voices in our neighborhoods continues to drive our work every day."
The event was paid for by a $1.1 million inauguration fund, which included donations from some of the largest developers, businesses and lobbying firms in the city. In a statement, the fund said the donations would not have any influence on how Wu runs City Hall.