Heat wave brings more people to the hospital, impacts the vulnerable
As temperatures hit 90 degrees today, staff with Pine Street Inn were out combing the streets of Boston, looking to help people get out of the heat.
"I know most people worry about homeless folks in the winter, but honestly, heatstroke is just as much of a risk in these kind of very hot, hot days," said Lyndia Downie, president and executive director of the Pine Street Inn.
Saturday was the fifth straight day that temperatures were above 90 degrees, with forecasts showing the extreme heat may not cool off until Monday. Boston and other municipalities are under heat emergencies, opening cooling centers for those without air conditioning.
Pine Street Inn staff jumped into vans over the weekend, trying to find people they knew were the most vulnerable in the heat. Workers with Boston Health Care for the Homeless Program were also out this weekend, checking in on people and handing out water.
Downie says Pine Street staff normally only patrol at nights, but were working overtime this weekend because of the higher temperatures.
"There's no question this puts a strain on all of us, but especially the front line staff," said Downie. "We have a list of folks that we think are particularly vulnerable, and those are the people they're focused on right now, finding them, trying to talk them into getting in the van and coming in with us. Or, if they're not willing to do that, figuring out if there's an alternative."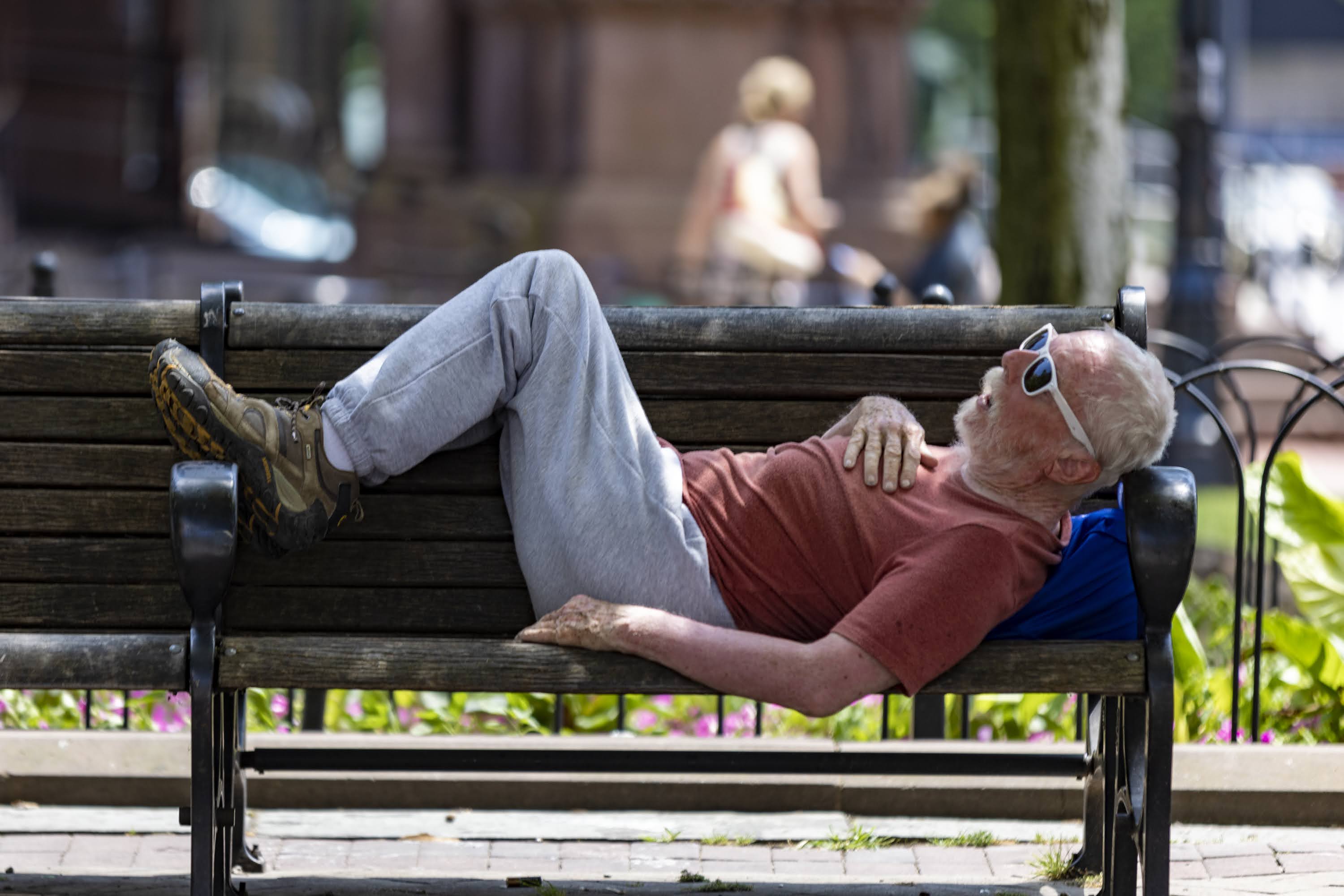 Meanwhile, hospitals including Boston Medical Center, Tufts Medical Center, and UMass Memorial all say they're seeing more people coming in with heat related illnesses.
"I can definitely say that when I was working over the last several days in every shift that I worked, we saw a number of people who ... were impacted by the oppressive heat this week," said Dr. John Broach, an emergency medicine physician at UMass Memorial.
According to meteorologist Danielle Noyes, Boston averages about 15 days each year with temperatures reaching 90 or above. Last year, the city had four heats waves, the longest being five days last June.
Doctors say it's these longer heat waves that tend to make people more sick, with prolonged periods of heat followed by nights that stay hot.
Dr. Josh Sheehan, an emergency medicine physician at Tufts Medical Center, says he typically sees people coming in with heat-related illnesses in the peak hours of the day — maybe after working out in the sun, or maybe spending too long at the beach. But with prolonged heat waves, that's no longer the case.
"We're seeing people come in in the mornings where, they just really weren't able to cool down overnight," said Sheehan. "They didn't take in any fluids, and they wake up feeling, really unwell."
Heat illnesses happen on a spectrum, says Dr. Sheehan, starting on one end with dehydration and heat exhaustion, and on the other end, if left untreated, progressing into the much more rare heat stroke. He says Tufts Medical Center is seeing an uptick in patients this week across the spectrum. Treatment typically involves hydration, and safely getting body temps back to normal.
Dr. Christian Arbelaez, the Department of Emergency Medicine Chief at Boston Medical Center, says he's particularly concerned about vulnerable populations — like those without air conditioning or ways to stay cool, the elderly, and those experiencing homelessness.
"What we're worried about is, on a cumulative basis, if people aren't hydrating, if they're not able to kind of catch up and continue in conditions that might have their body temperature rise, that will then define heat stroke," said Arbelaez.
Dr. Arbelaez is advising people drink plenty of fluids, stay out of the sun, and check on elderly or vulnerable neighbors and friends.