On Boston Common, love unfolds in a resonant production of Shakespeare's 'Much Ado About Nothing'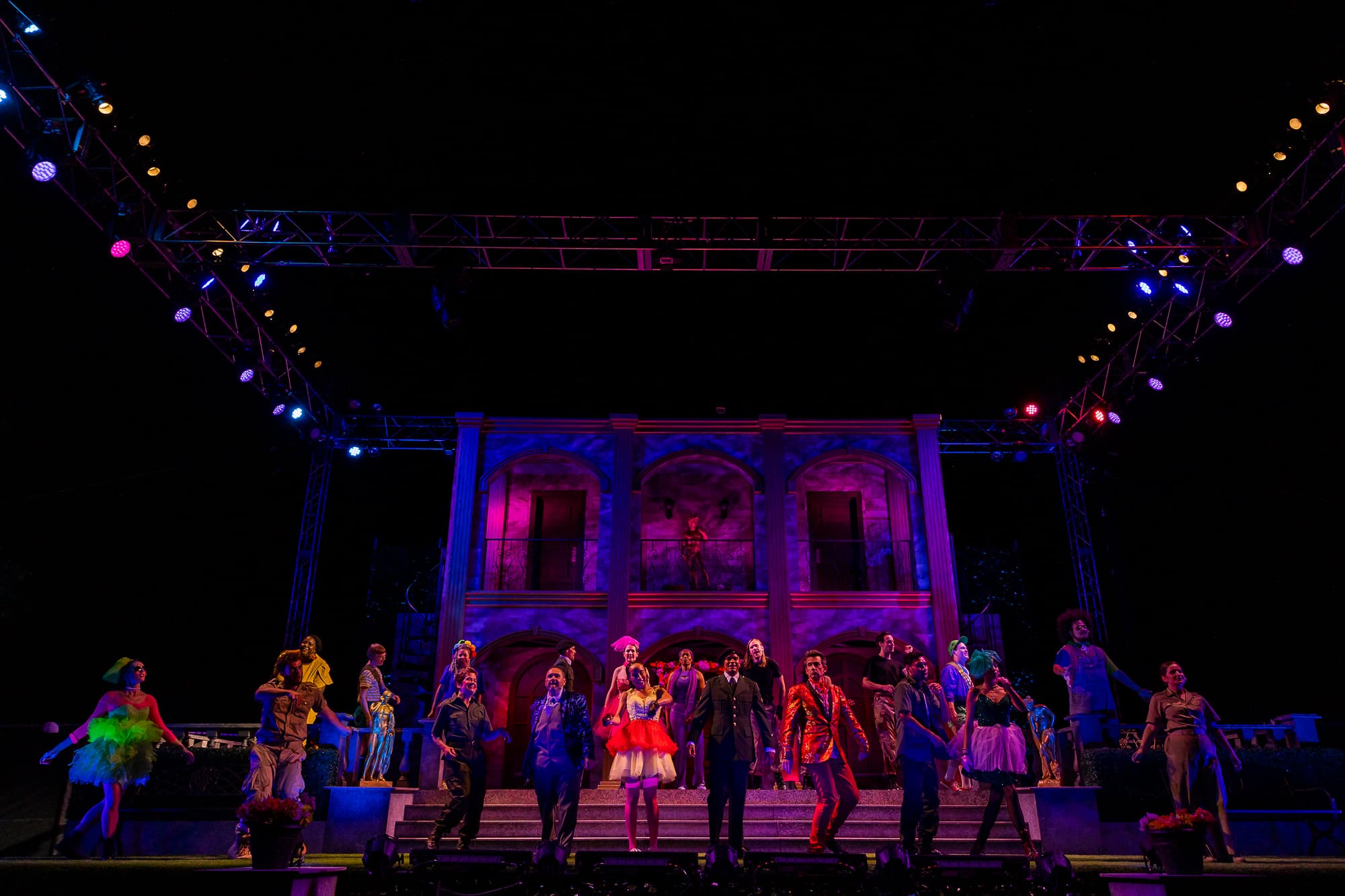 Life is easier with love. At least that's the hope.
The lives of two couples, one vying for love and the other scoffing at it openly (while pining for it secretly), are at the center of Commonwealth Shakespeare Company's hilariously refreshing production of "Much Ado About Nothing." On Boston Common, hundreds of theatergoers gather on blankets and lawn chairs each night to watch the free production showing now through Aug. 7.
Like a lot of Shakespeare's work, there's romance, verbal sparring and a remarkable betrayal. And though I'm no Shakespeare die-hard, the terrific cast coupled with the nostalgic music and costumes from the 1990s performed beneath the cover of night made for a special evening.

"Much Ado About Nothing" focuses on the blossoming intrigue between two sets of lovebirds, soldier Claudio (Erik Robles) and the virgin Hero (Rebecca-Anne Whitaker), and fellow soldier Benedick (Tia James) and Beatrice, Hero's cousin (Rachael Warren). This second pair, at least at first, fight such flowery feelings for each other.
A stately home and garden with arched doorways, golden statues, and iron lawn benches—courtesy of scenic designer Lawrence E. Moten III—is where a lot of the action takes place under the marvelous direction of Megan Sandberg-Zakian, an Elliot Norton and IRNE-award winner.
The show is set in 1991. Sandberg-Zakian said in a recent WBUR interview that "It was a time, at least in my memory, where there was a lot of fluidity around gender and sexuality happening in popular culture, in music and in fashion."
That shows up as fabulously bright garb, roles typically played by men are played by women, and all the fluorescent tulle and tutu's from the decade—the work of costume designer Kathleen Doyle—that one could imagine. It's contemporary and resonant without feeling over the top or cheesy. The cast, full of local stalwarts, performs the centuries-old Shakespearean English in a way that seems natural and because of this, at least in part, there are many refulgent moments.

James' Benedick is dynamite. The long-time actor who has graced local stages and performed on TV's "Treme" and "Nurse Jackie" dazzles with her portrayal of the character who claims they'll always be a bachelor. James is a joy to watch whether rendering a chuckle-inducing speech about the kind of woman that might catch her attention or when gravely approaching Claudio after he harms Hero.
Robles' powerfully portrayed Claudio, Leonato (Remo Airaldi) and Don Pedro (Michael Underhill) have a perfectly choreographed contemplation scene where the eavesdropping Benedick learns some interesting information, there's a very funny karaoke scene and later, a member of the neighborhood watchmen plays Salt-N-Pepa's 1986 hit "Push It" on what sounded like a kazoo. Not to mention, a scene where Antonio (John Kuntz) walks Hero down the aisle shouting things like "razzamatazz" while tossing confetti adds to the festive atmosphere between dance numbers.

I particularly enjoyed Central Square Theater co-founder Debra Wise, who plays the bumbling constable Dogberry delightfully. The character and her silly crew hear an astonishing admission of wrongdoing that might turn things around for Hero and Claudio. It's tough to imagine Claudio coming around after the searing accusation he lodges against Hero, but it doesn't stop the awkward, boy-scout-looking troupe from seeking justice. The watchmen's antics are hilarious, but their hearts are earnest in their quest to set the record straight, make space for forgiveness and hopefully give love a chance to reignite.
But the best part of the show, aside from the stellar acting from the entire cast, is the show's final number featuring music from one of the beloved rappers of the 1990s, the late Heavy D — known for his jovial disposition, clean lyrics and exuberant dancing. Hearing the cast and crowd singing in harmony to one of my favorite tunes beneath the stars is the kind of reaction I missed during the height of COVID-19 when theaters were closed. The whole crowd, moving as one, united by the experience was certainly a high note.
---
The Commonwealth Shakespeare Company's "Much Ado About Nothing" continues at the Parkman Bandstand through Aug. 7.