16 theater productions to see in Boston and beyond this summer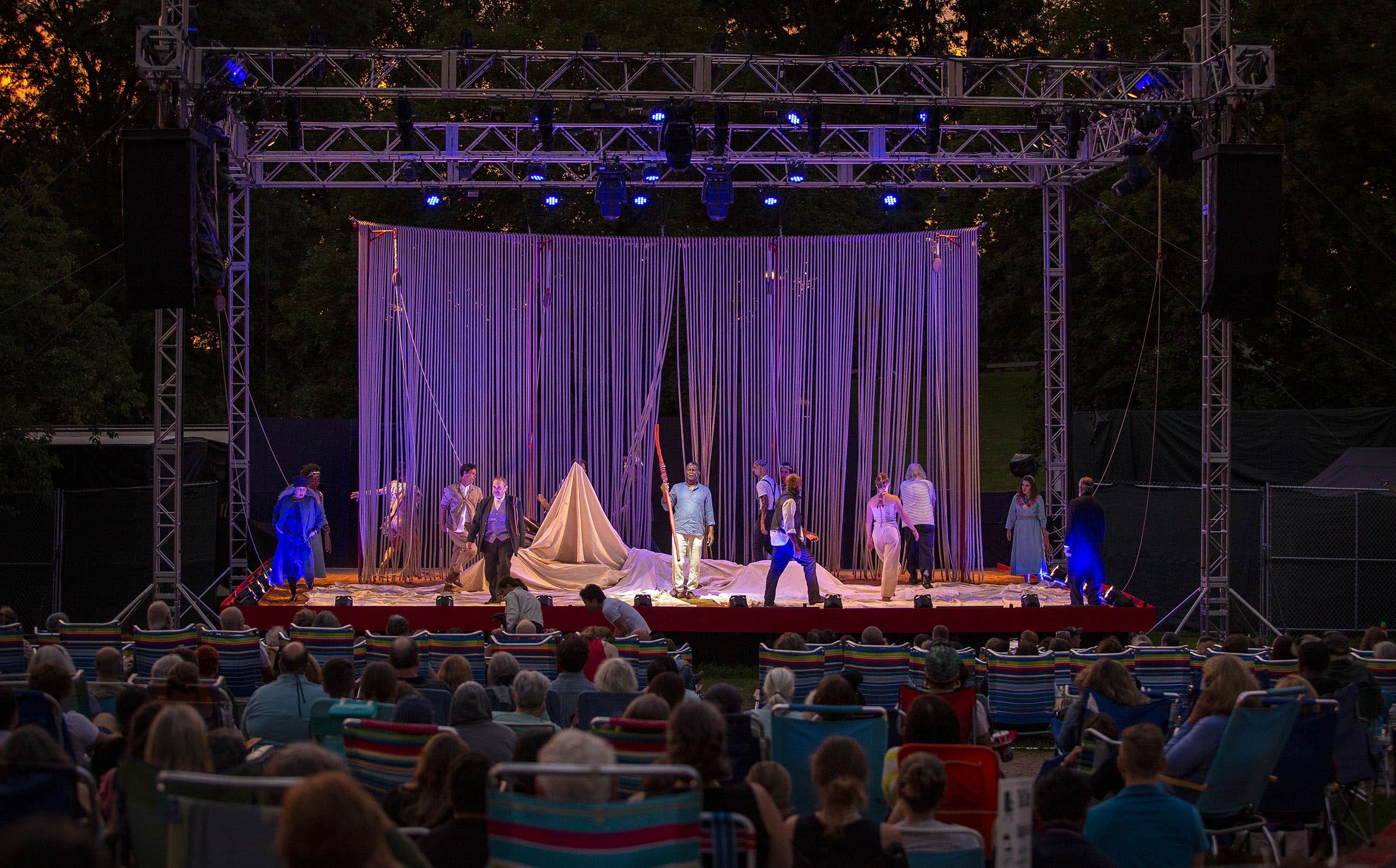 This summer theater season, venues near (and sort of) far are offering a variety of productions that explore love, music and more. In the Boston area, there are Actors' Shakespeare Project's long-delayed "Bomb-itty of Errors," Moonbox Production's first annual Boston New Works Festival with several new plays by local artists and Commonwealth Shakespeare Company's "Much Ado About Nothing." What's most noticeable, though, is that many stories coming to the stage this summer are about significant change, from life-altering diagnoses to secrets, gentrification and displacement. Here's a list of 16 productions, some of which explore considerable change, to see this summer.
May 31-July 3
J. Anthony Lukas' Pulitzer Prize-winning book centering on the lives of three different families in Boston in the 1960s and '70s is the inspiration behind playwright Kirsten Greenidge's new play "Common Ground Revisited." With excellent direction by Melia Bensussen, the show features a talented local cast that expertly moves audiences from past to present to take a closer look and dissect race relations through the lens of the desegregation of Boston Public Schools.

---
June 10-25
Playwright Joel Ulloa, who grew up in East Los Angeles, studied urban planning and business administration in college. While those might not seem like the most likely majors for storytelling, Ulloa's work in these areas has nevertheless informed his writing. The world premiere of his bilingual play, "Revitalized," focuses on a community of immigrants struggling with high rents, immigration and other socioeconomic challenges and the battle of one family, particularly Esmeralda and her mom for their home. The story explores the human price for revitalization and if it's worth the risk. "Revitalized" is directed by Armando Rivera with performances at Chelsea Theatre Works.
---
June 16-July 9
A dark secret gets uncovered when Vince brings his new girlfriend to meet his charming-at-first Midwestern family to the farmhouse they own. The girlfriend meets Vince's grandparents Dodge and Halie and their two sons, Tilden and Bradley, who lost a leg due to a chainsaw accident. Over time, the family's frightening secret becomes clear in this three-act Pulitzer prize-winning play by Sam Shepard with direction from Robert Kropf, staged in Wellfleet.

---
June 21-July 31
There's one song by Neil Diamond, who is battling Parkinson's disease, that pulses through the speakers at every sporting event and at bars in the Boston area that gets everyone to sing: "Sweet Caroline." But Diamond's catalog — built over nearly 50 years in the business — offers much more than crooning about Caroline. There's an almost two-hour YouTube collection featuring some of his greatest hits from "America" to "Song Sung Blue" to prove it. Neil Diamond fans will see some of his most memorable music onstage in the production "A Beautiful Noise: The Neil Diamond Musical," with Tony Award nominee Will Swenson leading the cast.

---
June 23-July 9
"B.R.O.K.E.N. code B.I.R.D. Switching" is a "story of race and identity, of promise and purpose… but perhaps more importantly, it is the story of the potency of being seen,'" writes playwright Tara L. Wilson Noth. The narrative focuses on a lawyer reeling from a tremendous loss who takes a pro-bono murder case that leaves her questioning who she is and what she wants. The play received the Grants for Arts Projects award from the National Endowment for the Arts. The accomplished Kimille Howard, the assistant stage director at the Metropolitan Opera and cofounder of the Black Classical Music Archive, directs.
---
'Queens'
Moonbox Productions | Boston New Works Festival
June 24-26
"Queens" is one of more than a half-dozen new plays chosen to come to the stage for Moonbox Production's inaugural Boston New Works Festival, running June 23-26. "Queens," by Randolph, Massachusetts native Kai Clifton, follows four queer Black men — Sky, Bobbi, Alex and Adrienne — as they discover what being an adult means, from careers to love and friendship. All festival productions will be performed across five stages at the Boston Center for the Arts and Calderwood Pavilion.
---
July 17-30
Emerging artists are provided a platform at The Wilbury Theatre Group's fringe festival. Founded in 2014, The Providence Fringe Festival (FringePVD) aspires to feature and nurture new talent by presenting affordable productions in the community. Like other fringe festivals, shows will be staged at various locations around the city, the Olneyville and Valley neighborhoods. There will be hundreds of theater, music, dance and multimedia performances in-person and online, some of which are free. The festival, developed in collaboration with WaterFire Providence, will use 10 stages, including a site on WaterFire Art Center's Campus, The Steel Yard, Farm Fresh and more.

---
July 20-Aug. 7 | July 2-Aug. 14
Sitting outside on Boston Common with friends or family to watch a play is a quintessential summer activity. For more than 20 years, the Commonwealth Shakespeare Company has presented free Shakespearean plays each summer for residents and visitors to enjoy. This year, "Much Ado About Nothing," a popular comedy about courtship, romance and scandal directed by Megan Sandberg-Zakian, comes to the green. In the Berkshires, Shakespeare & Company will also stage a production of "Much Ado About Nothing," directed by Kelly Galvin, running July 2-Aug. 14.
---
July 22-Aug. 13
In Francisca Da Silveira's 'can I touch it?,' single mom, activist and beauty supply store owner Shay must make a choice when United Bank starts to buy up foreclosed properties in Boston's Black community. As the bank works to gentrify the neighborhood, Shay must decide between her family's livelihood or taking a stand against gentrification. Last fall, Company One hosted a virtual reading of the play — part of the New Play Exchange — exploring themes of social exclusion and racial inequity.

---
Aug. 2-14
Playwright Harrison David Rivers' works, he writes on his website, "are about broken — heart-broken, body-broken — people who find strength in their imperfection(s)." In "We Are Continuous," the relationship between Simon and his mother is at the center. Ora has always been in his corner through thick and thin. But soon, a life-altering moment threatens their bond. Will they overcome this challenge? Audiences will find out in this Williamstown Theater Festival-commissioned play from the "Where Storms are Born" writer that focuses on love's evolution. Tyler Thomas, a 2020 Williamstown Theater Festival Foeller Fellow, directs.
---
Aug. 5-20
Gabriela Medina-Toledo stars as Dorotea in "And Your Little Dog Too  • Y Tu Perrito También," a bilingual adaption of "The Wizard of Oz." In this immersive version by Brooks Reeves, audiences will move through the street and the park following along in Chelsea Square.
---
Aug. 6-28
Nearly 30 years ago, Ed Siegel, founding editor of WBUR's The ARTery and former Boston Globe theater critic, met Julianne Boyd outside of Stockbridge. That night, the Barrington Stage Company, which Boyd has headed up since then, was staging "Lady Day at Emerson's Bar and Grill," a one-woman show (with pianist), about one of Billie Holiday's last concerts in 1959 at a Philadelphia bar. Boyd's tenure started with that music-centered offering and will end, as she retires post-show, with one as well. The late Stephen Sondheim's "A Little Night Music" follows the lives of a group of upper-middle-class couples living in Sweden. The plot, by book writer Hugh Wheeler, finds the initially ill-matched couples finding the proper partners by the show's end. Barrington Stage is hardly limited to musicals, though. They're also restaging the Pulitzer-winning "Anna in the Tropics" (July 16-30), about a lector who arrives at a cigar-rolling factory and shakes things up with his reading choice.
---
Aug. 26-Sept. 18
Black Bottom was a predominantly Black neighborhood in Detroit, Michigan, destroyed and redeveloped in the late 1950s to early 1960s. The community was replaced with the Lafayette Park residential district and a freeway, according to the Detroit Historical Society's Encyclopedia of Detroit. Paradise Valley, an adjacent area and overlapping neighborhood, was where Black-owned businesses and entertainment venues were located. It's in this neighborhood that Blue, a trumpeter, contemplates selling his jazz club. As gentrification inches closer, Blue grapples with his internal conflicts as the arrival of a stranger throws things off-kilter. Jackie Davis ("For Colored Girls Who Consider Suicide When the Rainbow is Enuf") will direct the play written by Dominque Morisseau, whose "Ain't Too Proud: The Life and Times of the Temptations" was recently presented by Broadway in Boston. Gloucester Stage also has an exciting offering in "Mr. Fullerton, Between the Sheets" July 1-24. The play centers on a love affair between prolific writer Edith Wharton and American journalist William Morton Fullerton in Paris.
---
'Sing Street'
Huntington Theatre Company
Aug. 26-Oct. 2
"Sing Street" might hold all the nostalgic '80s energy you didn't know you were missing a la Netflix's "Stranger Things." Set in 1982 Dublin, Ireland, teenage Conor aims to impress a girl by asking her to be in his band's music video. But first, Conor must start a band. Once he does, he and the girl, Raphina, fall in love and bond over the music created to escape their teenage woes. The Enda Walsh play — based on the film by John Carney of the same name, with music and lyrics by Gary Clark and Carney — is directed by Rebecca Taichman.
---
Aug. 27-Sept. 17
Set during the French Revolution's Reign of Terror, this female-fueled comedy by Lauren Gunderson, with direction from Megan Nussle, finds an eclectic group — playwright Olympe de Gouges, assassin Charlotte Corday, former queen Marie Antoinette and Haitian rebel Marianne Angelle — hanging out together. But murder and mayhem quickly ensue in Paris. Violence, art, activism, terrorism and compatriots get explored.
---
Aug. 28-Sept. 23
Rodney King was the first Black person I remember getting beaten up by cops. The televised attack on King in 1992 showed a mob of blue encircling the man in a flurry of kicking limbs and swinging batons that pummeled King's body. What I remember next is the acquittal of the cops who viscously hurt King, who was being arrested for driving while intoxicated.
The cops' acquittal — the first of many such police brutality acquittals and subsequent protests and attempted reckonings of my lifetime — resulted in several days of rioting and looting in Los Angeles. This challenging historical moment is examined in "Twilight: Los Angeles, 1992" by accomplished actor and playwright Anna Deavere Smith. Smith's Tony Award-nominated, Obie Award-winning play is the product of interviews with more than 350 LA residents. The five-person show, in which Smith performed solo in the 1990s, will be directed by Taibi Magar ("Macbeth in Stride") and presented in association with NYC's Signature Theatre Company.