A.R.T.'s 'Macbeth in Stride' uses rock 'n' roll energy to interrogate ambition
Play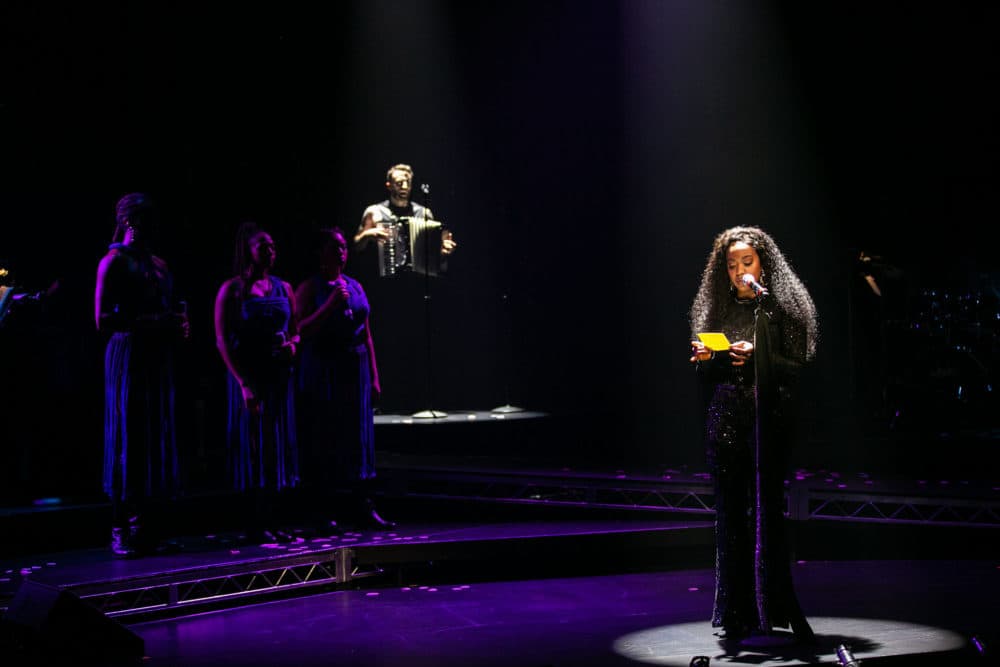 This article is more than 1 year old.
Three weird sisters of Shakespeare's "Macbeth" directly address the audience in Whitney White's ensemble production.
"Women, what is something you want right now? Call it out, you can say it," one witch says. "Say it, claim it. What is something you want right now?"
The witches line up in a row, singing a Hallelujah chorus to pay their respects to the new king and queen, who, through manipulation and murder, have seized the crown.
"What does it feel like? What is it going to take? In this world, is it worth it?" they ask.
And without skipping a beat, White as Lady Macbeth retorts:
"Girl! It was worth it."

The American Repertory Theater's newest production melds a rock concert with a play. "Macbeth in Stride," which opens Oct. 28, is a musical, contemporary take on a classic tragedy, and tells a story from Lady Macbeth's perspective.
Through a range of musical genres: pop, rock, gospel and R&B, White takes us inside the mind of the murderous Lady Macbeth. White is the creator, composer, and co-orchestrator.
"Music is an equalizer. It doesn't matter what side of the aisle you're on, you probably like Tina Turner and the Doors," White said. "Maybe we can do a magic trick and help people see that it's it's for all of us and about all of us."
The queen's narrative arc is portrayed as one of hubris and ruthlessness. She's often criticized for being more ambitious than her husband, crooked enough to do whatever it takes to rise to the top. In a song called "Reach for It," White sings:
"But if foul is fair and fair is foul then ambition is not a sin at all…"
White delves into these innermost impulses using contemporary black female power, desire, and femininity as the through line. Ambition as both compass and downfall. "Macbeth in Stride" is the first of a five-part series of concert pieces in which White will explore the women in Shakespeare's plays. Next on her roster is a quieter, sadder, rock ballad about Emilia, wife of the devilish villain Iago from Othello.
She'll draw inspiration from grunge bands such as Nirvana.
"I did fall in love with Shakespeare, which is an interesting thing to interrogate. I am a black woman from Chicago, and I fell in love with Shakespeare," White said. "I see myself in his world. I see my homegirls in his world. I see my mom and her sisters in his world. If all the world's a stage then all of us are in those plays."
While finishing her MFA in acting at Brown/Trinity Rep in 2015, White realized she could build a story that refracts her experiences, questions the world and interrogates what women and people of color see on a stage and how they've been historically represented.
"There were a lot of roles I never got to do and perspectives I never got to touch. You know, I had played a maid like so many other African-American artists and artists of color, I had been the best friend,"she said. "Before graduate school I was the African-American girl in every musical, you could think of "Hair," "Hairspray," "Rent," you know what I mean? And so I was like, where is the story that speaks to me."
One of them is Lady Macbeth's, a role nearly always played by white woman, who like many of Shakespeare's female characters dies by her own hand away from the spotlight.

"Why do I love Lady Macbeth if she doesn't even survive her own story? What? And then I just had to take a look at myself," she said. "And I'm still taking a look at myself with why these narratives in which women don't survive if they're ambitious for power, for love, they don't survive. Why do they stand the test of time?"
White has asked herself more than once, why does it feel good to step into the role of a monster? Because perhaps it's the only taste of freedom Lady Macbeth gets. To aspire to a greater purpose beyond simply sitting at her husband's side. In this show, she gets to dream.
"I guess I'll keep it real, it's a hell of a role, and it feels so good when you're doing the language. And there's something so contemporary about her," White said. "But at the end of the day, you can't murder people to get what you want."
In her play, White weaves in Shakespeare's original language and time jumps between the old world and the new. She makes Lady Macbeth's drive relatable despite her obvious moral ambiguity. Here, the character has no qualms about persuading her husband to commit murder so he may step into the role she believes he is destined for:
"Hie thee hither,
That I may pour my spirits in thine ear
And chastise thee with the valor of my tongue
All that impedes thee from the golden round,
Which fate and metaphysical aid doth seem
To have thee crowned withall."
Being in conversation with these iconic characters allowed White to get under their skin and better understand their motivations. Their stories stand the test of time; they offer a conduit to explore ourselves, even in their unraveling.
"Macbeth in Stride" opens Oct. 28 at the American Repertory Theater in Cambridge and runs through Nov. 14.
This segment aired on October 28, 2021.