Julianne Boyd sets next fall as her retirement date at Barrington Stage, the theater she founded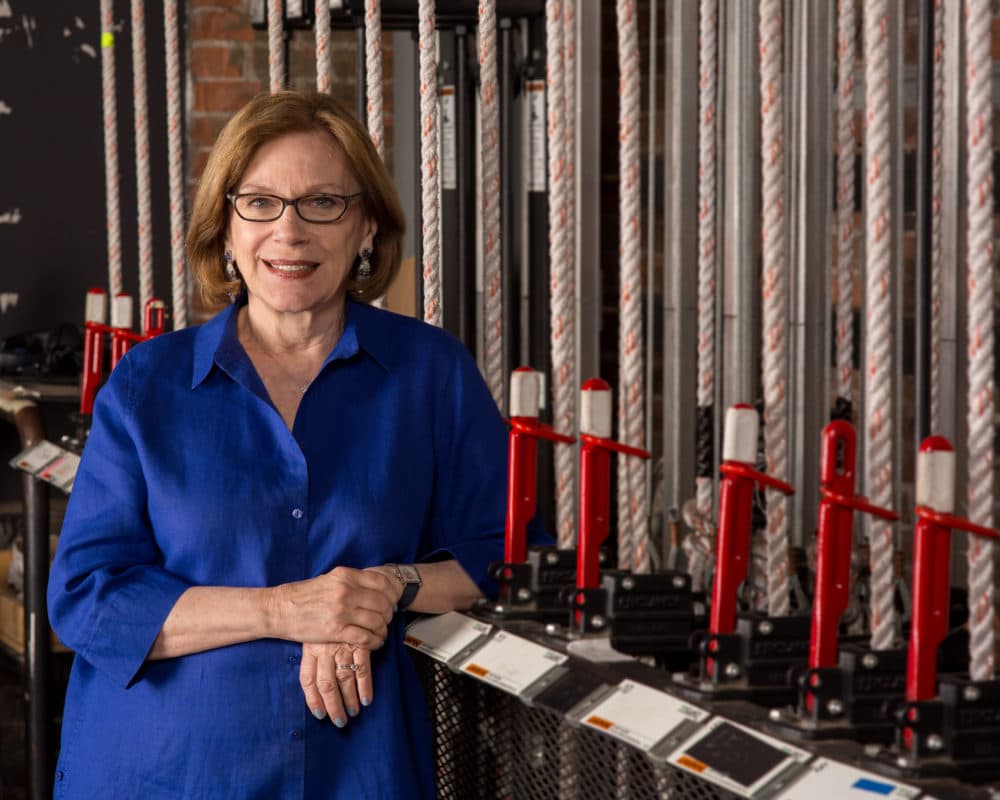 This article is more than 1 year old.
When I first met Julie Boyd, she was hanging outside a tavern in Housatonic, a former Berkshires mill town just down the road from Stockbridge but light years away from the tonier Rockwellian village in terms of the moneyed denizens and acreage.
But neither one of us was there for the booze; there wasn't any that night at the Macono Inn in 1995. Instead, there was the one-woman show (with pianist), "Lady Day at Emerson's Bar and Grill," a play with music about one of Billie Holiday's last concerts in 1959 at a seedy Philadelphia bar.
After parting ways rather acrimoniously with the Berkshire Theatre Festival in Stockbridge after two years, "Lady Day" was the initial offering from her new troupe, the Barrington Stage Company (and my first summer as Boston Globe theater critic). It would come to symbolize much of Julianne Boyd's tenure at the theater she cofounded, which from its humble beginnings at its digs in a high school auditorium in Sheffield, outside of Great Barrington, became one of the leading theaters not only in the Berkshires, but in all of New England.

That tenure ends at the end of the next season when, after 28 years at the helm, Boyd steps down as artistic director. She'll be 77 soon, though there haven't been any signs of a diminution of her energy level as she ambles along the less-mean streets of Pittsfield, where she relocated the theater in 2005. And there certainly hasn't been any artistic fall-off at Barrington Stage, as witnessed by the company's stunning recent fall musical about U.S.-Mexico immigration issues, "A Crossing."
Still, there have been limitations on her and her husband. "What do I plan on doing? First thing to do is travel. Twenty eight years. That's a long time not to travel in the summer, the spring or the fall, right? So we have planned right now a three week trip to Japan." There's also a family trip to Tuscany and reading fiction "without dialogue."
From "Lady Day" to the world premiere of "A Crossing," Boyd has shown a keen ear for musicals. Gail Nelson was a superb Billie Holiday, in part because she didn't try to imitate her, and "A Crossing" was a wonderfully inventive blend of multi-genre storytelling idioms. Boyd didn't direct "A Crossing" — in recent years she has imported other top-notch directors and choreographers like the three J's — John Rando, Joe Calarco and Joshua Bergasse.
But what a roster of work in 27 years at Barrington: A darker reimagining of "Cabaret" — by far the best I've ever seen — that later traveled to the Hasty Pudding Theatre in Cambridge, wildly acclaimed productions of Steven Sondheim and Leonard Bernstein (a rugged "West Side Story" and a sensual "On the Town" that transferred to Broadway); "Pirates of Penzance," and the musical that solidified the company's reputation and finances, the workshopping and premiere of "The 25th Annual Putnam County Spelling Bee," which was originally staged in the cafeteria of the Sheffield high school in 2004.
Boyd attributes her success to the fact that she doesn't come to them from a musical background: "I'm really, you know, a director of plays. And I look at the book in the music as a play. I look at it seamlessly as a play. What am I trying to accomplish with the book and how do I make the music match it?"

She also looks for an emotional attachment and has turned down musicals that don't have that for her, like "Crazy for You." But, she continues, "The one show that I was very aware that I was doing something different in was 'Follies.' I never understood the ghosts, you know, and can I clarify the ghosts? I thought it was just such an unbelievably powerful story that was being told and that that's one that I said, 'OK, we got to make this work.'"
That's probably part of what attracted Finn to Barrington Stage, who was so impressed by her staging of "Falsettos" in 2002 that he asked if he and the "Spelling Bee" team could work on the show in Sheffield. Boyd made sure to get a piece of the action for that and other transfers (most theaters do, which is often a financial lifeline). Finn would later move to the Berkshires himself and work with Barrington Stage on Mr. Finn's Cabaret, which has showcased younger singers and composers, but has been closed for the past two seasons because of the pandemic.

It would be a mistake, though, to think of Barrington Stage as only a place for musicals. Boyd's first few seasons featured stellar productions of "The Diary of Anne Frank," "Three Viewings," Athol Fugard's "Valley Song" and Marivaux' "The Inconstant Lovers." Just this past season "Chester Bailey" ended the pandemic hold on indoor theater for many. Starring the father and son Birneys — Reed and Ephraim — the story of a doctor wondering whether to bring his patient out of his fantasies and back to a horrible reality captured much of what makes theater a medium that digital theater can't touch in its emotional intensity.
Pre-Berkshires, Boyd had made her mark in New York with "Eubie" on Broadway with Gregory Hines and "A My Name Is Alice," a musical revue that she co-conceived with filmmaker Joan Micklin Silver off-Broadway, winning an Outer Critics' Award.
Becoming artistic director at Stockbridge, she says diplomatically, "was not a good fit," but Barrington Stage, which she founded with Susan Sperber, allowed her the freedom to fit a theater to her desires. And Mt. Everett High School in Sheffield, one town over from Great Barrington, offered her a home.
There were obviously challenges. Messages on the public address system would sometimes interrupt shows. One of the actors was sent to the principal's office to be reprimanded for smoking on the grounds.
By the same token, principal Thomas Consolati, for whom the auditorium was re-christened the Consolati Performing Arts Center, was a welcoming presence, even daring her to go further. He asked her why she didn't perform "Lady Day" at the high school. Boyd recounts their conversation: "And I said, 'Well, I mean, do you know how many swear words are in there... and the fact she's alcoholic and a drug addict.' And he said, 'Don't you think that would have been a great lesson for these kids to see what happens when you drink too much and you do drugs? You think they haven't heard that f--- before?' ...And it was great."
I would often take friends from out of town to shows at the high school during the summer. Invariably, they thought they were going to something akin to community theater only to find productions of Huntington Theatre Company and off-Broadway quality.
A downside of the auditorium became one of the theater's upsides. The hall was so big that it leant itself more to musicals than straight plays. "Cabaret" in the 1997 third season began a string of must-see musicals — "A Little Night Music," "Mack and Mabel," "Company," "On the Twentieth Century." The same year they did "Falsettos," 2002, they did a two-piano version of "South Pacific" featuring Nelson as a Bloody Mary who shattered the clichés around the character.

Boyd also began working with the teenagers who were hanging out in downtown Great Barrington and an outreach program gave them theater training and aptly cast them in a youth production of Eric Bogosian's "SubUrbia," a play about teenagers hanging out at a 7-Eleven.
Not everyone was so in love with Barrington Stage and Boyd's sometimes sharp elbows. She had a long-standing feud with Berkshire Eagle theater critic Jeffrey Borak, who was not as high on the company's work as were I and fellow Globe critic Richard Dyer or Ben Brantley and Terry Teachout in the New York Times and Wall Street Journal respectively. At one point, Borak had to buy tickets to see plays. That's no longer the case and Borak this past season has raved about Barrington productions.
As the millennium approached, it became increasingly obvious that Boyd and the company were looking for a new space. It looked as if they were going to stay in the southern Berkshires but a sale to the Mahaiwe Theatre in Great Barrington fell through, as did other searches in the Southern Berkshires.
But if Great Barrington was indifferent, Pittsfield was throwing open its arms. The city had never really recovered from General Electric leaving in the early '90s after its use of PCBs had badly contaminated the Housatonic River. Situated between Lenox and Williamstown, Pittsfield had none of the allure of those two cities, or of Stockbridge to the South.

The city, however, was serious about trying to rebuild with arts as a key piece in the puzzle. In 2005, the company bought a vaudeville theater in the downtown area and renovated it into an intimate (compared to Sheffield) 520-seat theater. It also owns two smaller theaters, one named after Mark St. Germain, who has written several plays for the company, along with the book for "A Crossing."
Elsewhere in Pittsfield, the Berkshire Theatre Festival in Stockbridge merged with the Colonial Theatre in 2010 and the Berkshire Theatre Group now is headquartered at the Colonial under the artistic leadership of Kate Maguire. Nick Paleologos, former state representative turned Broadway producer and head of the Mass. Film Bureau, is the executive director. Both theaters got gifts of $1 million for staging live theater during the pandemic when all else was dark.
Down the street from the Colonial is the Berkshire Museum, controversial for its selling off of paintings by Norman Rockwell and others in 2018. Downtown now boasts several excellent restaurants and a boutique hotel.
Still, it's obvious that the revitalization is a mostly middle-class-and-above phenomenon. Drugs and crime are still a problem along with all the other pre and post-pandemic plagues that affect poorer cities and neighborhoods.

Boyd says that the outreach programs she had in Great Barrington have been stepped up in Pittsfield, citing a playwright mentoring project, a week-long celebration of Black voices, work with various Black churches and Latiné organizations. "We're trying to find the talent and let the artists in the community know that their work is valuable," she says.

Barrington had been developing and producing plays of color well before other theaters decided it was incumbent on them to do so, including the world premiere of Christopher Demos-Brown's "American Son" in 2016, about police shootings of Black men. It featured Tamara Tunie of "Law and Order: SVU" and won the Laurents/Hatcher Award for Best New Play. In 2018, they staged the world premiere of Lloyd Suh's "The Chinese Lady," about American exploitation of Asians, which, like "American Son," transferred to New York and a particular favorite in 2019, Stacey Rose's "America's v. 2.1: The Sad Demise & Eventual Destruction of the American Negro."
Even some of the productions that didn't bowl me over, like Conor McPherson's adaptation of Daphne du Maurier's "The Birds," spoke to schools of important contemporary drama that Boston theater has seemingly lost interest in.
Boyd says that she will be getting out of the way of the new artistic director, but she won't be going far. She's not moving from her Pittsfield digs.
She'd like to direct two plays a year after she leaves, one at Barrington, one someplace else. Including the Huntington? "If they asked me."
Hmm, note to the next artistic director at the Huntington. You might want to put Julie Boyd in your virtual Rolodex.