3 Berkshires Theaters Take On The Issues Of The Day, Starting With Black Lives Matter
PITTSFIELD, Mass. — The political or issue-oriented play has long been suspect in American theatrical circles. Playwrights influenced by Samuel Beckett, Edward Albee and Harold Pinter — and later by David Mamet and Sam Shepard — aim to be broader, more abstract, to talk about the human condition rather than be constrained by the politics or the problems of the day.
Today's playwrights, though, tend to see the human condition and the political condition as one and the same. Tony Kushner and "Angels in America" probably had something to do with that. So did a more diverse group of playwrights and a recognition by many theaters that they had to get away from a steady stream of white-male playwrights.
It shouldn't be any surprise, then, that there's something of a new-American play festival going on in the Berkshires and, particularly in an election year, that there's such a rich vein of issues to mine. Three of the four one-act plays I saw last week make a case for the place of the sociopolitical play as a way of getting past the headlines and 24-hour-news channel coverage of American life and giving the issues they're dealing with a rich, emotional texture as well as an intellectual one.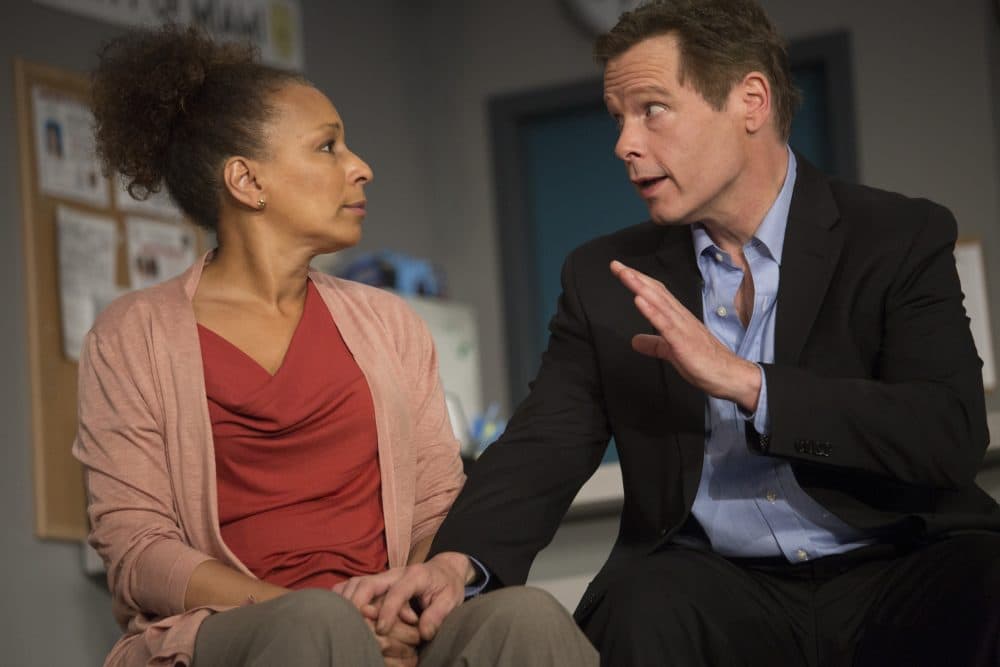 "American Son": Barrington Stage Company Boyd-Quinson Mainstage, through July 9
By many traditional ways of evaluating plays, "American Son" comes up short. The dialogue can be forced, which affects the acting from time to time. You can see plot developments coming a mile away. Political points often seem to drive the writing rather than the other way around.
And yet "American Son" is an intense, powerful exploration of contemporary American issues revolving around race, particularly those concerning black lives matter. Barrington Stage Company commissioned the play from Christopher Demos-Brown, a lawyer as well as playwright,  and is backing it to the hilt with BSC founder Julianne Boyd directing it on the mainstage.
Kendra Ellis-Connor, played by Tamara Tunie of "Law and Order: SVU" fame, opens the play sitting alone in a Miami police station nervously checking her phone, desperately hoping for contact with her son, who went out with his friends the night before and didn't come home.
An African-American woman, she fears the worst about what might have happened to her son, who has been drifting further and further away from the assimilationist ways she imbued him with. She's a psychology professor and confronts the well-meaning but ineffectual policeman who is trying to calm her down until his superior arrives.
There are twists, but even though you can see them coming you might want to skip the rest of the graph if you don't want to know. It turns out that Kendra's husband is white and the policeman's superior is black. Those situations can seem forced — I never bought Kendra falling in love with her husband, never mind marrying him. But more importantly, it gives Demos-Brown the chance to explore racial issues in ways that force the audience to challenge their assumptions in ways that you don't find on CNN.
Can people in this country ever get beyond race? Shouldn't a young man of any race or level of education know that you don't ride around with a bumper sticker saying "Shoot Cops"?
In that regard, much of what happens in "American Son" can feel like a Rorschach test on racial attitudes. But there are more subtle questions asked as well, and what makes it an important play is that it doesn't settle for easy answers or play to preconceived notions. Black lives matter. Police lives matter. "American Son" matters.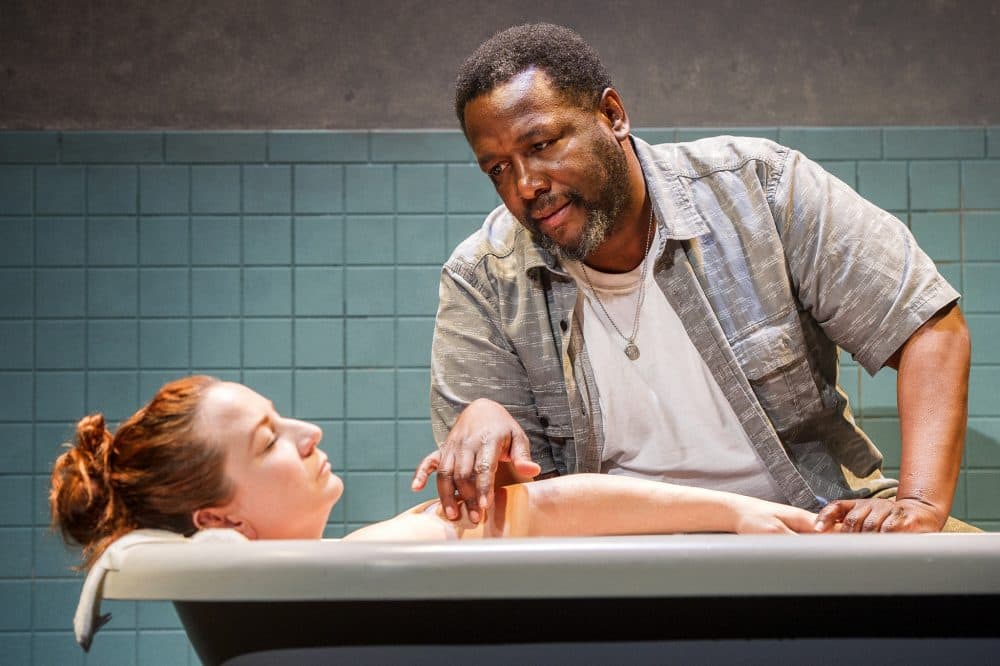 "Cost of Living": Williamstown Theatre Festival Nikos Stage, through July 10
On the face of it you would think that "Cost of Living" is about disabilities. One of the four characters has cerebral palsy, another has lost her legs in a car accident. That they're played by actors in similar situations adds to the sense that the play will be a lesson in empathy or overcoming the cards that have been dealt you.
That's not really what Martyna Majok's "Cost of Living" is about. In fact, the two caregivers are really the more interesting characters. The play begins with a beautifully delivered monologue by Wendell Pierce as Eddie. Pierce is one of the stars of "The Wire" and "Treme," but as good as he is on HBO, he commands the stage with such a natural grace that you hang on his every word.
Eddie is begging his wife (Katy Sullivan) to let him attend to her after she's lost her legs. She's reluctant and calls him every name in the books, but eventually gives in. Jess (Rebecca Naomi Jones) is likewise pleading with John (Gregg Mozgala) to let her into his life — particularly the morning ritual of showering and dressing to get ready for the day. The latter storyline feels a little forced, but Majok's writing is witty and varied enough to get them past the points that strain credulity.
Jess has her own back story that emerges slowly and it's Eddie's and her attempt to find sustenance in a world that is brutally cold (the weather matches the politics) that lifts the play, along with the acting under Jo Bonney's imaginative direction. You don't learn about one of the major issues until the final scene so I won't give it away here. What we can say is that since none of us get out of this life alive, we might as well try to find what connection we can.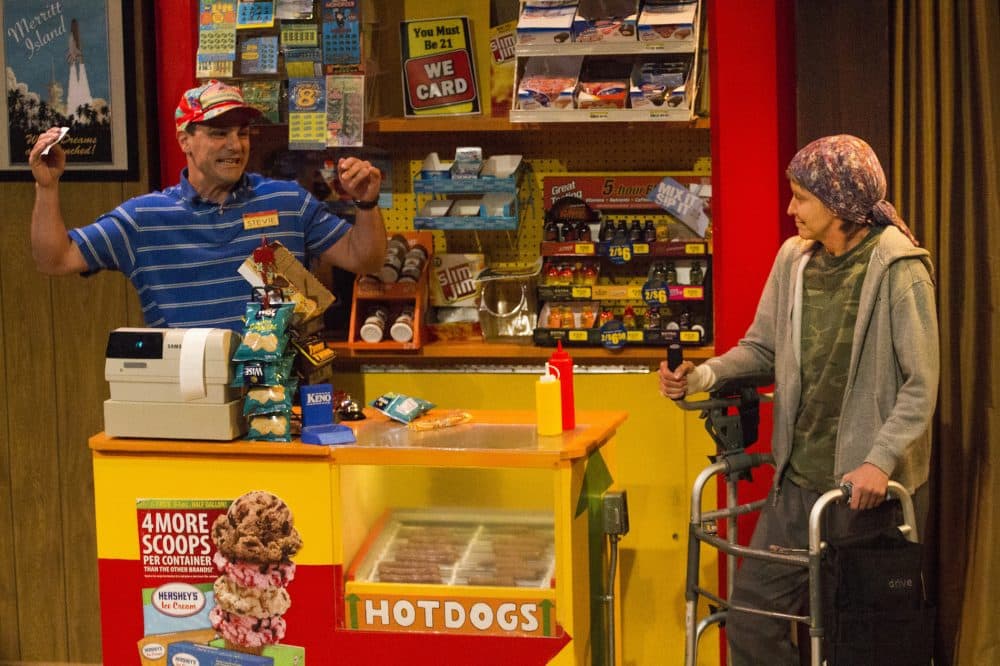 "Ugly Lies the Bone": Shakespeare & Company, Bernstein Theatre, through Aug. 28

Williamstown deserves credit for casting disabled actors, of course, but I wouldn't go so far as others have and say it's crucial to do so. For one thing that would deprive Lenox theatergoers of seeing Christianna Nelson's tough but lovely performance as an Afghanistan veteran, also named Jess, who's come back to her Florida home terribly burned and unable to move without a walker.
Lindsey Ferrentino's writing is the smoothest of the playwrights here, at least in terms of not straining credulity. The meat of the play is in Jess, her family and friends trying to adjust to her broken body and spirit. Her therapist is trying to help her recover with a virtual reality program that tries to distract patients from their pain. According to the program notes, there has been some success with that therapy.
Jess is more interested in finding a way to cope with non-virtual reality. She's moved back into the family home. The mother's in a hospital with Alzheimer's, her sister is in love with a guy she can't stand and she has the most awkward of relationships with her ex-boyfriend.
As with the previous plays mentioned, there's much in the play that has to do with class in America. Theater audiences are overwhelmingly middle and upper class, so teaching audiences who can't fathom the rise of Trump or Brexit, to feel the pain of how the other half are faring is a significant thing to strive for.
It's certainly true in "Ugly Lies the Bone" as Ferrentino and director Daniela Varon provide a rich emotional tapestry for their characters' lives. And then there's Christianna Nelson who, no matter how bitter her character is, and deserves to be, Nelson always lets you know that there's a life force there that isn't going to give in to that bitterness.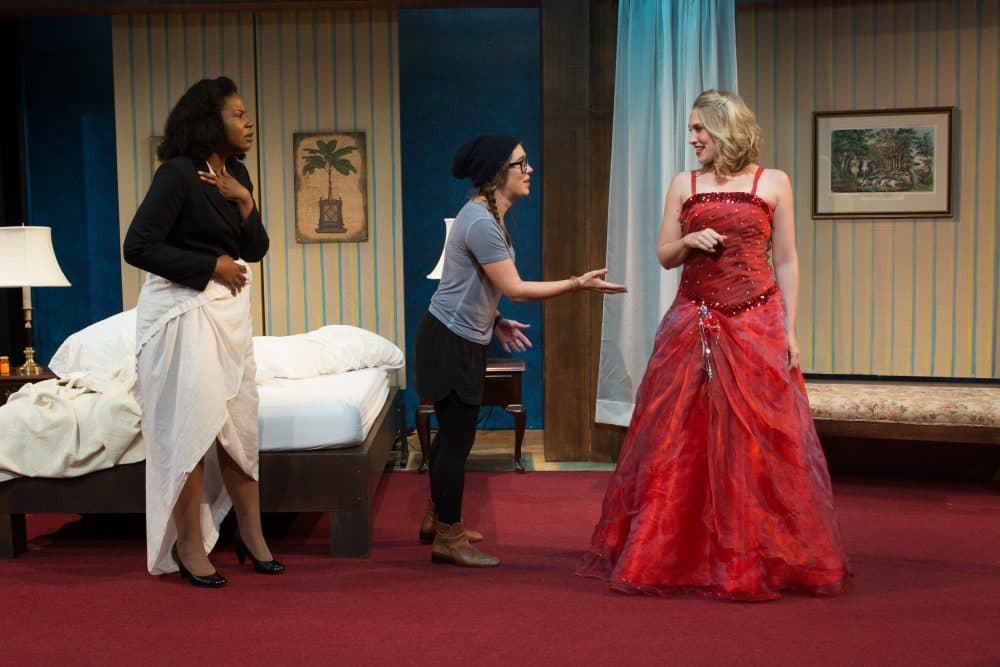 "The Taming": Shakespeare & Company, Bernstein Theatre, through July 30
"The Taming" is not in the same league as the other three. If "American Son" challenges audience attitudes, "The Taming" plays to them with an insipid satire of what ails American politics — an inability for liberals and conservatives to get along. While there are references to shrews — don't ask — the taming has more to do with the taming of American politics.
The play begins at a Miss America contest where Miss Georgia kidnaps a Republican operative and radical environmentalist in an effort to rewrite the Constitution -- just as Northern liberals and Southern conservatives had to work together to form the country.
If the idea seems forced, the execution is worse. The two actually call each other "Red State" and "Blue State" and yell at each other with such dimwitted vehemence that you might want to pack some Advil along.
Tangela Large, who won good notices for "Mr. Joy" at ArtsEmerson, is wasted as the Republican, and her two partners in theatrical farce, Maddie Jo Landers and Lucy Lavely, can't find anything in Lauren Gunderson's script to sink their teeth into either.
With all the craziness in American politics these days, "The Taming" finds incredibly little to say about it.
Elsewhere In The Berkshires
You don't often get second chances to see great productions, but if you didn't see "Merchant of Venice" at Shakespeare & Company in 1998, director Tina Packer and actor Jonathan Epstein are reuniting in Lenox this summer. I said at the time in The Boston Globe, "It is the ingenuity, if not genius, of Tina Packer, to make a rich, compelling case for a sympathetic treatment of Shylock [Epstein] while staying true to the comedic dictates of the author. Shakespeare was artist enough to give her that leeway and Packer is artist enough to spin that leeway into gold."
Epstein is one of the great actors in New England, and so is Will Lyman. They both have Lear in their credits, but Lyman has God in his. He's on the psychiatric couch (Maureen Keiller is also top-notch) in "Oh God," Anat Gov's smart and soulful exploration of contemporary theology. The Israeli Stage Company production moves to the Chester Theatre Company in Becket, right past Jacob's Pillow, July 14-24. Chester partnered on the production.
Carolyn Clay, writing in The ARTery, said, "God is also feeling suicidal -- a sticky problem because, if He goes, He takes the world with Him. So it's in the agnostic [psychiatrist] Ella's interest to steer God through his existential crisis. And with the aid of extensive Biblical scholarship and what God rightly calls 'dime-store psychology,' she does."