Boston mourns Celtics legend and civil rights icon Bill Russell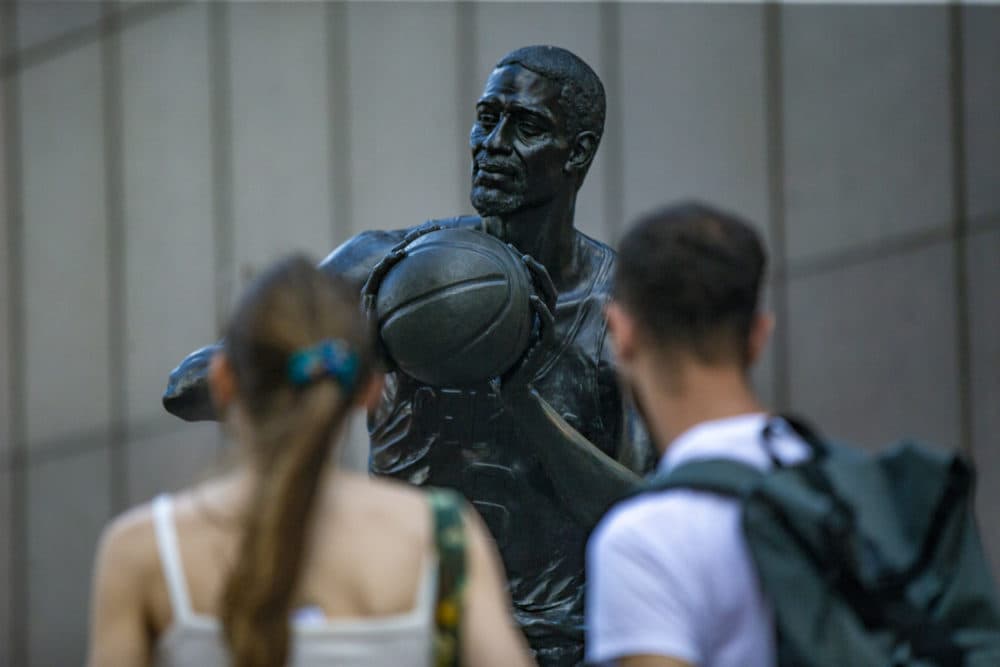 Basketball fans, athletes and elected leaders are mourning the death of Celtics great Bill Russell. The NBA legend and civil rights advocate died Sunday at the age of 88.
The Boston Celtics issued a statement calling Russell "a champion unlike any other in the history of team sports."
"To be the greatest champion in your sport, to revolutionize the way the game is played, and to be a societal leader all at once seems unthinkable, but that is who Bill Russell was."
Boston Mayor Michelle Wu said she was devastated by the news. She said she holds up Russell's life as an example for her children.
"He has shaped our city and has been so foundational to our pride nationally at a time when it was incredibly difficult to be in his particular role," she said.
Wu noted that she passes by a statue of Russell on her way into City Hall every morning. Fans gathered at that statue to pay their respect, leaving flowers and memorabilia.

Arthur Smith, of Charlestown, laid a yellow bouquet at the base of the 8-foot statue Sunday afternoon. "My dad used to talk about him as just, the guy, how he was just this incredible player, and there was nobody like him," he said.
Rich Hamilton, who lives in Seattle but grew up in Boston, visited the Russell statue on Sunday as well, and said he remembers going to the old Boston Garden to watch Russell play.
"He put up with a lot in Boston, and he just kept on winning, kept on working at it, dedicated to the sport, just a good person," he said. "He was the best."

Russell won 11 titles, five MVP awards, and made 12 All-Star teams as a player before becoming the NBA's first Black head coach. He was also an outspoken advocate for civil rights, and experienced racist abuse from his home crowd.
Retired Celtics player Paul Pierce remembered Russell for his "great laugh," and joined current Celtics players including Jayson Tatum, Jaylen Brown and Grant Williams in expressing their gratitude to Russell on Twitter.
Marcus Smart called Russell: "Celtics to the core."
Members of the Massachusetts congressional delegation also took to Twitter to express their condolences. Congresswoman Ayanna Pressley called Russell was "unapologetic advocate for a more just & equitable world."
Sen. Elizabeth Warren said Russell "a trailblazer for justice and equality" and Sen. Ed Markey called Russell is his "personal hero."
Gov. Charlie Baker called Russell the greatest of all time, as someone who broke barriers in both "the game of basketball and the game of life for Black athletes and Americans."
Bridges across the state lit up in Celtics colors Sunday night to honor his legacy.
Russell's family says plans for a memorial service will be announced soon.
With reporting by WBUR's Walter Wuthmann and newscast unit, as well as The Associated Press
This article was originally published on August 01, 2022.