Woburn semiconductor company has a chance to stay in Mass., thanks to federal bill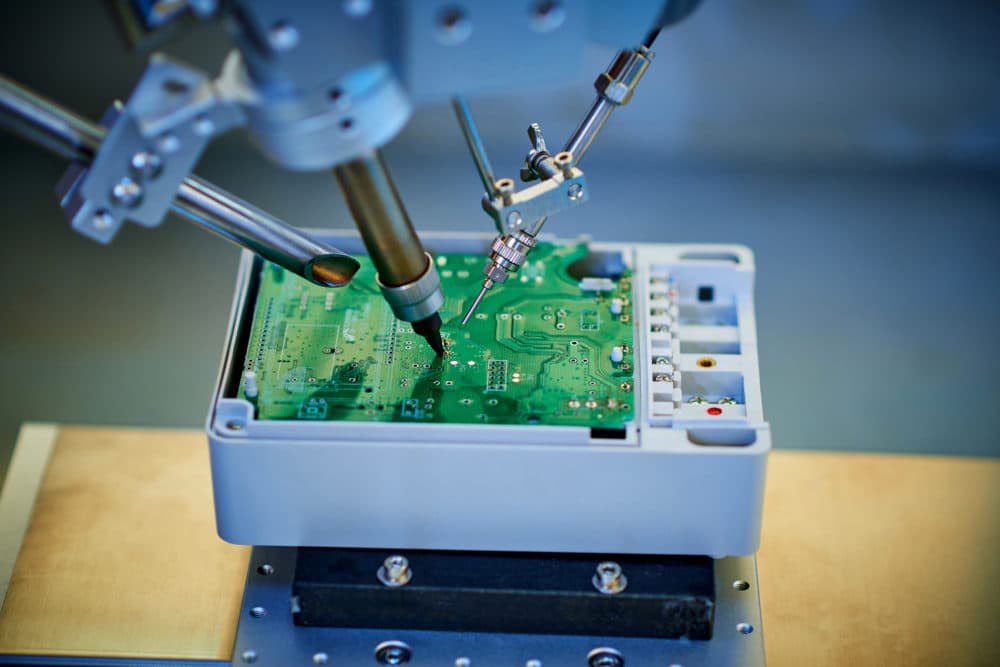 Rob Snowberger has been facing a difficult decision about the fate of his Woburn-based semiconductor company.
"Either stay in the U.S. and get sold for parts," Snowberger said. "Or, we go to Japan and set up shop there."
Snowberger is the CEO of Nantero, which develops computer chips that can store data inside electronic devices. Semiconductor chips like these can be found in much of the technology used today: Cars, cell phones and home appliances are just a few examples.
But even as Nantero has grown, Snowberger said he hit a wall — or what is known in his industry as the financial "Valley of Death." He couldn't raise enough money to scale up production of the technology his company developed and take it to commercial markets.
"It's called the Valley of Death because essentially the costs are so high," Snowberger said.
In this industry, a single piece of manufacturing equipment can cost up to $50 million. Nantero has raised $150 million from investors over its 20 years as a startup. It has made back about the same amount in revenue. But Snowberger was preparing to do what other semiconductor companies have done in the past: leave the U.S. and move to a country with significant state funding for this type of technology.
"It would be devastating," said Snowberger, of pulling up stakes in Massachusetts. "The people who have built this business are from Massachusetts. They're from Boston. They've made their lives here."
But Nantero, which employs 50 people in Woburn, may soon have a better shot at staying local.
President Biden on Tuesday was expected to sign The CHIPS and Science Act of 2022, which will dole out $280 billion to improve domestic semiconductor manufacturing and other science research. Some 65 companies, like Nantero, which are based in or have a presence in Massachusetts, stand to benefit from this legislation.
According to the Semiconductor Industry Association, Massachusetts exports $2.7 billion worth of semiconductors and machinery used to make semiconductors — making it the third most valuable export from the commonwealth.
In addition to their increasing use in many household items, semiconductors are also becoming more important in the power industry as tools to modernize energy grids, said Alex Wyglinski, who teaches electrical and computer engineering at Worcester Polytechnic Institute.
"Day to day, we are 100% dependent on this technology. Semiconductors are the foundation," Wygnlinski said.
A chunk of the money from the CHIPS bill would come in the form of research grants and investments in science and technology education. A state like Massachusetts, which has a high concentration of higher education institutions, could present a compelling case to receive some of that funding, said Wygnlinski.
Within technology circles, there is hope any new federal funding will be used — at least in part — to help broaden access to education and job opportunities in the high-paying tech sector.
Money for workforce training and new manufacturing facilities, for example, could expand the state's technology economy and diversify its workforce, said Ben Linville-Engler, chief investment strategist at Massachusetts Technology Collaborative, a quasi-public state agency.
"[It] comes down to how we think about engaging parts of our state, parts of our workforce, or parts of our communities that maybe haven't necessarily benefited as much as they could," Linville-Engler said.
The CHIPS bill is explicit in its goal to keep semiconductor companies from moving overseas. For Nantero, that would require at least $100 million in additional grants and loans — the same amount of money the company was offered by the Japanese government.
After Congress passed the CHIPS bill in a bipartisan vote last week, Snowberger said he feels optimistic about the possibility of securing that money in the U.S.
"It gives us a chance to stay," Snowberger said. "It gives us a chance to add back to the society and the community that's given us so much."