More than a million may vote in the primary, Galvin says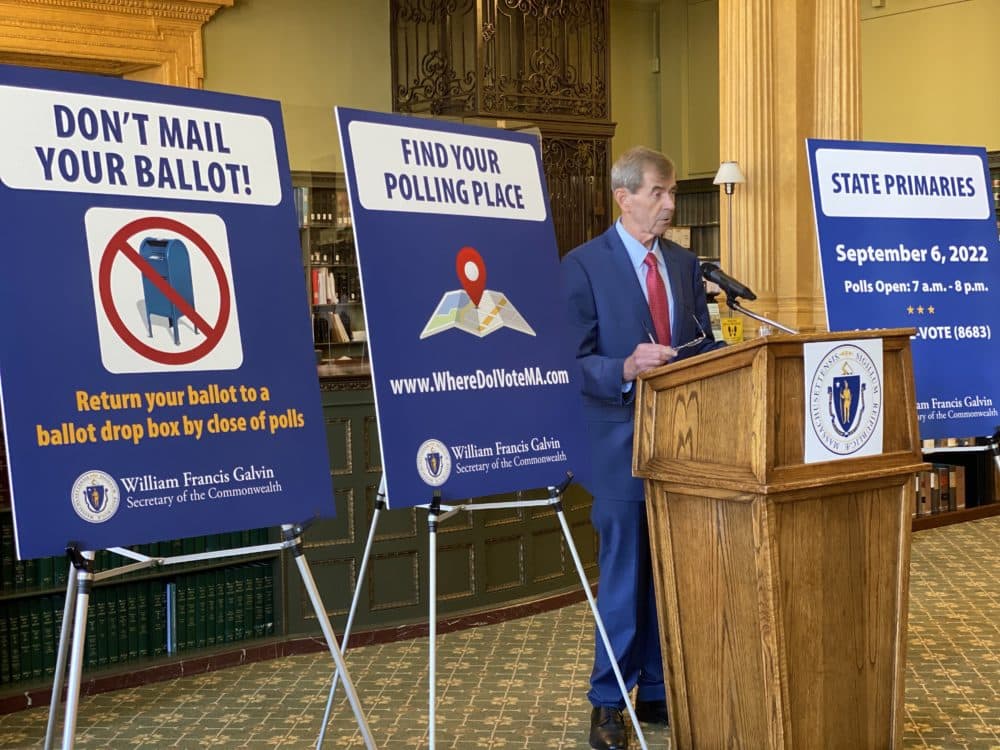 Secretary of State Bill Galvin expects 1.1 million voters to turn out during the 2022 primary election.
That estimate is about 21% lower than the record-high in 2020, when Massachusetts introduced mail-in voting in response to the pandemic. There were also several tough U.S. senate and congressional races.
"You don't have any of that this time," Galvin said during a press conference at the State House Thursday. "But I think it's going up — it's accelerating. You have these intense contests on both sides and I think that's going to bring out a pretty good vote."
One of those contests includes Galvin, who's seeking an eighth term. He's up against attorney and president of the Boston chapter for the NAACP, Tanisha Sullivan, in Tuesday's primary.
Still, the 1.1 million vote estimate for the 2022 primary is a 12% jump from the 2018 primary, which Galvin described as the most recent election with a similar amount of competition.
A rise in independent voters
The mail-in ballot requests have highlighted another trend: More Massachusetts are registering without a party affiliation. Of the 700,000 mail-in-ballot requesters, over half were independent voters. And over 22% of these independent voters requested Republican ballots.
After some quick calculating, Galvin said as many as 50,000 independents could vote in the Republican primary.
"That is a significant because I think it tends to be a different voter than the hardcore party person and broadens participation ... so it could very well have some effect," he said.
Mail-in ballots
As of Thursday morning, almost 285,000 Democratic and almost 60,000 Republican ballots had been cast.
But there are still hundreds of thousands of ballots that have not yet been returned. And to these voters, Galvin had a clear message: Don't mail your ballot.
"We've had a number of issues and it's not a secret — the postal service has been trying to cooperate with us — but nevertheless we do know we've had a shortfall in letter carriers and there's been delays. So we're very concerned," he said.
Instead, voters should drop off their ballots at an early in-person voting site or at their local elections office. Ballots cannot be brought to a polling place on Election Day.
Unlike the November general elections, when ballots postmarked before the deadline will be accepted and counted, different rules apply in the primary. Ballots must be received by the time polls close at 8 p.m. on Sept. 6.