BU President Robert Brown on why he's stepping down, what he hopes to leave behind
Play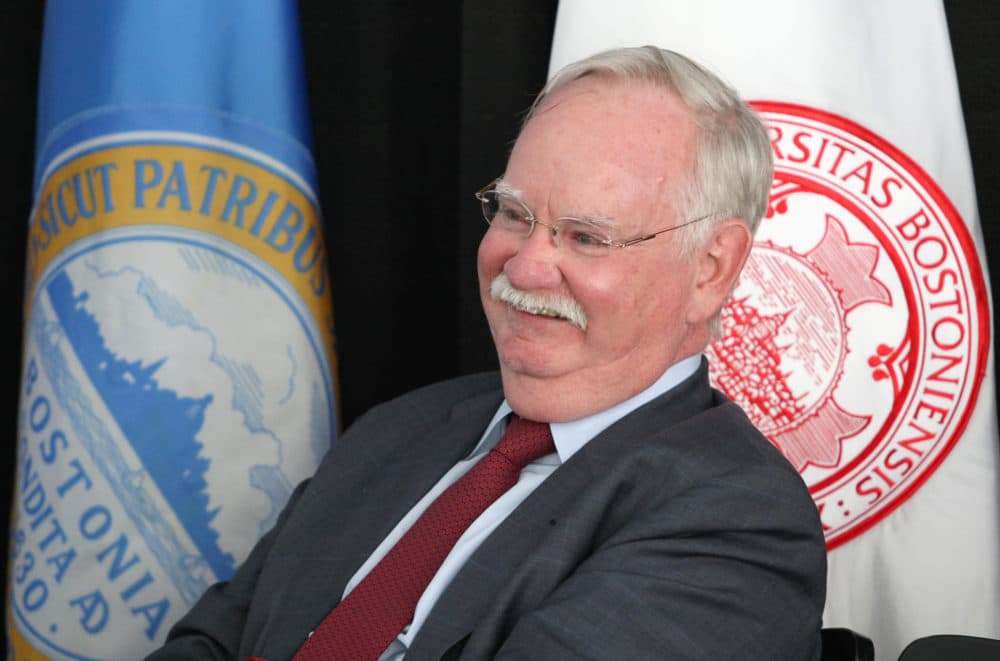 Yet another veteran university president plans to step down.
Boston University's Robert Brown announced Wednesday he'll leave the post at the end of the academic year.
He joins the presidents of Tufts, Massachusetts Institute of Technology, Harvard University, Dartmouth College and Emmanuel College, who are also stepping down.
By the time Brown resigns, he will have served 18 years as BU's president. He spoke with WBUR's All Things Considered host Lisa Mullins about his decision.
Highlights from this interview have been lightly edited for clarity.
Interview Highlights
On why he decided to leave his position
"I've done it for a while, and there naturally comes a time when those transitions should happen. And secondly, a university has a natural rhythm to it in terms of where you are. And it just felt to me, and in consultation with my wife Beverly, that this was really the right time to make that transition."
On the difficulties of running a university during the pandemic
"The most complicated thing about the pandemic was making decisions that affected our student body, faculty and staff on timescales that are just not typical for an institution. We had to make decisions about sending everyone home, how we would do remote learning, and then the big decisions about opening the campus back up with all of the COVID protocols that we put in place. Those decisions were incredibly difficult and intense and were made very quickly for an academic institution.
"The whole set of decisions around remote versus in-person learning and reopening the university were highly controversial. There were students, faculty and staff on both sides of that line. And the interesting thing, I think, is that when you look back at the way we handled it — giving the options to the students, who are the people who we're here for — we're going to look back and say those were the right decisions to make, although they were very difficult."
On some of the successes during his tenure
"I think what I'm most proud of is kind of an abstract answer. Boston University is a very confident leading research university. It's confident in its graduate and undergraduate programs and the kind of students we attract. It's confident in our ability to attract leading faculty to the university.
"Other things — like a building on the skyline, the building of the testing laboratory during COVID — those are examples of that confidence. But the confidence itself is what will have a long-lasting impact."
On his decision to return to teaching
"I'm scared. I used to teach and, I thought, taught well in my time, before being provost at MIT. I'm looking forward to it, but I have not been in the classroom with this generation of students, which I'm sure is going to be an interesting experience."
Note: Boston University also owns the broadcast license for WBUR, which maintains editorial independence.
This article was originally published on September 07, 2022.
This segment aired on September 7, 2022.