Boston Medical Center to open inpatient psychiatric and substance use treatment center in Brockton
Boston Medical Center is opening an 82-bed center in Brockton for inpatient psychiatric care and substance use treatment. Housed in a former nursing home, the program will include 56 spots for patients with mental health issues and 26 for those transitioning from detox to treatment for addiction. It will offer what many facilities don't: care for patients who need both mental health and addiction care.
Hospital officials say the new Brockton Behavioral Health Center will reduce long wait times for psychiatric and substance use beds, a problem Boston Medical Center flagged among low-income patients covered by the hospital's MassHealth plan.
"When you see the preponderance of behavioral health challenges, particularly now coming out of COVID, it makes much more sense from a systems standpoint to have a more humane and effective care continuum for patients struggling with behavioral health challenges," said BMC's president and CEO, Kate Walsh. "We're really excited about it."
BMC says most of the jobs will be filled by Brockton residents and people from surrounding communities., Walsh says Brockton is a good location for this facility because 40% of BMC's MassHealth member clients live within 20 miles.
The estimated $41 million cost of the project includes $12 million in state funding – part of a package of government incentives to expand behavioral health care. An anonymous donor contributed $6 million for solar and geothermal installations with a goal of producing zero carbon emissions.
In the words of that donor, Walsh says the center "sits at the intersection of racial health justice and environmental justice."
The Brockton center is expected to open in early October, during a season when demand for adolescent psychiatric beds often rises. This facility will care for patients 16 and older. Last week, there were 559 children and adults stuck in hospital emergency rooms in Massachusetts, waiting for  psychiatric beds.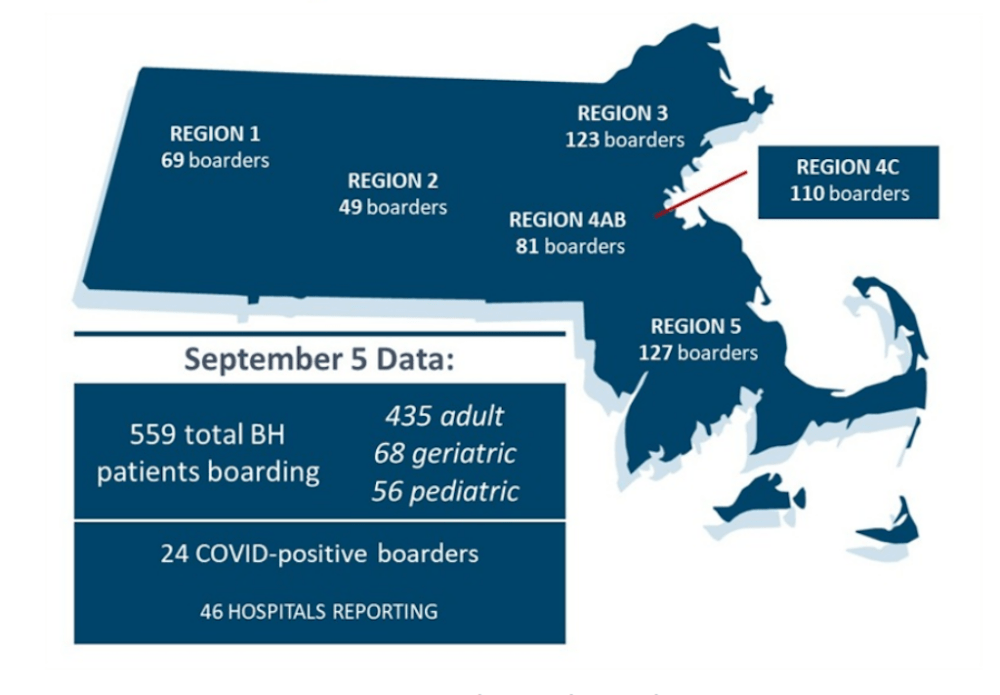 "When we put out a call for the development of additional psychiatric inpatient capacity, Boston Medical Center was one of the first hospitals to step up to the plate," said state Secretary of Health and Human Services Marylou Sudders, in a written statement. "Today, we see the fruits of that commitment."
Other health systems are also increasing their behavioral health care as demand increases. Cambridge Health Alliance added 42 beds for children and adolescents earlier this summer. And Tufts Medicine is renovating a facility that will expand its behavioral health capacity with 86 new beds.