State Sen. Julian Cyr says DeSantis pulled 'a political stunt' in sending migrants to Vineyard
Play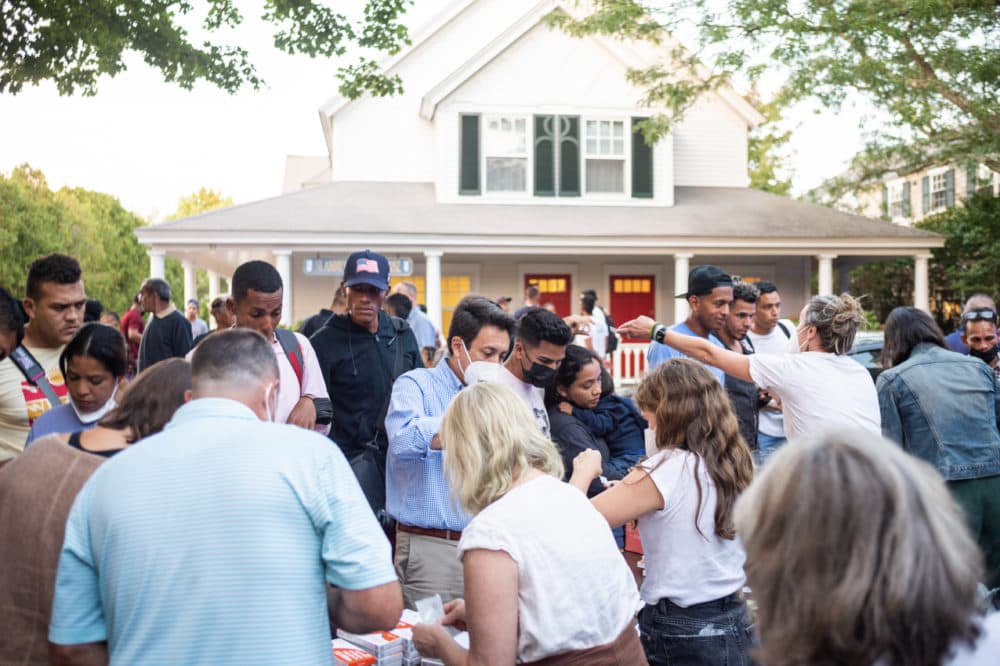 Martha's Vineyard is scrambling to find shelter and resources for about 50 migrants, including several children, from Venezuela, who arrived unexpectedly on the island via plane.
They arrived Wednesday, and come amid a campaign by border governors to bus thousands migrants to East Coast cities like D.C. and New York.
For more on the developing situation, WBUR's Morning Edition host Rupa Shenoy was joined by Cape and Islands state Sen. Julian Cyr.
Highlights from this interview have been lightly edited for clarity.
Interview Highlights
On how the migrants are faring on the Vineyard
"The focus, first and foremost, ever since these migrant families arrived completely unexpectedly a little after 3 p.m. yesterday, is to make sure that these folks are safe, that they're fed, that they have a roof over their head. Island officials moved heaven and earth to essentially set up the equivalent of the shelters that we would put in place for a hurricane or a Nor'easter. They did that in a matter of hours, provided a really Herculean response. And I think they should be — we are all, I think, really proud of that response.
And I think now today we're figuring out what those next steps are; making sure that these folks have breakfast. There's going to be a series of meetings and conversations are already underway with state officials and agencies trying to help out our partners on the island. But the island response has been nothing short of remarkable and in real contrast to what — clearly this pretty cruel ruse that's been concocted on manipulating these vulnerable families for a political stunt."
On whether he has a sense of how the migrants are doing emotionally 
"So the emotional feeling, actually, from what I've heard, is that folks were relaxing last night comfortably, were a bit upbeat. I think they were actually quite overwhelmed by ... the welcoming response on the island. But it's really clear that these migrant families did not know they were traveling to Martha's Vineyard and didn't even really know where they were going. It appears there's been some initial reporting of this that there was a recruitment of these families and manipulation of these families. So there's a lot of really big questions here. And it appears clear, particularly given the statements from Governor Ron DeSantis, that really, these are politicians capitalizing on people who are in very difficult circumstances who are vulnerable for a gotcha moment, for a political stunt. And that's just disgusting."
"We're in the business of welcoming people on Martha's Vineyard, on Cape Cod. But you really can't provide adequate support and services for people when you have no notification of their arrival."
On why DeSantis sent the group to the Vineyard, and why now
"There have been these threats employed by folks like Ron DeSantis ... Texas Senator Ted Cruz has also talked and threatened for years about, 'We're going to send migrant families to Martha's Vineyard, send them to Nantucket.' I expect this is because of the national profile these islands have as to who visits us in the summer months. What they don't understand, actually, is that Martha's Vineyard, Nantucket, Cape Cod, we're actually quite a diverse place. But immigrants and migrants really are are the backbone that sustain our communities and our economy. And so this is really about politicians looking for political gain, concocting a stunt."
On whether Vineyard residents may feel differently about state immigration policies if more plane loads of migrants show up
"We're in the business of welcoming people on Martha's Vineyard, on Cape Cod. But you really can't provide adequate support and services for people when you have no notification of their arrival. This was a coordinated effort, but there was no notification to officials on Martha's Vineyard or to anyone in Massachusetts, from my understanding.
I think folks in Massachusetts really understand that we've really seen a failure in immigration policy at the federal level. I think, certainly, we can be part of that solution. But it needs to be done in a collaborative way. This isn't about having Massachusetts or other so-called blue states sort of pitching in to help in the migrant crisis. This is about extremist politicians exploiting vulnerable people for their own gain. And that is simply disgusting. And that's not who we are on the Cape and the Islands. And that's not who we are in Massachusetts."
This segment aired on September 15, 2022.