Mike Block Trio's adventurous 'What Now?' brings the cello to the backcountry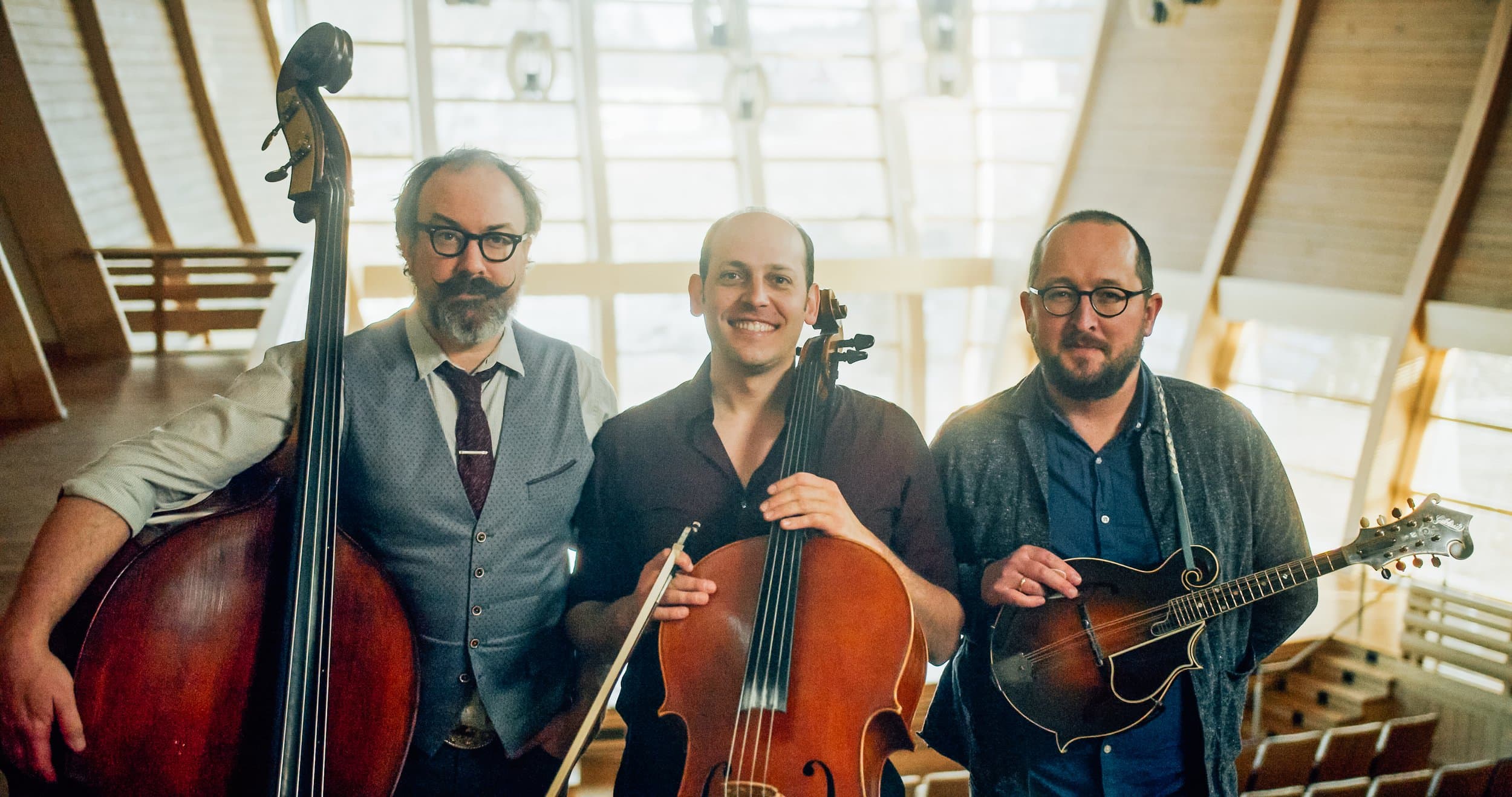 Cellist-composer Mike Block explains an interesting concept to me: "There's a strong improvisational tradition in Baroque music," he says. "The notation was essentially a chord chart back then—we're talking the 1600s, back then." I'm intrigued; I'd usually associate these words—improvisation, chord charts—with jazz music, or R&B. But Block explains that even something so rigid as classical music has roots in a free form.
"Dieupart's Sarabande," a selection from Block's latest release "What Now?"—released Sept. 30 as a trio featuring Joe K. Walsh on mandolin and vocals and bassist-vocalist Zachariah Hickman—embodies the improvisational tradition he is talking about. Block used the notation for the Sarabande, written by French composer Charles Dieupart, as a chord chart, meaning just the bare bones of the composition are notated, while the melody is up for interpretation. This extemporaneous approach, coupled with the novel combination of a mandolin, acoustic bass and cello, breathes a folksy, Appalachian life into the piece.
This is just one example of the idiosyncratic prowess of "What Now?", an album brimming with worldly influence. Songs like "Highland Ridge" and "One Fine Day" are as rustic as their titles suggest, both twiddly and foot-stomping. "Medieval Winter in Muncie," an ornate waltz of sorts, plays to Block's classical roots, whereas the Brazilian folk of "Fla Flu" flexes a sturdy samba groove. "A-OK" and "Won't Have to Wait" are driven by bouncy pop melodies. It's clear that the trio want to leave no stone unturned, finding creative ways to interpret traditional music in unsophisticated, yet thoughtful ways.
Though Block, a Juilliard-trained cellist and former Yo-Yo Ma collaborator, cut his teeth in the classical music world, he finds solace and companionship with Walsh and Hickman through a shared love of bluegrass and Americana music. The origins of their friendships date back to the late aughts in the folk circuits of Boston; Block met Walsh at a party in 2007 (at the home of his future wife) and formed a bond through a jam session; Block met Hickman through the club scene. He says what he loves most about this trio is the playful tension between its collaborators, Walsh being "nice" and Hickman being "mischievous." "What I appreciate about the trio is when we're on stage I feel like I have an angel on one shoulder and a devil on the other," he laughs.
"What Now?" is another bullet point of Block's manifesto: To liberate the cello from its traditional constraints. He's made this mission his life's work, an ambition that has conjured an absurdly prolific output of music through the last several years. "I have an unhealthy obsession with making things in the studio," he says, and he's not exaggerating; this album is his third release this year.
"Once I decided that playing classical cello like everybody else wasn't actually going to be what makes me happy, basically my whole adult life has been about pursuing composition and improvisation and connecting with all sorts of music communities outside of classical music," he explains.
But "What Now?" is more than just a study of improvisational freedom within traditional music. Much of the music was composed through early phases of the pandemic, when everything slowed down, the minutiae of life thrust under a microscope. "There was a lot of yearning for this life that had yet to crystallize," he says, referring to raising his child in quarantine, an experience that yielded both valuable family time, but a study in patience and finding peace.
"With this project, I wasn't trying too hard," he says. "I was feeling more at peace with everything. I didn't feel like there were any external things I wasn't living up to or worried about." The parallel here, the freedom of self and the freedom of improvisation, can't be overlooked; Block's artistry is free from restraint.