Mass. voters, don't sleep on these key upcoming deadlines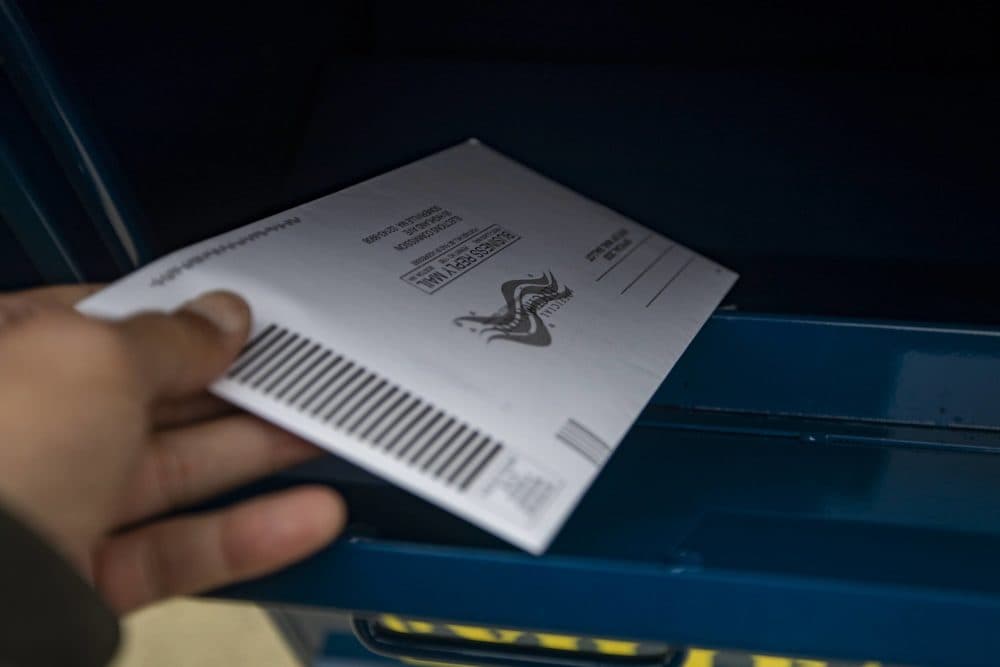 Editor's Note: This is an excerpt from WBUR's daily morning newsletter, WBUR Today. If you like what you read and want it in your inbox, sign up here. 
---
Election Day may technically be over three weeks from now, but voting season is well underway in Massachusetts. Hundreds of thousands of ballots have already been mailed out and in-person early voting begins this Saturday. Check out our guide to the all the essentials you need to know ahead of Election Day on Nov. 8.
If you want the SparkNotes version, here are a few key points from the guide — starting with the big dates to remember:
Saturday, Oct. 22 — Early voting begins
Saturday, Oct. 29 — Voter registration deadline
Tuesday, Nov. 1 — Deadline to request mail-in ballot
Friday, Nov. 4 — Last day of early voting
Tuesday, Nov. 8 — Election Day (it's also the deadline to postmark mail-in ballots, or return them in person or to a dropbox)
Don't procrastinate. The biggest reason voters had their ballots rejected during the state's September primary was that they were received too late. While you have a little more wiggle room in the general election, Secretary of State Bill Galvin's office says you should mail back your ballot at least one week before Election Day. If you haven't done so by Halloween, return it in person or to a local drop box.
Where do I vote? Find your local early voting location (and its hours) here. Find your Election Day polling place here. You can also track the progress of your mail-in ballot here. (Galvin's office says over 1 million have been requested and almost all should be delivered by this week.)
School is canceled today for K-12 students in Haverhill and Malden, after teachers unions in the two cities called a strike. The move comes after last-minute contract negotiations over the weekend between the unions and school district officials failed to yield an agreement.
That means no after-school programs, extracurriculars or athletics in either district today. Haverhill school officials are pointing parents toward the local YMCA and Boys and Girls Club for child care. Malden is telling parents to find "other arrangements."
The timing is no coincidence. While the Haverhill and Malden teachers unions called for the strikes separately, they say their reasons for doing so are similar. WBUR's Suevon Lee reports the main issue is wages. For example, the Haverhill teachers union says the district has been unable to fill over 150 open positions because teachers feel they can be paid more elsewhere.
The other side: Scott Wood, the chair of Haverhill School Committee's negotiating team, is accusing the Massachusetts Teachers Association of "hijacking" their local talks. He says their proposal amounts to the district's largest raise in 20 years.
School officials are expressing hope the strikes (which are technically illegal in Massachusetts) will be brief. A teachers strike in Brookline this past spring ended after one day — when the two sides agreed to a new contract.
About three-quarters of the Blue Line is getting early bedtime today through Thursday. That's because MBTA officials are shutting down train service from Bowdoin up to Orient Heights at 8:45 p.m. each night to give crews a larger window to do overnight track work.
Shuttle buses will replace train service during those final hours of service — though Government Center will be their only outbound pickup location. MBTA officials also say they'll keep the new ferry to East Boston running until 11 p.m. during the diversion.
In other T news: Today marks the first day of the new fall schedule for the commuter rail, which has seen big gains in ridership since Labor Day. The schedule includes the return of hourly trains to Worcester and maintaining new service along the Orange Line route. Buses are also replacing trains between Beverly and Rockport through Dec. 18 to accommodate signal work.
Fun fact: It's officially "slippery rail season." That means small tweaks to the commuter rail schedule, since train drivers have to brake and accelerate more slowly through all the nice fall foliage that gets mashed into a slick film on the tracks. You can read more about those details — and the rest of the fall schedule changes — on the Keolis website.
P.S.— Our friends at Grist recently opened up the nominations period for Grist 50, their annual list of emerging climate action leaders — from policymakers to artists to farmers. And there's just two weeks left to submit names! Know someone who deserves recognition for their work toward a clean, green future? Nominate them here!