North Atlantic right whale population continues to shrink, according to latest report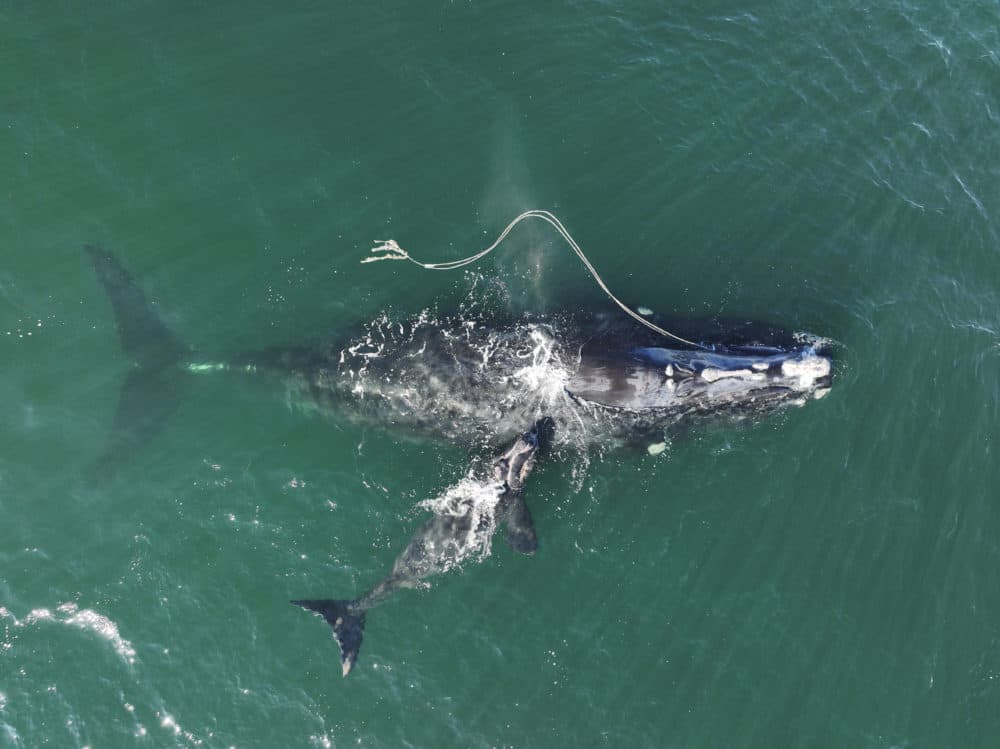 The number of North Atlantic right whales has dropped to 340, down from 348 in 2020, according to numbers released today. The population has been shrinking for a decade, though the rate of decline might be slowing slightly.
The report from the North Atlantic Right Whale Consortium also notes that there were only 15 calves born in 2022 — fewer than the 18 born in 2021.
"Females aren't having calves until they're much older, if at all," said Heather Pettis, research scientist in the New England Aquarium's Anderson Cabot Center for Ocean Life and executive administrator of the Consortium.
She blames the low birth rate, at least in part, on the stress and injury whales experience when tangled in fishing gear. Entanglements and ship strikes are the leading causes of death for right whales.
The high point for the population in recent years was about 481 whales in 2011.
Despite the grim numbers, Pettis said she sees some reason for hope.
"It's not as steep of a decline as we've seen in the last number of years, and so we are cautiously optimistic that we may be seeing the floor of the decline," she said.
"This species can recover if we stop injuring and killing them," said Philip Hamilton, senior scientist at the New England Aquarium and the identification database curator for the Consortium, in a statement.

In Massachusetts, lobstermen are required to use rope that breaks more easily to prevent entanglements, and most state waters are closed to lobster fishing for several months during whale migration.
Beth Casoni, Executive Director of the Massachusetts Lobstermen's Association, calls the existing regulations "draconian."
"It's frustrating. The industry is definitely at its wits' end," she said. "How much more can they do when a closure isn't enough?"
Conservation Law Foundation's Erica Fuller agrees that the Massachusetts fishing industry "bears the brunt" of regulation to safeguard the right whales. She's calling for the federal government federal government to enable a rapid switch to ropeless fishing gear.
"The federal government really needs to step up," said Fuller. "Rather than just apportioning a $10 or $13 million fix for helping fishermen get to ropeless gear, we need to be looking at hundreds of millions of dollars."
The latest population numbers were released in advance of this week's annual meeting of the North Atlantic Right Whale Consortium— a group of organizations, industry representatives, and government agencies from the United States and Canada with a stake in right whale conservation.
This article was originally published on October 24, 2022.