Mass. taxpayers begin getting rebates today. Here's what to expect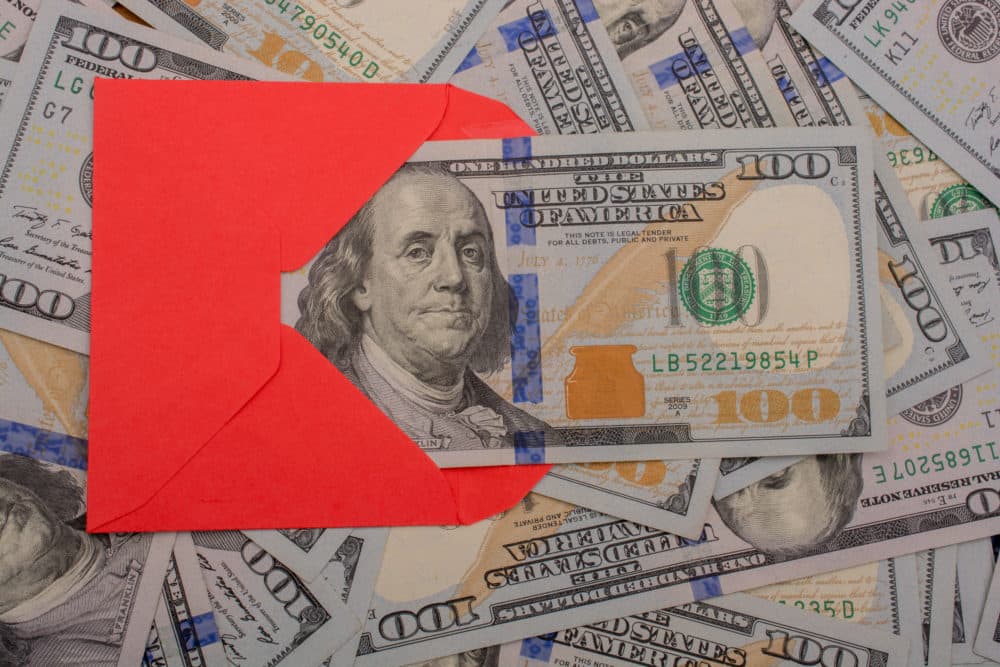 Editor's Note: This is an excerpt from WBUR's daily morning newsletter, WBUR Today. If you like what you read and want it in your inbox, sign up here. 
---
You all really brought it with the Halloween costumes. A few favorites: Mayor Michelle Wu's son — for creativity. Celtics forward Grant Williams —for committing to the bit. The countless flaming Orange Line costumes. Plus all the decorations in Back Bay and Beacon Hill.
Some Massachusetts residents will find a few hundred extra dollars in their bank account today. Others may soon see well over a thousand. Gov. Charlie Baker's administration is beginning to send out rebates to roughly 3 million taxpayers today, after the state triggered an old law capping how much annual revenue it can bring in earlier this year. The automatic payments are going out between now and Dec. 15 to those who have filed 2021 tax returns on a rolling — and apparently random-ordered — basis. So, while we can't tell you when exactly it will arrive, here are a few things we do know:
How much to expect: The rebate will be about 14% of what you paid in state income tax (or around 0.7% of your overall taxable income). You can calculate your expected rebate amount here.
Look for a payment labeled "MASTTAXRFD" in your bank account if you get your tax refund via direct deposit. Otherwise, officials will send it to you as a check in the mail. Officials say 500,000 payments will go out this week, followed by around a million a week after that. So most should arrive this month.
If you haven't yet filed your 2021 tax return, you can still get a refund if you file them by Sept. 15, 2023. If you're eligible, you should automatically get a refund about one month after filing.
There's no limit on the size of the rebates. And the law's language basically means the richer you are, the more you'll get back, as a MassBudget report recently outlined. For example, someone who made $35,000 would get around $200 back, while those who made over $1 million would see rebates of $7,000 and beyond.
What's next? Some legislative leaders have said they might change the revenue cap law to make it less "regressive" going forward, but that won't happen before this current round of payments. They've also hinted it will affect what gets included in a tax cut package that could make it to Baker's desk as soon as this month.
Hey you, get that mattress off the curb! A new statewide ban on throwing away mattresses and textiles — including clothing, shoes and an array of cloth — takes effect today in Massachusetts. WBUR's Barbara Moran reports that the state is changing the rules since the vast majority of these items can be reused or recycled.
Officials told Moran they "generally" won't be fining individuals for violating the ban. But they're also making it easier to follow the rules with info about how to donate mattresses and textiles for recycling. Read the full list of textiles covered by the ban here.
Go deeper: Another part of the ban focuses on commercial food waste. Scroll below for Moran's feature on what the landfill alternative known as "anaerobic digesters" are doing to help.
Investigators have made a "major break" in the "Lady of the Dune" mystery, identifying the woman whose mutilated body was found nearly half a century ago on a Provincetown beach as Tennessee native Ruth Marie Terry. Up until now, Terry was the the oldest unidentified murder victim in Massachusetts. She was 37 when she was killed.
PSA: The deadline to request a mail-in ballot for next week's election is 5 p.m. today. And if you've been dawdling up until now, you have until next Tuesday's election to put your ballot in the mail or return to a dropbox, election office or early voting location.
At this point, Secretary of State Bill Galvin's office recommends dropping off your ballot in person to make sure it's there in time.
P.S.— We're launching a new daily podcast on news and culture in Greater Boston! It's called The Common, it's hosted by Darryl C. Murphy and it's not just another podcast. It will focus exclusively on all things happening in the Boston area, tapping into not only WBUR reporters but also local leaders and changemakers. Subscribe here. Episodes drop each morning at 6 a.m. — starting Monday!