Top U.S. transgender official visits Massachusetts after anti-trans attacks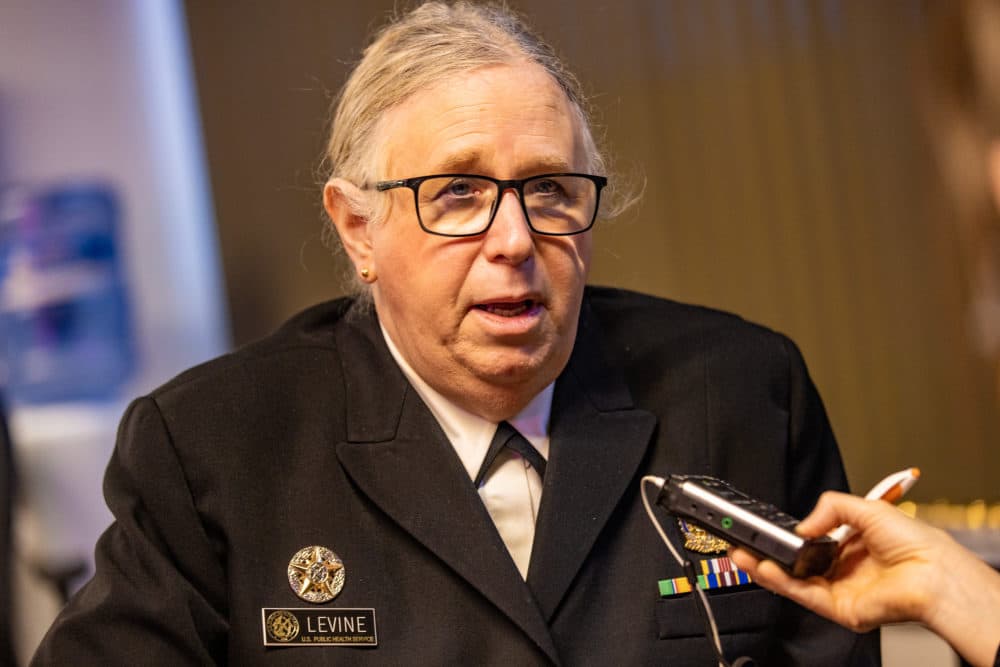 Admiral Rachel Levine, the highest ranking transgender official in the U.S., says she's optimistic anti-trans campaigns will eventually fade. But they might get worse, Levine warns, before they do.
Levine is in Massachusetts for two days, speaking to health care providers and trans youth who've become the target of attacks to ask about the impact of the threats and harassment on their lives and care. Levine toured a drop-in center on Wednesday for LGBTQ youth, run by BAGLY, the Boston Alliance of Gay, Lesbian, Bisexual and Transgender Youth.
"Right now, gender affirmation treatment for youth is the tip of the spear of the culture wars," said Levine, the U.S. assistant secretary for health. "Make no mistake, this is politically motivated to be used as a wedge issue in the election and it is egregious because it is putting at risk the physical and mental health of very vulnerable youth and their families."
Ads that make false claims about transgender medical options are running in many swing states during the midterm election cycle. Some Republican candidates on the ballot in states throughout the country are pledging to pass laws that would limit or ban trans care. And stricter voter ID laws in many states will make it difficult for many transgender voters to help decide those elections.
The political firestorm follows a decade of rising attention to gender identity, pronouns, transgender treatment options, bathroom use and sports eligibility. Some parents, teachers and clinicians have embraced the rapid pace of change, others are cautious or wary and some reject the movement outright.
Opponents of adolescent transgender care in particular say there isn't enough research to conclude that hormone therapy to delay puberty or initiate a gender transition for anyone under 18 is wise. They are angry that some hospitals perform breast reduction surgery on teens 16 and older.
The country's leading medical groups have reviewed the data and endorsed transgender treatment, including the American Academy of Pediatrics. Levine points to a recent study conducted in the Netherlands that found 98% of participants who started gender affirming hormone therapy as adolescents were still taking the drugs when they turned 19 or 20.
At BAGLY, Thomas Morningstar, co-chair of the youth leadership committee, told Levine the anti-trans backlash is making clients anxious. Morningstar says the center can't keep up with the demand for mental health care.
Levine told Morningstar the Biden administration has a new mental health care roadmap that aims to expand the number and diversity of clinicians. Trans youth have higher rates of depression and attempted suicide as compared to other teens, but Levine says that's not because they are predisposed to mental illness.
"It is the bullying, it is the harassment, it is the discrimination that young people face that leads to those mental health outcomes," Levine said.
Levine is the target of near daily harassment on Twitter and some other social media sites. Her staff posts updates from Levine's official account. Levine says she doesn't spend time on social media herself but is aware of the comments.
"People have asked me how I cope with the attacks. The answer is that I compartmentalize," Levine said, as she did when she practiced as a pediatrician and emotions came up while caring for children who were seriously ill.
"And the more I'm attacked, the more I use that emotional energy to fuel my works," Levine said.