Technology looms large in 'The Orchard' and 'Theatre for One'
Technology such as Google Meet and Zoom have connected us for years. At the height of the pandemic, people everywhere relied more heavily on these tools and more to work, meet up with friends, take classes and even watch theater. Two plays, "Theatre for One: We Are Here (Nairobi Edition)" and "The Orchard" — also showing virtually simultaneously — use technological platforms to connect the audience with the performer and push showgoers in some instances to move from passive voyeur to participant.
In "The Orchard," a large white robotic arm resembling a microscope unfolds onstage amid blue benches, toys and confetti-like bits standing in place of leaves or snow. Blue light illuminates as the big arm swills, surveils and resides in the middle of the stage in Igor Golyak's "The Orchard," an adaptation of Anton Chekhov's "The Cherry Orchard" at the Emerson Paramount Center showing through Nov. 13 in person and online.
When the action starts, the audience gets thrust into a world caught betwixt reality and the digital world. It's mysterious, fascinating and startling. Early on, some cast members appear onstage almost as holograms — one wonders if they're onstage or are they projections — while text appears on an unseen screen above the crowd resembling a cursor at the start of a page. It's as if the narrative is spilling out from inside of a computer.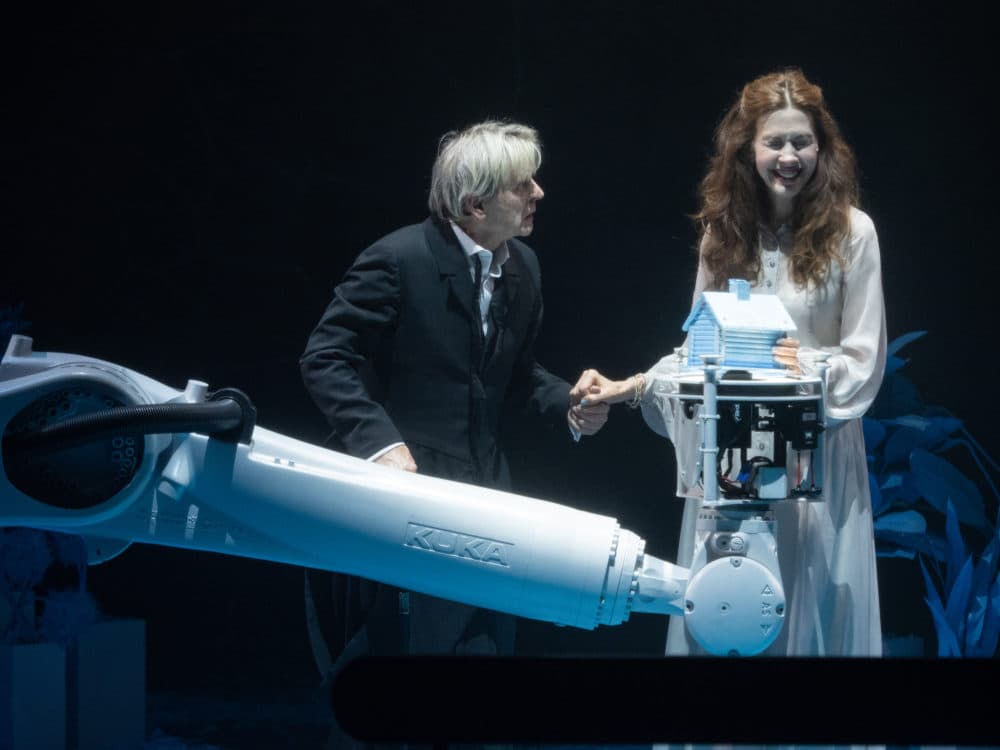 Golyak's technology-informed futuristic "The Orchard" — portrayed by a talented ensemble that includes the legendary dancer and actor Mikhail Baryshnikov, Elliot Norton Award winner Nael Nacer, TV and film actor Jessica Hecht and the always fun to watch Darya Denisova — holds true to his innovative leanings primed during the height of the pandemic. When theater doors shuttered and people headed indoors, Golyak's company, The Arlekin Players Theatre, dug deep to continue creating work. The first virtual offering, "State versus Natasha Banina," became a successful immersive, interactive production that showgoers clamored for. Additional virtual offerings, "chekhovOS," an experimental game and "Witness," a narrative about Jewish migration and persecution due to the Holocaust, followed, all of which featured a participatory component. Even now, with thespians no longer relegated to Zoom plays, Golyak, who conceived and directed the production, still found a way to include viewers at home while "The Orchard" was performed live onstage.
The late Anton Chekhov, one of the fathers of modern theater, is one of Russia's most celebrated playwrights. His layered works such as "The Seagull" and "The Cherry Orchard" — about a Russian aristocrat who is in debt and returns to the estate just before it's auctioned to pay the mortgage — still capture audiences around the world. Golyak's version includes snatches of dialogue in French, Russian and American Sign Language. Scenic designer Anna Fedorova constructs the enchanting world with awe-inspiring projections by Alex Basco Koch and exquisite costumes with asymmetrical hems, pleats, and sculptural clothing by Oana Botez.
Throughout the sometimes-funny tale with matriarch Hecht's rhythmic cadence denoting her character's privilege and Baryshnikov's graceful, dedicated butler Firs, it was the projections, the robotic arm and more that spurred the young audience member to exclaim from behind "this is so cool" and point out things of interest. "They're on Zoom," the child adds when several at-home viewers pop up on the screen to witness and participate in the bid for the cherry orchard. I too was astonished by what was accomplished technologically. Still, at times the dialogue was difficult to hear, and the play was more gorgeous to look at than it was riveting to experience. However, Golyak's drive to experiment, push the narrative, and engage his shows' audiences remains something to consider.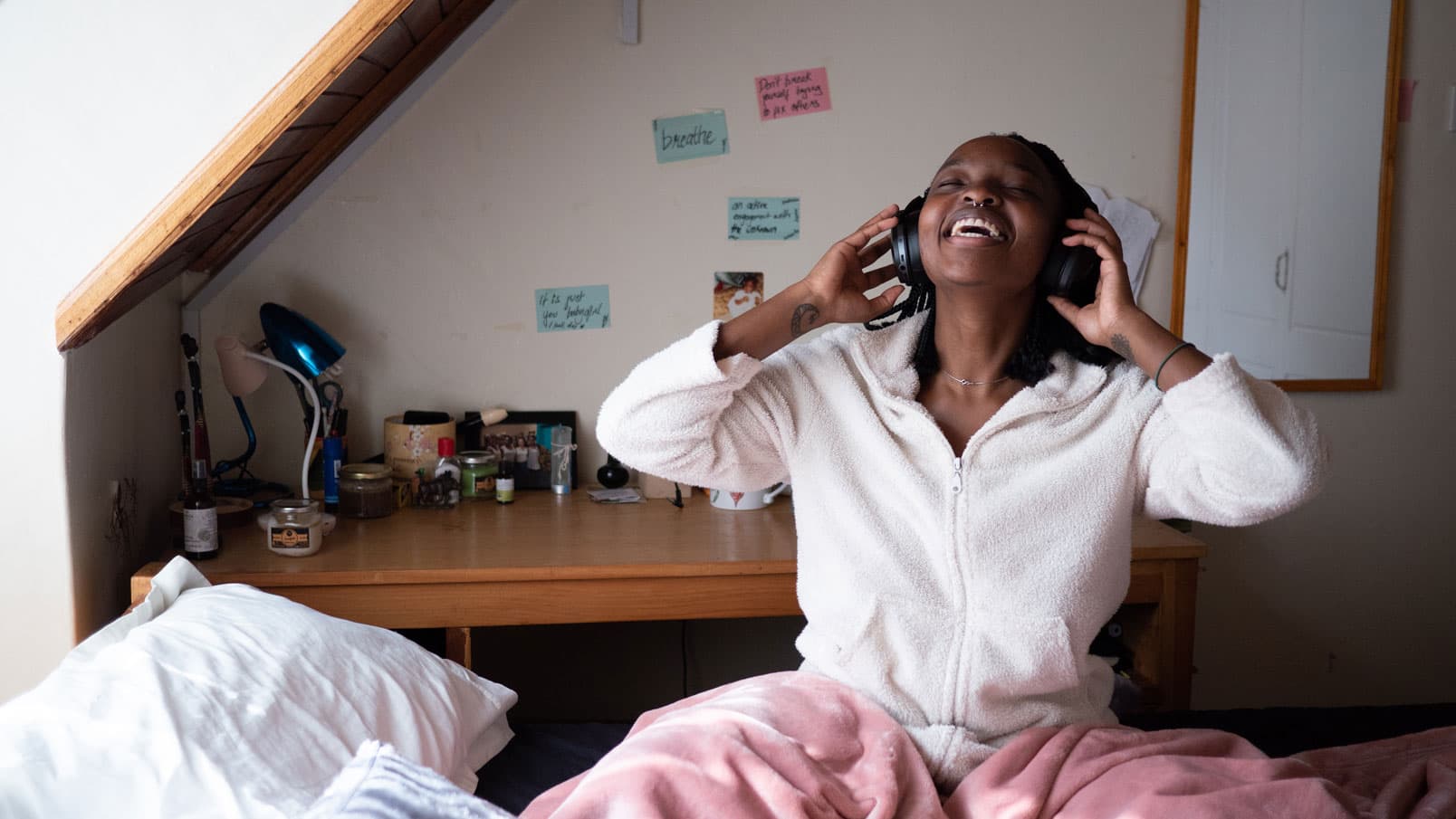 Participation is a must for "Theatre for One: We Are Here (Nairobi Edition)," a free Arts Emerson production showing now through Nov. 20. The brainchild of artistic director Christine Jones, this version of "Theatre for One" is a virtual experience featuring six short plays by Kenyan writers and performers.
The premise is simple. Each performer acts out a short story for one viewer at a time, but the personal nature of the work allows both the actor and showgoer to share an intimate moment. The narratives cover aging, existing, the real, the surreal and more. Everyone sees a different performance, assigned randomly before the event. Each audience member waits in a virtual lobby for their play to start, until a blinking cursor on a black screen gives the directive: make your presence known. Greetings are exchanged and questions get posed before each show begins.
Though I'm no stranger to the stage, I initially overthink my participation level. Do I let the actor get out their spiel and wait for a natural pause or jump in with comments and questions? Will the actor force me to join in at a particular moment?
Jones conceived this idea more than 20 years ago "as an experiment to explore the reciprocal relationship between performer and audience member in a one-on-one, purpose-built space." In 2010, she set up a booth in Times Square in New York City for "Theatre for One," where an actor and audience member engaged just like this in person. The production was reportedly inspired by peep shows and featured plays, dance, stand-up and more. "Theatre for One" offers residencies for other creatives to bring the concept to their communities like the Nairobi Edition, which premiered in 2021. The writers and performers featured are Sitawa Namwalie, Anne Moraa, Mercy Mutisya, Laura Ekumbo, Aleya Kassam and Mūmbi Kaigwa.
While watching the online version directed by SRĐA and Kholoud Sawaf, there are moments of discomfort while waiting for more of the story to be revealed at first and then times of deep connection, intimacy, and reflection. The first play, featuring Kassam, was haunting, and it felt like a sci-fi tale with a somber timbre. In it, Kassam asks if I'm there for the house. It appears her human has died, so she talks about this human and the life they had together. Perhaps, the actor— the character is seemingly non-human—is trying to figure out more about me and if I would be a good fit for the home and to replace her human.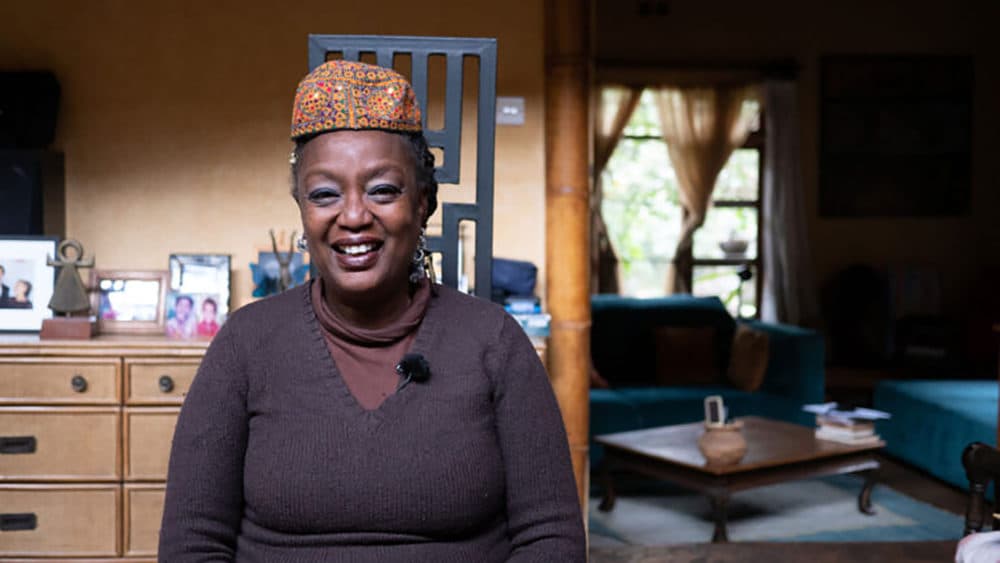 Another show, featuring playwright and actor Mūmbi Kaigwa, focuses on an outburst at work. Stressed by a snafu by the crew during filming, Kaigwa curses and yells at her team. After someone talks to her about the explosion, she realizes how "consequential" her actions were and how they affected staff morale.
My favorite and most natural experience was with writer and performer Laura Ekumbo.
In the play, Ekumbo's readying for a night out to celebrate her birthday and needs advice. She wants a song to set the tone for her birthday and stops rummaging through her clothes to talk about music, birthdays and aging. Ekumbo's an excellent actor who put this audience member at ease quickly. The conversation, where she stops to read snippets from her journal centering on different points in her life, just flowed. I found myself leaning in to listen more closely, laughing and wincing with realization. She asked questions about my thoughts and experiences at different points in my life, which left me grateful for the gift of growing older and the wisdom we glean along the way.
"Theatre for One" breaks down the barrier between performers and audiences and forces showgoers to meaningfully engage with and reflect on the art as its created together.
---
"Theatre for One: We Are Here (Nairobi Edition)" runs virtually through Nov. 20 and "The Orchard" runs through Nov. 13.