SpeakEasy Stage movingly explores cultural identity and the price of learning 'English'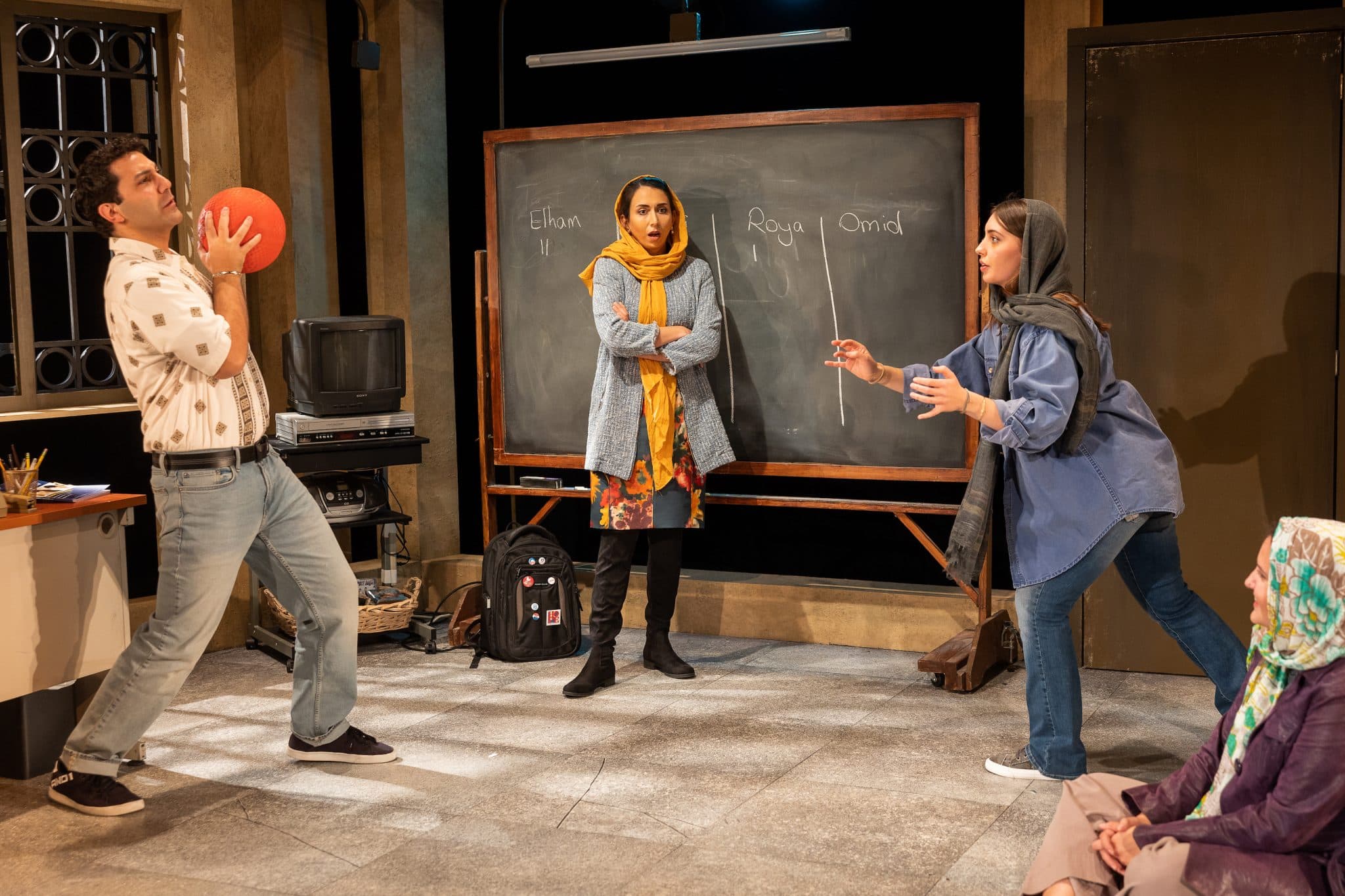 Learning a language can be like embarking to a new world with much to discover. History, culture, expression, music and more can be delved into, dissected, and consumed once the pupil becomes an adept.
In Karaj, Iran, teacher Marjan tells her students that picking up a dialect helps one to "speak their souls." But for Marjan, who reveres English and all it represents, the stakes are much higher.
Identity, heritage and loss ground Sanaz Toossi's stirring play "English" splendidly rendered by SpeakEasy Stage Company (through Nov. 19). The one-act comedy focuses on four Iranian students studying for the Test of English as a Foreign Language Exam (TOEFL). The exam prepares "students for university study, immigration and more."
Each of the class members, portrayed by a superb ensemble with strong direction from Melory Mirashrafi, has a different reason for taking the TOEFL. All but one cast member, Zaven Ovian, are Iranian-American. The cast and the director, also Iranian-American, were all approved by the playwright.
The marvelous Layla Modirzadeh's Roya has a son Nadar and a granddaughter Claire in Canada. Her son wants to raise Claire in an English-speaking world. Later Roya shares poignantly, "Why give my granddaughter a name I cannot say?"

There's also the strong-willed Elham with a thick accent, powerfully played by Josephine Moshiri Elwood. Elham's interested in gastroenterology and English will help her pursue her education and become a teacher's assistant. This is not her first time tackling the TOEFL test and Marjan doesn't do much to comfort or support her.
Tensions arise between the two because Marjan, who in some ways sets herself above the class for her well-spoken English, doesn't understand why Elham despises English, how her own voice sounds when she speaks it and what she must leave behind to work this new dialect into her tongue.
To prepare the class, Marjan insists that the students forget that they are Iranian and leave all their Iranian-ness outside the classroom. She even goes so far as to mark down strikes against them whenever they speak their native Farsi.
Speaking only the new vernacular isn't a novel teaching tactic. My high school Spanish class was the same. It's the severity with which Marjan doles out her strikes and the perceived disdain she exhibits when someone must lean on Farsi for clarity or questions.
Punches of personal pain bubble up at this directive to leave their culture outside the classroom. And it's this force-feeding of English that disrupts the environment. For the most part, Goli and Omid go along with these rules. Omid and Marjan connect over their English mastery and enjoy conversing and watching movies starring Julia Roberts and Judy Garland before and after class.
Elham and Roya, however, aren't having it, though.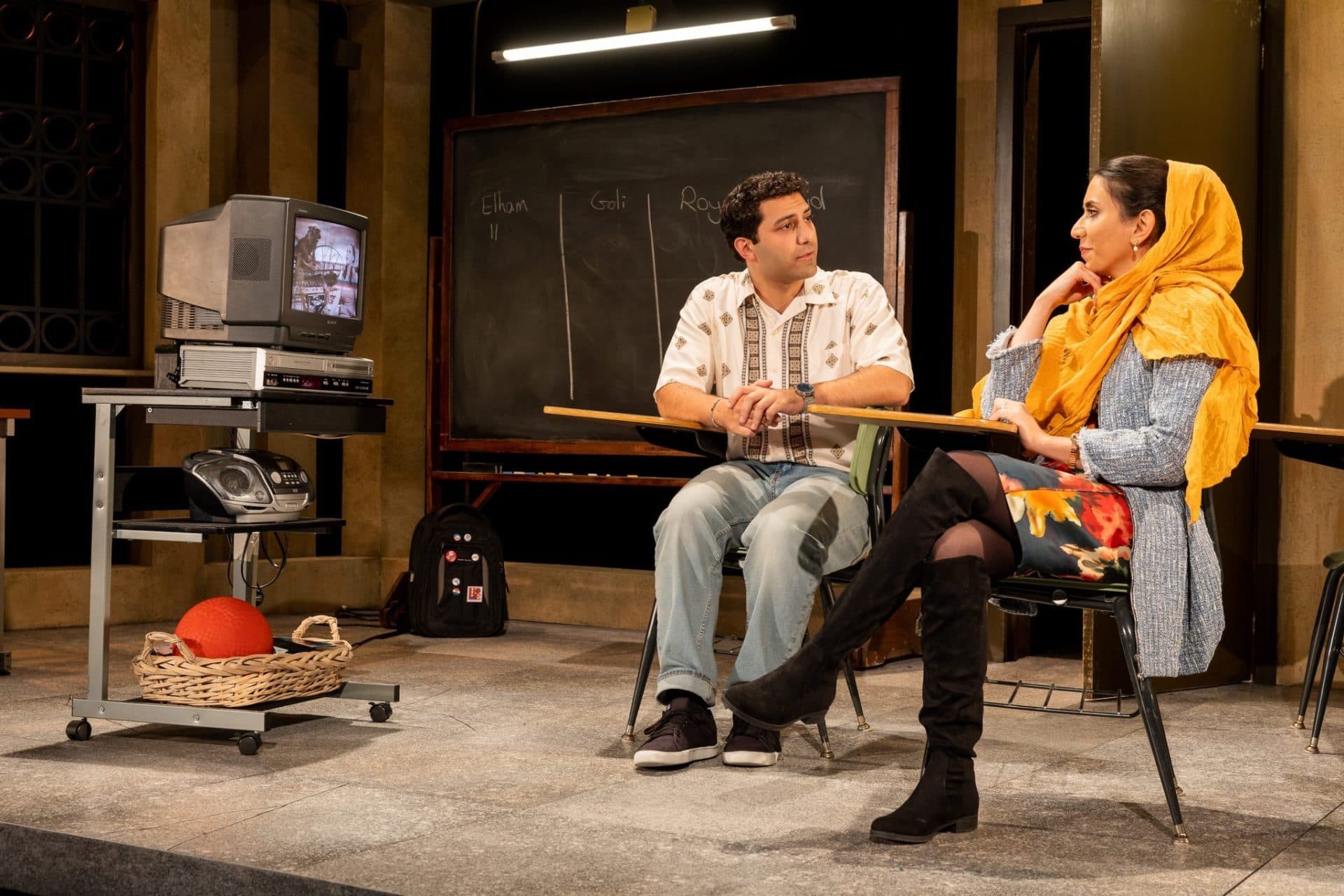 Toossi's expertise in this narrative – the play is this year's Lucille Lortel Award winner — lies in her ability to gracefully grapple with profoundly moving subject matter, making it approachable and reverberant.
Marjan, in her pushing, alienates some. Even herself.
What's telling is that Marjan remembers being called Mary when she lived in Manchester, England for several years. A small sacrifice, she says, that opened up her world.
Roya's not impressed with Marjan's admission of her willingness to let others trample upon her name. She tells Marjan, "Our mothers get to name us. Not foreigners."
She plays a song in the class, "Ashegham Man" which means "I am in Love," by Iranian female singer Delkash, that quiets everyone onstage and off. Roya says that they all should "remember that we come from this. And our voluntary migration from this is something we should be grieving."
It's true. The loss of cultural identity resonates with many. It calls to mind Claire, Roya's granddaughter, who may never know Farsi and all the untranslatable words she might never learn.
Language is funny that way. There's much more to it than mere words. There's context, body language and inflection that varies by culture. It seems that's what Toossi's work in "English" and "Wish You Were Here," set in 1978 about a group of Iranian women during a time of revolution, is scratching at. There's something significant about how these dueling languages take up space in the mouth and the soul. Or how the continued use of one could diminish the other.
At some point, the audience gets to hear the cast speak in their beautiful mother tongue without translation. A moment this audience member hoped for.
In those few lines, even without understanding what was said, we get a chance to see them fully, even if only for a moment.
SpeakEasy Stage' Company's "English" runs at the Calderwood Pavilion through Nov. 19.