16 fall theater productions to see in Boston and beyond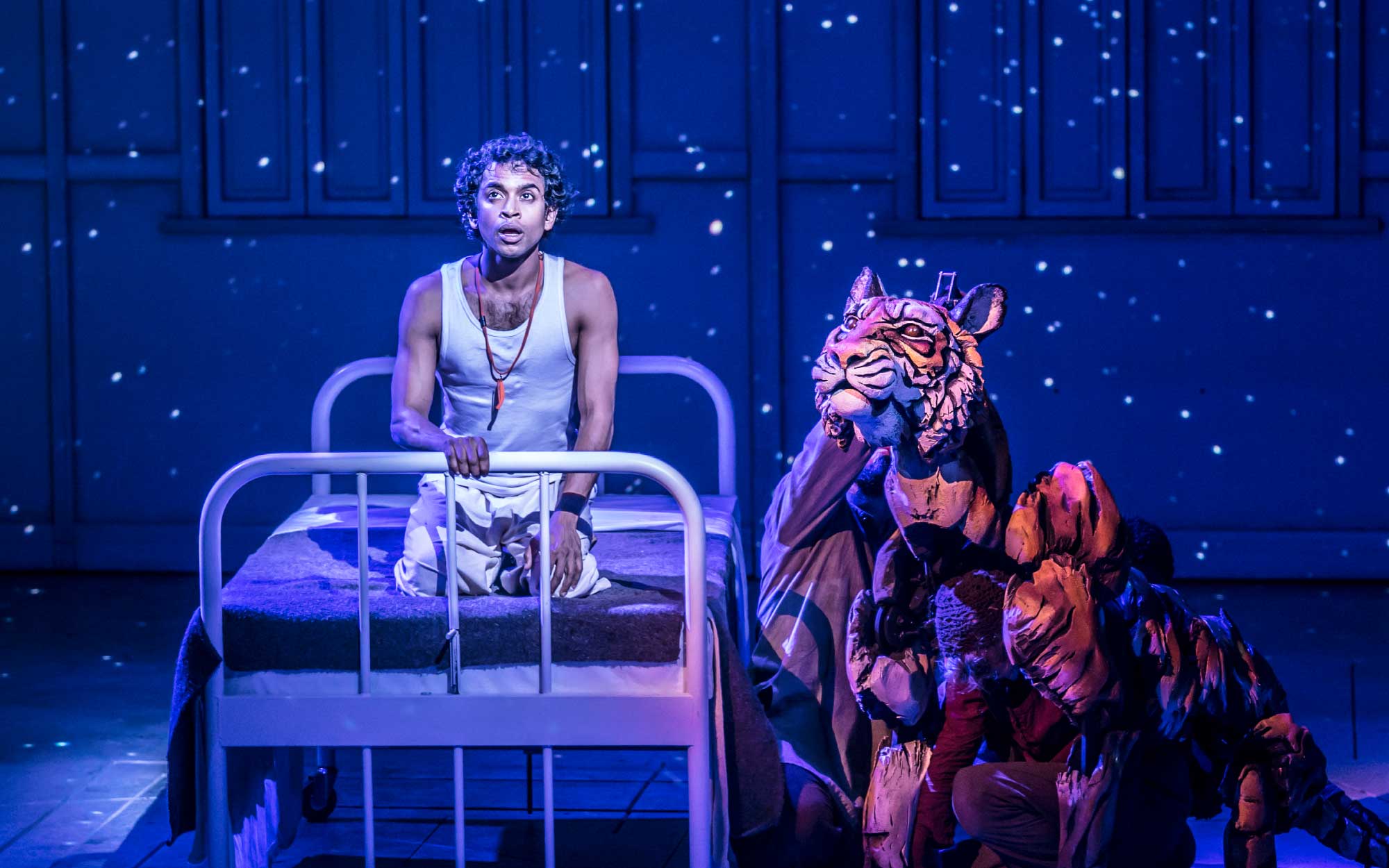 As the Earth moves on its axis, seasons change for much of the world. In fall, temperatures drop, the sun sets earlier and foliage changes color as we move toward winter. This autumn, many theaters are offering works that explore movement — physical and otherwise — from the Step Afrika! percussive dance offering "Drumfolk" to August Wilson's "Joe Turner's Come and Gone," centered on transience and identity, and "The Thin Place," which delves into the space between the living and the dead. Below are 16 offerings, many of which explore movement and change in thought and the body.
Through Oct. 8
In 2017, white nationalists against removing a confederate statue rallied in the streets of Charlottesville, where counter-protestors met them. The day ended with multiple injuries and the death of a protestor. In Will Arbery's "Heroes of the Fourth Turning," where a group of friends discovers more differences between them than they thought, the action takes place in Wyoming a week after the incident. In a backyard, four right-leaning friends celebrate a mentor who will soon head an ultra-conservative Catholic University. But the group learns they're not as aligned ideologically and otherwise as the night wears on, resulting in an unexpected explosion. The nearly two-hour-production is a winner of the 2020 Lucille Lortel Award for Outstanding Play and Pulitzer Prize finalist for drama. The show will be directed by Marianna Basham, who recently starred in the absorbing "People, Places & Things" as a drug-addicted actress trying to kick her habit. [Read the review of "Heroes of the Fourth Turning" here.]

---
 Sept. 16-Oct. 9
Moving back to your parent's house after striking out on your own is never the goal. But for Undine, who used to have it all together, the only place to go after her husband steals her money is back to Brooklyn. In this satirical story of losing it all, Undine, pregnant and broke, must learn to find what she needs within. Front Porch Art Collective co-founder Dawn Simmons will direct the play by Lynn Nottage ("Meet Vera Stark," "Sweat"). Nottage knows something about starting anew. When she was 28, Nottage ditched her day job, took a leap of faith, and dedicated her life to being an artist. Since then, Nottage has won two Pulitzer Prizes for her work and penned the book for "MJ: The Musical," which is now on Broadway.
---
Sept. 20-Oct. 2
When Tina Turner sings, "who needs a heart when a heart can be broken," with her rock-tinged vocals, anyone who has been hurt can relate. The 12-time Grammy Award-winning performer has seen her share of ups and downs, many of which were dramatically chronicled in the 1993 film "What's Love Got to Do with It?" But heartbreak, physical abuse, and more didn't keep her from pursuing music. In "Tina: The Tina Turner Musical," Pulitzer Prize-winning playwright Katori Hall (with Frank Ketelaar and Kees Prins) documents the rock n' roll star's journey from Nutbush, Tennessee, to stardom. Two actresses, Naomi Rodgers ("Frozen") and Zurin Villanueva ("The Lion King"), will both play the role of Tina equally (four of eight performances each week). R&B and gospel singer Ann Nesby also stars. The show, presented by Broadway in Boston, will be directed by Phyllida Lloyd.
---
Sept. 30-Oct. 23
Hilda, a deep believer in the afterlife, wants to connect with the spirit of her late grandmother. To do it, she enlists Linda, a celebrated medium who can reach the thin place where she can hear the voices of the dead. In Lucas Hnath's "The Thin Place," directed by Dee Dee Batteast, the narrative digs into the spirit world and aims to turn the theater into a séance.
---
Oct. 5-16
Founded in 1994, Step Afrika! has been sharing the art of stepping with audiences worldwide. Their productions blend percussive dance styles favored among African American sororities and fraternities, music and storytelling. Their work, "Drumfolk," is "a percussive exploration of American history, placing a spotlight on the rhythmic cycle of life that bonds all of us together." It's inspired by the Stono Rebellion of 1739 that led to the creation of the Negro Act of 1740, in which enslaved Africans lost the right to assemble, grow food, earn money, write English and more.
---
Oct. 14-Nov. 13
The late August Wilson's award-winning work thoughtfully examines the African American experience from "Jitney" to "Fences" and "Ma Rainey's Black Bottom." In "Joe Turner's Come and Gone," set during the Great Migration, Herald Loomis shows up at a boarding house run by Seth and Bertha Holly in Pittsburgh. Loomis is looking for his lost wife but learns much more from the makeshift family residing at the home. Local artist Ekua Holmes provided artwork for the production. Lili-Anne Brown (The Kennedy Center's "Acoustic Rooster's Barnyard Boogie…") directs this play, which marks the grand reopening of The Huntington mainstage.

---
'Let the Right One In'
Actors' Shakespeare Project | Boston University School of Theatre
Oct. 20-Nov. 6
Teenaged Oskar lives with his mom in a town recently touched by murder. Bullied and lonely, Oskar meets Eli, a girl who moved next door. For some reason, Eli never goes to school and spends most of her time at home. Soon, the two become close friends. Oskar doesn't realize that Eli has been a young girl for a very long time. "Let the Right One In" is a vampiric coming-of-age play adapted for the stage by Jack Thorne. The film version of the same name by Tomas Alfredson premiered in 2008 and is based on the 2004 novel by John Ajvide Lindqvist. ASP's Christopher V. Edwards directs the work, a collaboration with the Boston University School of Theatre.
---
'English'
SpeakEasy Stage
Oct. 21-Nov. 19
Marjan, a teacher in Iran, is prepping her students to take the Test of English as a Foreign Language. Part of that means not letting her students speak any other language but English during class. Marjan knows that passing the exam can change her students' lives, but one disruptor has other plans.  At its core, "English" is about humanization," said the play's director Melory Mirashrafi in an interview with SpeakEasy.  "As an English speaker in the U.S., you are fortunate enough to be understood almost all of the time," Mirashrafi, a first-generation Iranian American, explains. "As a language learner, that isn't always true, and not being understood can serve as a barrier to your humanization. This play is an open door through that barrier." Sanaz Toossi's work, in which Marjan aims to move her students from English learners to speakers, won the 2022 Lucille Lortel Award for Outstanding Play.
---
Oct. 26-30
Irish novelist and playwright Samuel Beckett's best-known works are explored by actor and clown Bill Irwin in "On Beckett." Using a physical and comedic approach, Irwin delves into his relationship with the Pulitzer Prize winner's work through several stories such as "Waiting for Godot," "Texts for Nothing" and "Watt." At the show, the Tony Award-winning Irwin invites audiences to "experience the writer's language" in new ways. This is Irwin's attempt "to share with an audience the place that these writings occupy inside of me," he said in an interview with ArtsEmerson.
---
'Wild Swimming'
Apollinaire Theatre Company
Fridays-Sundays, November-December
In an interview, playwright Marek Horn shared that for theater to excite him, it's usually "Something funny and weird … it has to be something that really engages with a play's power to make you believe the unbelievable." His first play, "Wild Swimming," takes audiences on an audacious, hard-to-believe journey through time. Two friends, Oscar and Nell, meet on the same beach over centuries, filling each other in on what's changed about the world and possibly themselves. The play, which was first staged in 2019 at the Edinburgh Festival Fringe, "is an interrogation of gender and privilege and a willfully ignorant history of English Literature," according to a statement. Emily Larson and Brooks Reeves co-direct this production, which will show at Chelsea Theatre Works.
---
Nov. 4-20
Six micro-plays by female playwrights from Kenya, the Middle East and the U.S. will be offered virtually during ArtsEmerson's "Theatre for One: We Are Here (Nairobi Edition)." Conceived by New York artistic director Christine Jones, the plays focus on "the link between ancestry and civilization." For 20-ish minutes or so, a single virtual theatergoer and one performer will experience the work together during the live digital event.
---
'SIX'
Broadway in Boston | Emerson Colonial Theatre
Nov. 9-Dec. 31
In Toby Marlow and Lucy Moss's musical "SIX," the half dozen wives of Henry VIII — who suffered divorces, beheadings and more — grab the mic to share what happened in their relationships from their points of view. The production, full of original music and featuring an all-star cast, previously ran at the American Repertory Theater in 2019.

---
Nov. 10-Dec. 11
Some of the most incredible stories are true tales. In 1834, Afong Moy, a teenager from the Guangzhou Province of China, came to New York. Upon arrival, Moy was put on display by merchants. The Carnes merchants and the ship captain who brought Afong Moy to America wanted to take advantage of the exoticism associated with China at the time, according to LiteraryHub.com. They put Moy on view as "The Chinese Lady," with furnishings to (initially) promote their goods. Moy performed for crowds for years. Playwright Lloyd Suh's "The Chinese Lady" sheds light on Moy's story.
---
'Torch Song'
Moonbox Productions
Dec. 2-23
Arnold Beckoff, a Jewish drag queen in New York, just wants to be happy. A husband, baby and some comfy slippers would be a great start. But when Arnold's mom arrives, her domineering ways drive him crazy and force him to add respect to his things-needed-to-be-happy list. Harvey Fierstein's "Torch Song," set in 1979, premiered at the Tony Kiser Theatre in a Second Stage Theater Production on Oct. 19, 2017, and transferred to Broadway the following year. Elliot Norton Award nominee Peter Mill stars as Arnold Beckoff and Norton winner Allison Olivia Choat will direct.
---
'Life of Pi'
American Repertory Theater
Dec. 4- Jan. 29
A calamity at sea forces 16-year-old Pi, stranded in the middle of the ocean, to figure out a way to live. But Pi isn't alone; there are four other survivors with him, a hyena, a zebra, an orangutan, and a Royal Bengal tiger. How will they cope? "Life of Pi," winner of five 2022 Olivier Awards, is a theatrical adaptation based on the novel by Yann Martel.
---
Dec. 9-Jan. 8
Funerals can make for strange reunions. In the Douglas Lyons comedy "Chicken & Biscuits," the Jenkins family has gathered for a final farewell to their patriarch. But family drama and secrets threaten the moment. Lyons, a composer and actor, received his equity card onstage at The Huntington's "Pirates!" in 2009. Lyons' music and lyrics have been featured on BET Plus, CBS's Sunday Morning, Carnegie Hall's "Voices of Hope Festival" and more. "Chicken & Biscuits" debuted on Broadway in 2021 at the Circle in the Square Theatre, but the show's run was cut short by COVID-19. The play will show at The Modern Theatre at Suffolk University.