The Huntington returns in fine form with August Wilson's 'Joe Turner's Come and Gone'
Herald Loomis has a sort of blues deep within.
Its heaviness is reminiscent of the whining horns early on in Wynton Marsalis' "Cried, Shouted, Then Sung." Dragging at the start, then loud and cutting. A wail, waiting to explode.
Loomis, hauntingly portrayed by James Milord, is searching for his wife, Martha. Peering into her face, he thinks, might be the best place to start anew, set his world right and find where he fits. It's 1911 and Loomis appears at the doorstep of Seth and Bertha Holly's home with his daughter Zonia in tow. The Hollys run a respectable boardinghouse in Pittsburgh that's home to all manner of folks for a time, and Loomis and his child need a place to stay. But they require a whole lot more.
Around this time (and for many years more), scores of Black people were fleeing the Jim Crow South during the Great Migration, searching for kin, work and hopefully, a softer, kinder place to land.
Milord's Loomis is a central figure in the late August Wilson's "Joe Turner's Come and Gone" (through Nov. 13). The superb production is the first of the season at the newly renovated Huntington Theatre Company, which has been closed for over two years. "Joe Turner" is a fitting choice to open the theater given the uncertainty of the last few years marked by pandemic, protest and a new sort of emergence. Not to mention the mutually important relationship that the Huntington and Wilson enjoyed. The Huntington was one of Wilson's first champions and on Wednesday's opening night, the theater unveiled its August Wilson Lobby.
Migration, transience and the search for love and identity make up the narrative spine of Wilson's fleshy play. Led by a stellar cast that includes Maurice Emmanuel Parent (who recently starred in "Common Ground Revisited") as the hilariously cantankerous Seth Holly, Robert Cornelius as the healer and root worker Bynum Walker and Al-nisa Petty as the genteel Mattie Campbell, "Joe Turner's Come and Gone" swells with much more. Systemic racism, symbolism, mysticism, laughter and poetry.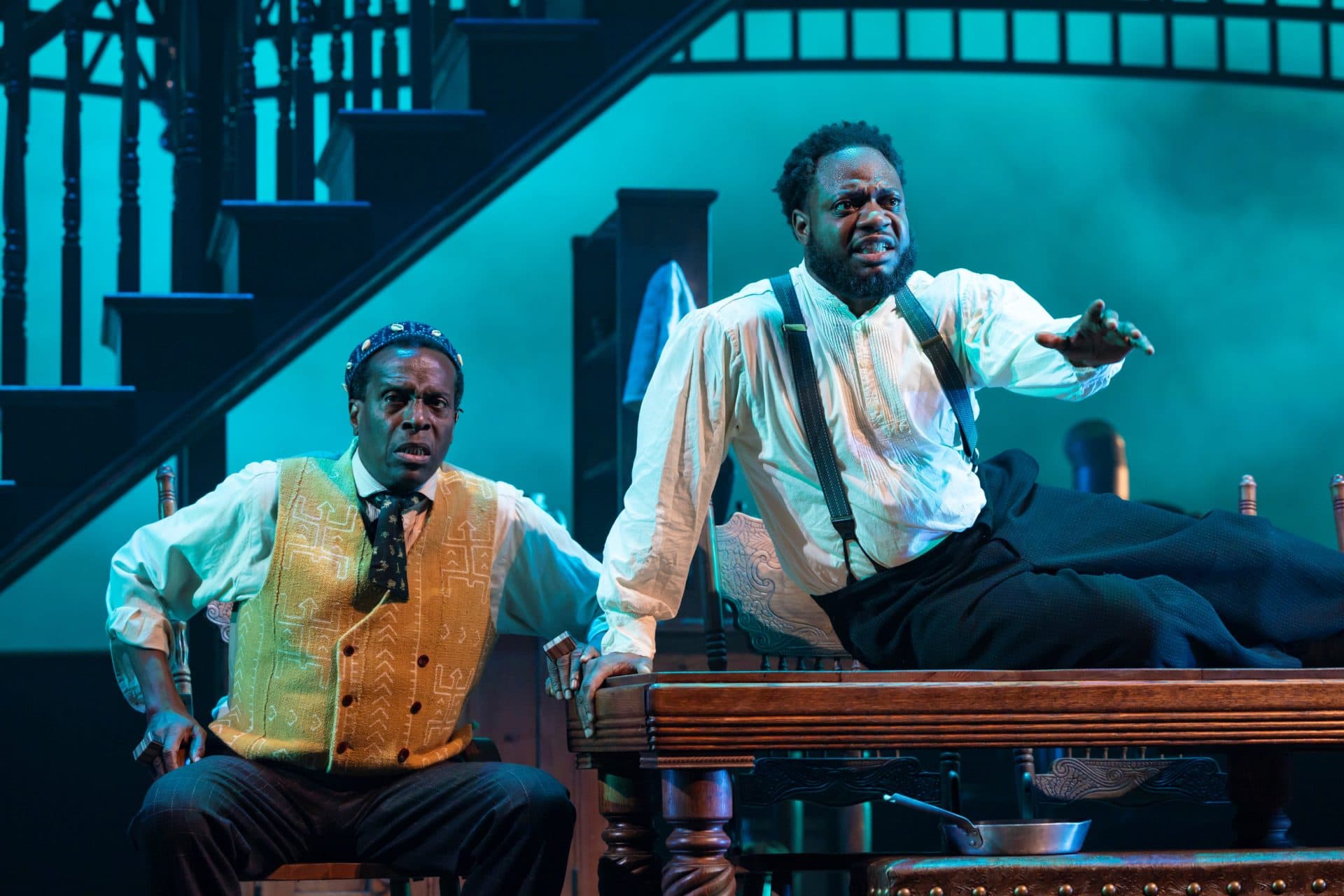 A grand staircase cuts the living spaces below in the Hollys' well-appointed home in Arnel Sancianco's period-perfect set design. Boarders flock to the large wooden dining table with ornately carved chairs for Bertha's home-cooked meals and conversation. Yellow velvet chairs, a sepia family portrait and chandelier adorn the living room.
Equally impressive is Samantha C. Jones' wardrobe — the cowrie-shell-adorned hat, and ethnic print vest for Bynum, musician Jeremy's sharp green suit and the lovely blouses, dresses, hats and skirts for all the female cast.

Wilson's language and the cast flourish under the expert direction of Lili-Anne Brown. The banter over dominoes between Parent's impatient, got-something to-say about-everyone Seth and Bynum, Bynum's short soliloquies explaining his and his daddy's (also a healer) gifts and how they work, Martha's tentative touch when she reunites with her husband and the furtive glances between Mattie and Loomis reveal life's simple moments of beauty and revelation.
The Pulitzer-prize-winning Wilson, whose work documents Black life in the 20th century in 10 plays, finds a way to fold in precious moments amid painful ones and lines them deliciously with mystery and silvery promise.
Take Loomis' chilling recollection of bones sprouting up from and walking on water, Mattie mourning over a lover who leaves without a word one day, and the distrusting Molly Cunningham, who talks a lot about what she's not going to do in the third person. On the other hand, Bertha and Seth have an enduring love and Reuben and Zonia (portrayed by Joshua McKenna and Alana Ross on the night I saw the show) gorgeously embody the intrigue and innocence of a childhood crush even in the middle of impermanence.
In addition to the excellent performances what's striking is the power of self-discovery, acceptance and knowing when to let go. The tale, so ripe with want, burrows into the depths of the spirit; itself an old soul song dazzlingly sung.
---
"Joe Turner's Come and Gone" runs through Nov. 13 at the Huntington Theatre Company mainstage.
Correction: An earlier version of this review misspelled the character Reuben's name. We regret the error.