'The Thin Place' at Gloucester Stage offers atmospheric spookiness without the gore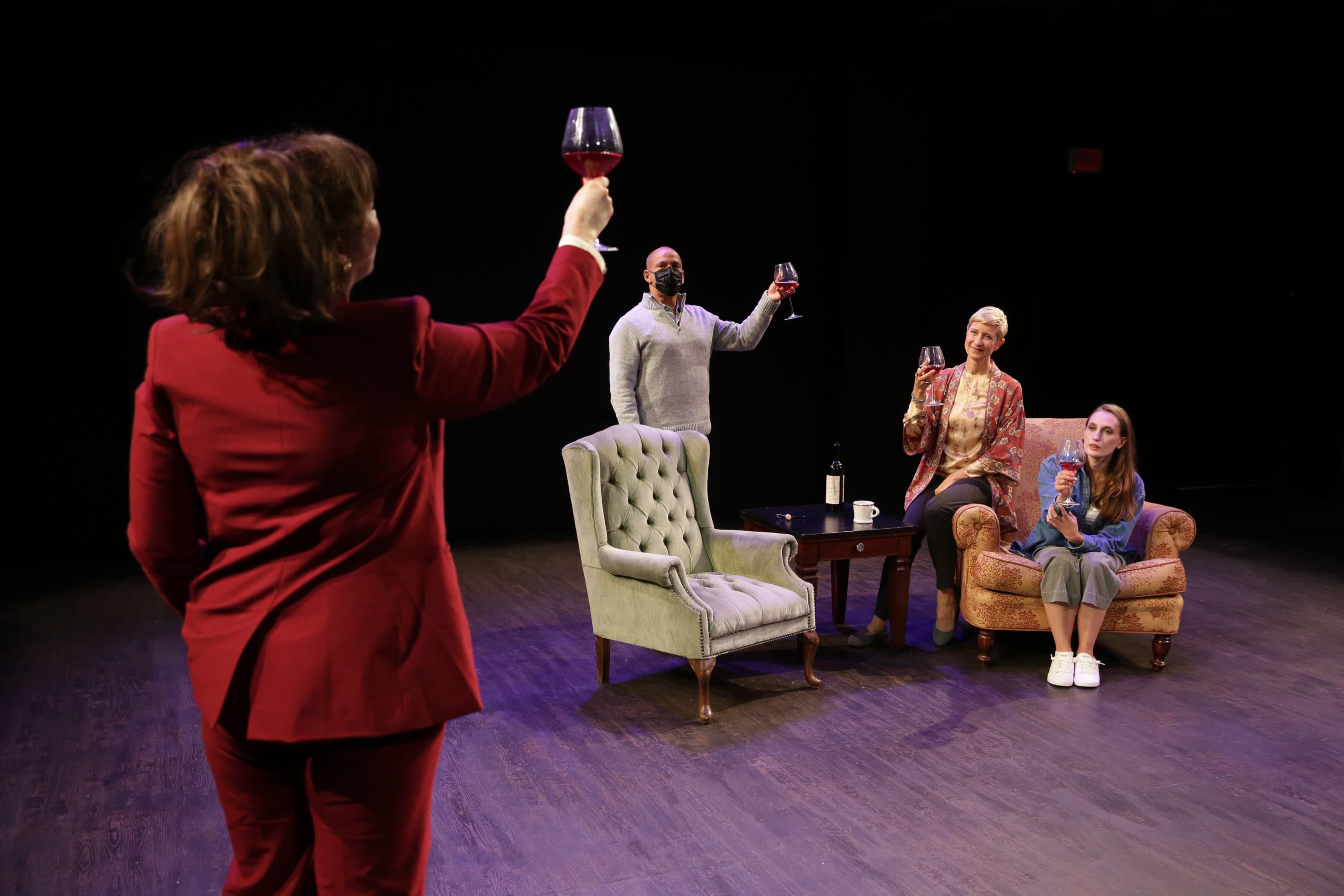 The horror movies and ghost tales that were thrilling growing up are the same things that strike fear in the heart and cause nightmares as of late. The "Friday the 13th" series, "Halloween" and, more recently, shows like "American Horror Story" are too much for this viewer. Still, Lucas Hnath's "The Thin Place," at Gloucester Stage Company through Oct. 23, which delves into the space between the living and the dead, offers just the right balance of fright, curiosity and mystery.
Hnath's narrative—solicitously directed by Dee Dee Batteast—centers on the relationship between two women: Hilda, who recently lost her grandmother, and Linda, a psychic medium who claims to be able to reach and communicate with those who have passed on. What makes this caliginous tale fascinating is not just its ghoulish middle but the human desire to know more about and understand exactly what happens after death.
Siobhán Carroll—who recently played Margaret in Commonwealth Shakespeare Company's "Much Ado About Nothing")—portrays the lonesome and emotionally detached Hilda. Hilda and her grandmother have practiced for death by exploring telepathy. Hilda's gran would try to think of a word, like trapezoid or kumquat, and ask Hilda if she knew the word she was thinking. After a while, they got pretty good at it, Hilda explains. They could almost share whole sentences, but Hilda's mom thought the practice was demonic. After her grandmother dies, Hilda scares herself silly by trying to contact her by candlelight by opening her third eye and asking if she is there in the room with her. This desperate need for connection draws Carroll's Hilda to the charismatic Linda. She hopes not only to reach her grandmother through Linda, but she wants to be just like Linda.

The British psychic, Linda (Cynthia Beckert), embodies her role of helping others with equanimity. She declares there's no death early in the play, assuaging the fears of her followers. Beckert's Linda is riotously engrossing on stage. She holds court easily and can quickly sway minds. It's what makes her good at her job. She's even been tapped to help someone running for office become more captivating. Linda appears to be less of the Theresa Caputo on "Long Island Medium" brand of spiritualist and more of a friend and confidant of the elite who assures them that all is well on the other side. One such wealthy patron and benefactor is Sylvia, who is grappling with a change of heart. She's unsure if Linda's meddling with other people's lives is helpful, plus she's thinking of doing other, more impactful things with her fortune.
The fetchingly pretentious Sylvia (Bren McElroy) with her deliberately drawn-out parlance and friend Jerry (Joshua Wolf Coleman)— spend some time with Linda and Hilda one evening gobbling wine and sharing stories. It's then that the audience learns that the self-proclaimed uninteresting Hilda has more going on than she lets on. She tells a tale about her mom being possessed by a demon with a peculiar end that quiets everyone at the party.

The well-executed play feels like the sharing of a long scary story told at night beneath the stars. The setting is austere. There are two armchairs: one grommeted with velvet sea-foam green fabric and the other orange, with embroidered flowers and a small table. However, the red lighting and whispering voices piped above showgoers' heads—courtesy of Karen Perlow and Aubrey Dube respectively—compound the creepiness factor. It makes the play buzz with the nostalgic fright of yore, like Ouija board sessions, campfire tales, and the constant worry that there is a presence lurking in the dark after watching a scary movie.
That's precisely what Hnath was going for, he says in a 2019 interview with Playwrights Horizons. The former Guggenheim Fellow and Obie-Award-winning Hnath says he wanted to write a play that recreates that feeling of being a kid and having to go to the bathroom but fearing turning a corner and seeing a pair of twins in the hallway (like the Grady Twins in "The Shining"). And he succeeds. There's no gore to make one quiver; instead, it asks viewers to examine their beliefs.
The audience at Gloucester Stage waits quietly to see how Hilda's story and thus, the play ends. Her tale is lined with unexplainable happenings that make one question the imagination's impulse to make logical sense of something otherworldly. That constant fight to believe in (or not) the presence of phenomena seems to be at the core of Hnath's narrative here (Hnath also tackles belief in his play "The Christians" about a preacher who doesn't believe in hell and says so). And how that stance informs one's outlook.
But the truth is that inquiries into death, the afterlife, and the space in between are influenced by personal experience, religion, or lack thereof, and often, weighty expectations. There's no way that a play can ease the mind about such mysteries. It might, however, spark some to go even further than mediums in the quest for answers.
---
"The Thin Place" at Gloucester Stage Company runs now through Oct. 23