A woman goes from riches to rags in Lyric Stage's 'Fabulation'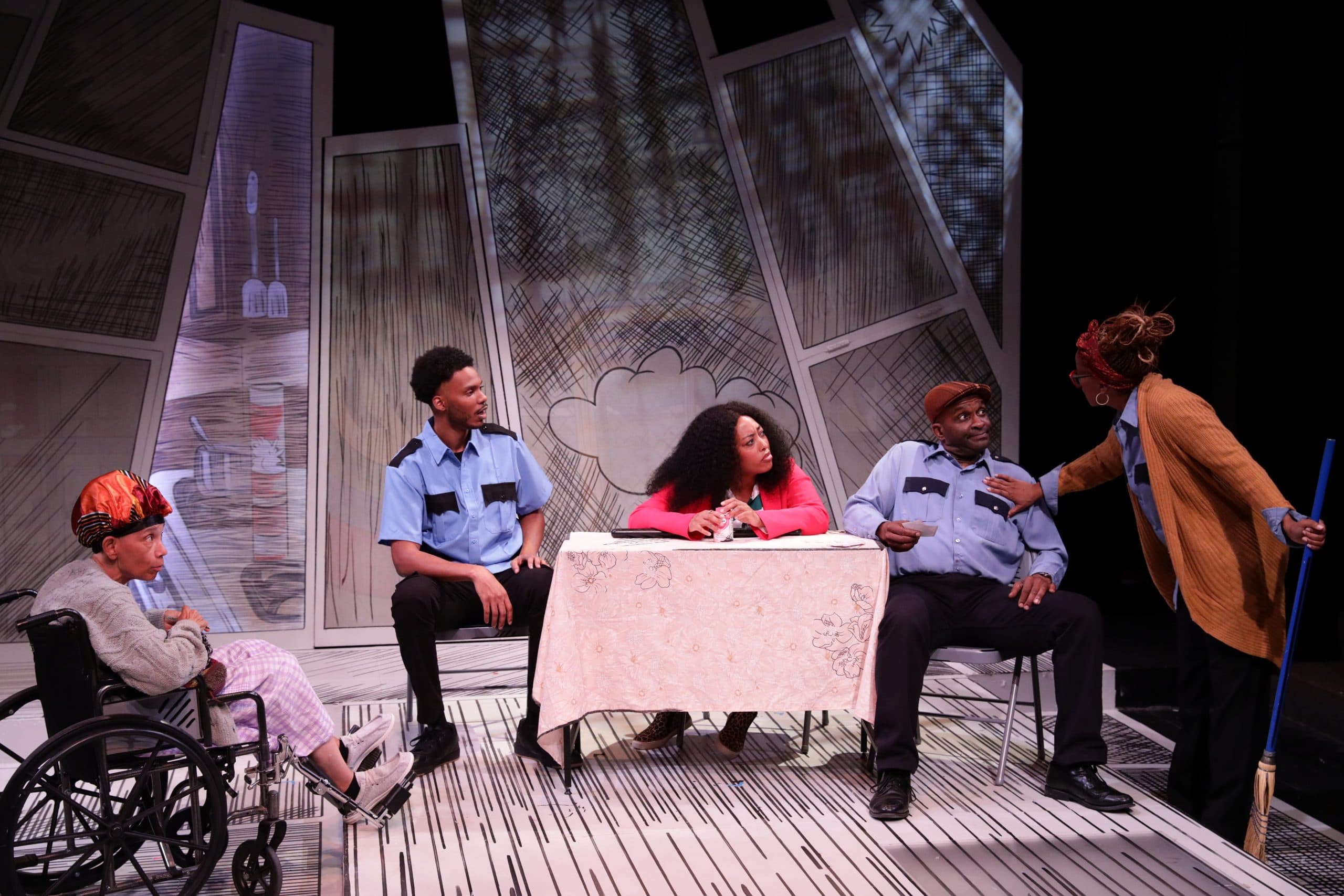 Facing the truth about oneself is more complicated than it might seem. Often, some pesky catalyst — dissolved friendships, job loss, a cross-country move, or a divorce — sparks the upheaval necessary for internal transformation. For Undine, a whip-smart, cigarette-smoking, foul-mouthed hard-arse who owns a boutique PR firm, comprehending this lesson costs everything she has.
Undine, the focus of the Lynn Nottage play "Fabulation or, the Re-Education of Undine" at The Lyric Stage Company of Boston, is at the top of her game. Lyndsay Allyn Cox portrays the enthusiastically sharp-witted Undine, who is harsh with others, judgmental and dismissive. The Dartmouth College-educated entrepreneur is tracking down a celebrity for an event when her accountant (Barlow Adamson) announces that her suave husband Hervé has "absconded" with all her cash. Her accountant claims he tried to warn her of the missing money, but Undine doesn't return phone calls. However, she isn't particularly maudlin when hearing of Hervé's betrayal. Au contraire. There's another man Undine might be able to lean on: a former rapper boyfriend with an iced-out grill. But Undine, whose real name is Sharona Watkins, tells her friend Allison (Shani Farrell) that there's no way she could be with him. He's washed-up, Cox's Undine declares about her former flame.
The social stakes are so high that Allison—who is in an Earth Kitt phase and employs an accent to boot—says that she's there for Undine but scurries out the door once she realizes that Undine hasn't just lost her husband, but her money too.

Cox and the ensemble portray more than two dozen characters in Nottage's comedy exceptionally well. Jaime José Hernández is a very slick Hervé in one moment and in the next, an ultra-nice friend in a support group who works to get in Undine's good graces. Elliot Norton Award winner Sharmarke Yusuf (who was in last year's "BLKS") is moving as Undine's troubled brother, and Dayenne CB Walters, who recently starred in "Everyday Life and Other Odds and Ends," fully embodies the role of Undine's grandmother, a character who was tended to but not really noticed by the other family members. Walters was also excellent as the too-busy-chatting-on-the-phone-to-be-helpful social service supervisor.
Undine's descent from powerful PR maven to poor, pregnant, and in trouble with the law is swift and brutal. Maybe overly so. Soon, she ends up at the Walt Whitman Apartments in Brooklyn to stay with relatives she hasn't thought much of in over a decade. It's there, in the apartment with four family members, surrounded by neighbors and confronted with the past, that Undine figures out she can't hide from herself.
Hervé cuts to the core of their plight when he says from behind bars, "We're ugly people." Ugliness exists in everyone, but perhaps the continued quest for kindness and honesty keeps some of us on track.
Nottage's storytelling is in good hands with director Dawn Simmons, the co-founder and artistic director of Front Porch Arts Collective. The complexity of Undine—her insatiable thirst for success (inspired by her love of Edith Wharton's "The Custom of the Country," which details the social ascent of Undine Spragg), her harshness toward others, and later, a slow softening—is thoughtfully executed. There's an excellent scene where Undine recalls the night Hervé entered her life. Warm red lighting, sensual staccato choreography, and Undine's narration convey how quickly his charms enraptured her.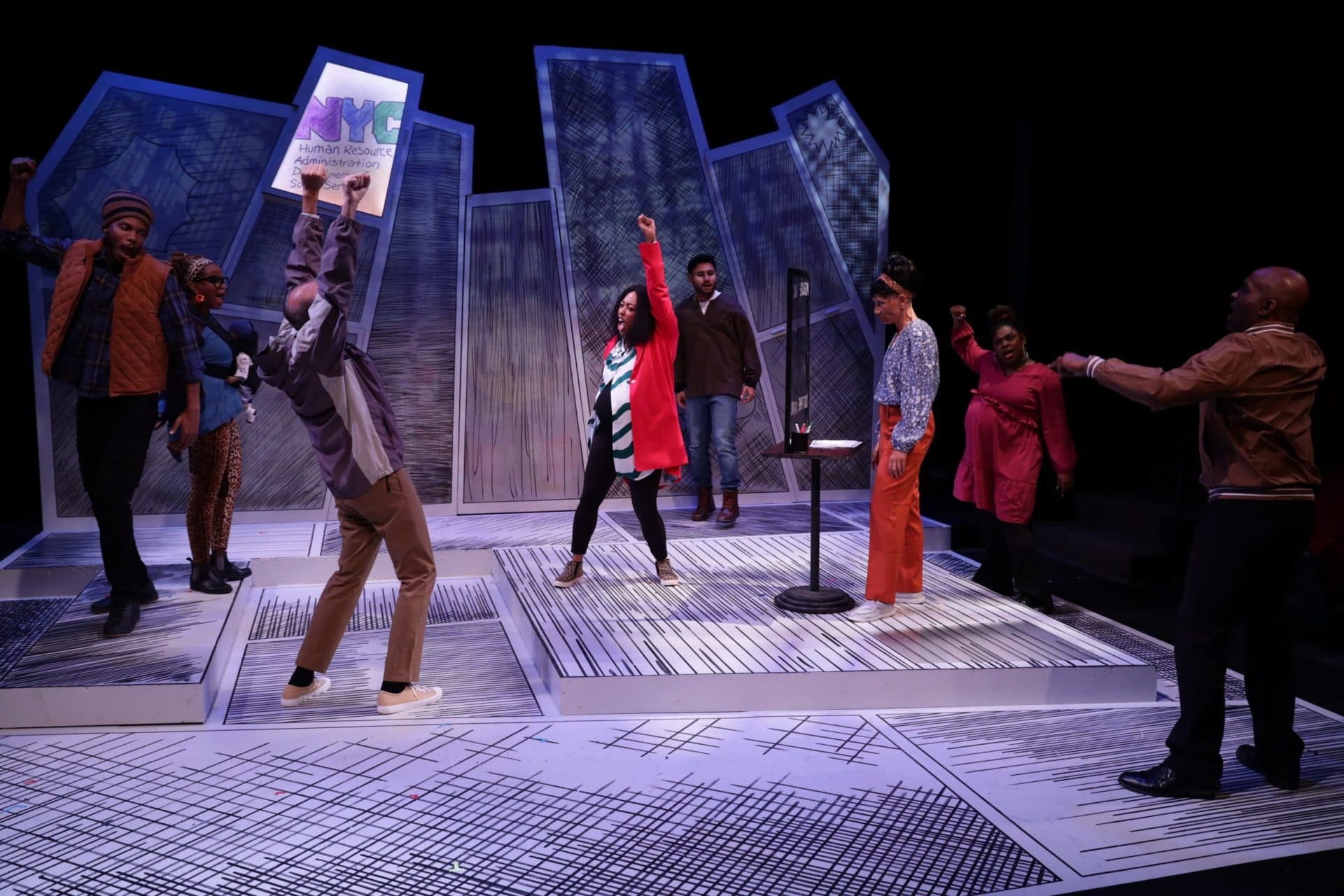 After his departure, Undine's return to the old stomping grounds is rife with the judgment of herself and others. But several things help turn her around. She learns that one of her double Dutch playing childhood friends is now married, living in an expensive brownstone, and working at J.P. Morgan and she is humbled by an experience where she tries to get government benefits.
The celebrated Nottage—whose newest work, "MJ: The Musical," is currently on Broadway—is the only woman to win the Pulitzer Prize for Drama twice: once for "Ruined," about the challenges a group of women faces who were raped during the civil war in the Democratic Republic of Congo, and "Sweat," about socio-economic divides between the working class. Though "Fabulation" is a departure from the heavy lifting of her other award-winning plays, Nottage still packs painful wallops in this needle-sharp comedy. For instance, Undine fails to greet her family at her graduation, saying they "came dressed in their Conway best; loud, overly eager, lugging picnic baskets full of fragrant, ghetto food." (She didn't mind her family's presence until she overheard her classmates speculating about whose family it was.) At another point, she tells a reporter and others that her family "perished in a fire." It is her staunch belief that Sharona Watkins had to die so Undine could live and thrive. As if Sharona herself isn't worthy of accolades. What's more, Undine points out her parent's choice to spend money on lottery tickets instead of the stock market and shares how her parents took the test to become part of the police force several times, but the city wouldn't allow them to pass, she says. There are a lot of broken dreams in that apartment. Her family shows Undine that despite these thwarted hopes, they have never lost sight of what's essential.
Riches to rags stories like these aren't new, but they still offer some guidance on how to live. For instance, in the enormously hysterical "Schitt's Creek," the super-rich Rose family loses their fortune and move to a Podunk town they purchased as a joke long ago. Their evolution as people—who live in a cramped motel—takes place over a few years, but the townspeople show the Roses what it means to be present and show up for the people they care for.
Such is the case for Undine, who sacrifices familial connections and constructs a new persona to excel after graduating from college. The family Undine has forsaken and abandoned encircles her again in this new phase of her life. Battered by life's blows, Cox's Undine seems ready to welcome them fully into her life this time.
---
The Lyric Stage Company of Boston's "Fabulation or, the Re-Education of Undine" runs now through Oct. 9.