With most Mass. election results in, here's what comes next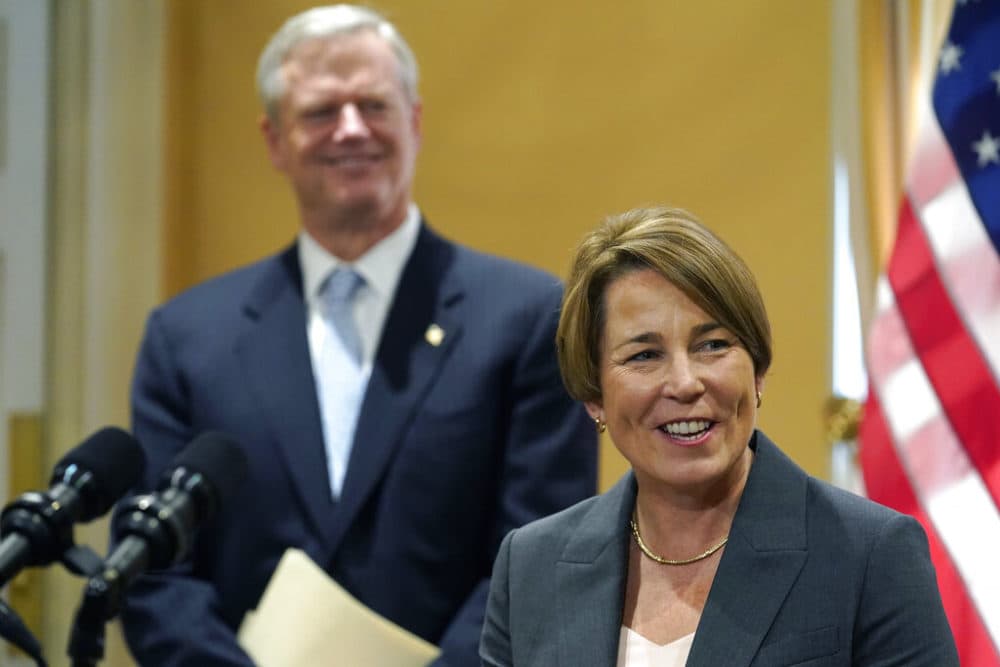 Editor's Note: This is an excerpt from WBUR's daily morning newsletter, WBUR Today. If you like what you read and want it in your inbox, sign up here. 
---
The results from Tuesday's election are still trickling in across the country.
We're probably going to have to wait a few days for votes to be counted in pivotal Senate races in Arizona and Nevada, and control of the chamber could come down — once again — to a runoff in Georgia. (Republicans look on track to retake the House, though many races are still uncalled.)
Meanwhile, the big races are now basically settled in Massachusetts. Here's what's next:
Governor-elect Maura Healey met with Gov. Charlie Baker yesterday afternoon to kick start the transition to a new administration on Jan 5. (Lt. Gov. Karyn Polito and her successor, Salem Mayor Kim Driscoll, also took part.) With less than two months to go, Baker says he wants to make sure they can "hit the ground running."
What they talked about: Winter weather prep (remember: Baker got immediately slammed by record snow after taking office in 2015), as well as the new administration's first budget, which is due in March.
What wasn't said: Baker still refuses to reveal who he voted for in the governor's race — but he also didn't say he blanked his ballot like in the last two presidential elections. So, who was it?
After getting shut out of all statewide and federal races, what's next for the MassGOP? They may have an intra-party leadership fight on their hands. Politico reports that the party's vice chair Jay Fleitman will challenge chair Jim Lyons.
ICYMI: The results of three ballot questions were finalized Wednesday after this newsletter was sent, joining Question 2's lopsided win (who knew you all felt so strongly about dental insurance):
Voters narrowly passed Question 1, the constitutional amendment to put an additional 4% tax on annual income over $1 million.
They rejected Question 3, which would have allowed more chain convenience and grocery stores to sell beer and wine.
And they voted "yes" on Question 4, which means the state's relatively new law allowing undocumented immigrants to get driver's licenses is here to stay (it will take effect next July).
Some other notable local election results you may have missed: The Cape and Islands elected the region's first Democrat district attorney in decades. Robert Galibois beat a Republican rival to succeed longtime GOP DA Michael O'Keefe, who is retiring after 20 years.
Meanwhile, the Plymouth County DA Timothy Cruz — who will now be the only Republican DA in the state — held off a challenge from Democrat Rahsaan Hall.
While the election will have many indirect effects on the MBTA, the agency was literally on the ballot for some voters. Fall River and New Bedford resoundingly approved local ballot measures to join the MBTA — a necessary step before the South Coast Rail project expands commuter rail service to the two cities as soon as late next year.
One race where things got surprisingly tight: Connecticut's 5th District. With 100% of precincts reporting, the Associated Press called the race Wednesday night for incumbent Democratic Rep. Jahana Hayes — beating GOP challenger George Logan by less than a percentage point. Her 1,842-vote win was the closest New England congressional race this year.
Huh. It turns out suspended Boston Celtics coach Ime Udoka won't be joining the Brooklyn Nets after all. Despite initial reports from top NBA reporters suggesting the move was settled, the Nets announced Wednesday that they're sticking with interim coach Jacque Vaughn.
Why? The Athletic reports the Nets reversed course after doing more "due diligence" on Udoka and the public "outcry" against hiring the coach, who was suspended for the entire season by the Celtics after an "inappropriate" relationship with a team staffer.
As for Udoka's future with the Celtics, it's still up in the air.
P.S.— For better or worse, The New York Times turned off its election forecasting Needle yesterday for this cycle. But you can still follow the fight for control of Congress on our online dashboard.