Day shelter Women's Lunch Place celebrates 40 years amid changing dynamics of homelessness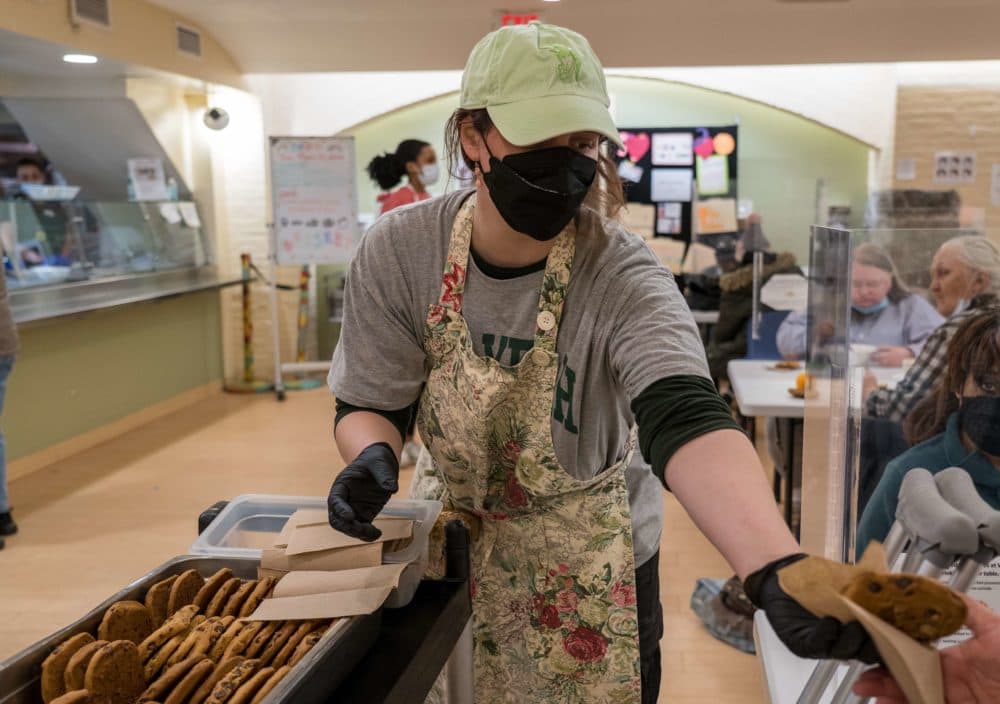 As the Boston day shelter Women's Lunch Place marks its 40th anniversary Tuesday, some women affiliated with the program are noting how its services — and the challenges it faces in offering them — have changed over the years.
When the program opened on Nov. 15, 1982, in the basement of a Newbury Street church, it was equipped to serve just eight lunches a few times a week. From the beginning, the meals were served restaurant-style on china plates.
By its second decade, Women's Lunch Place was serving 100 guests per day with breakfast, lunch, showers and laundry services. It also started hiring staff to address women's complex needs, according to the program's administrators.
It now serves more than 1,800 women a year with programs including art therapy, yoga, job placement and housing searches. The facility includes a resource center where women can use computers, and a library where they can borrow and read books.
Advocacy Manager Minerva Bolduc said in the 13 years she's worked there, she's seen women experiencing homelessness face increased challenges. They now have to wait up to three years to secure an apartment; it used to take them six months to a year.
"It's unbelievable the amount of time they have to wait," Bolduc said. "And we try all over Massachusetts ... We don't do one housing application. We do 10, 20, 30, 40, 50."
Bolduc said she's also seeing more mental illness among guests the shelter serves, and there are more women coming here from other states — including ones with warmer climates, such as Florida and California.
"And sometimes I ask them, 'What are you doing here? You know, a cold weather place?' And they say it's because [Massachusetts has] better health care providers or health care medical plans," Bolduc said. "We have better detox, we have better shelters. We help a lot of women and transgender people, and that's the reason why they're coming here."
City officials and homeless service providers have consistently said in recent years that at least 50% of adults experiencing homelessness in Boston lived somewhere else when they became unhoused.
Kim Collins, a longtime Women's Lunch Place client who now works for the program part-time teaching art therapy, became homeless 12 years ago.

The former Maryland resident, who has degrees in fine art and printing, said she had come to Massachusetts expecting to work for a friend, but that fell through. She spent several years staying in shelters before a friend told her about Women's Lunch Place. She went for a meal, and ultimately, she received help connecting with mental health services and looking for housing.
"You're treated individually, and you get advocacy and you get help. ... There's just tremendous resources here," Collins, 57, said. "I think Women's Lunch Place has a way of really providing a sense of dignity to the women. ... It builds you up."
Collins moved into a Cambridge Housing Authority apartment four years ago.
In a statement, Boston Mayor Michelle Wu called Women's Lunch Place "a treasured organization dedicated to supporting women experiencing homelessness, hunger and poverty." The mayor said she looks forward to Boston being an even stronger partner with the organization, "to ensure Boston is a city for everyone."
Women's Lunch Place says women experiencing homelessness have higher rates of severe trauma and abuse in their pasts than men, and they face greater risk when un-housed, so more women-centered services are needed.