Food distribution centers kick into high gear in attempts to meet the needs for holiday meals
When Beth Chambers started setting up for Saturday's Thanksgiving dinner distribution, there were already people waiting in the cold to claim their turkeys.
It was 4:45 a.m.
"There were people already in line," said Chambers, Vice President of Basic Needs with Catholic Charities. "There were cars double parked and we didn't start until almost 9:00."
Across the state on Saturday, people were waiting in line for food. Chambers was at the United Way's distribution site in Dorchester, at the Catholic Charities of Boston food pantry on Columbia Road. It was just one of two dozen sites in 21 communities distributing meals through the United Way ahead of the holiday. According to the organization, their plan was to give away 20,000 packed meals — its largest ever distribution.
"The need is greater," said Chambers. "In addition, we're doing more than we've ever done. Last year, we got about 12,000 pounds of produce from the Greater Boston Food Bank. And this year we got 20,000 pounds."
Chambers said they would be giving away about 1,000 physical turkeys and 600 gift cards for people to get their own birds, as well as thousands of pounds of veggies, stuffing, and trimmings at the Columbia Road site.
Volunteers set up the parking lot like an assembly line. On one side, cars were pulling up and food was being dropped off in their trunks or back seats. On the other side, volunteers helped people pick up food prepackaged in bags and carry it to their cars or carts.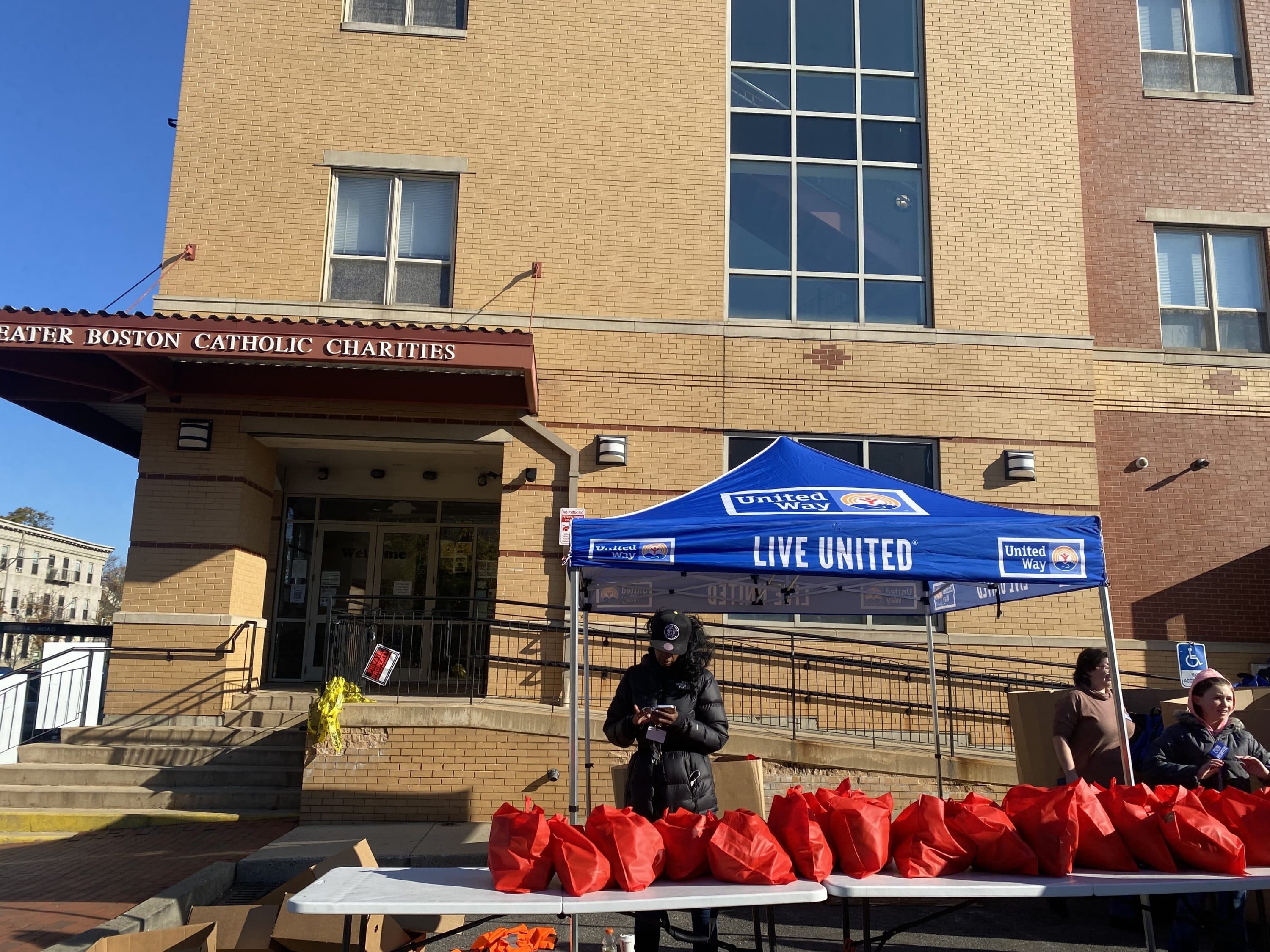 Emily Wollan was volunteering on Saturday. She's a freshman at Boston College and says it was important for her to be out there, giving back.
"My favorite part of volunteering is probably been just speaking with the people here," said Wollan. "I've gotten to know a lot of people already, kind of their stories and that's really special — it's having heart-to-heart relationships with people."
Boston Police Commissioner Michael Cox was also volunteering on Saturday by helping people put turkeys and food in cars. He said he was there because he wanted to show support for those who live and work in the city.
"This time of year is always important, I think, for everybody to actually reflect about all the things that we should be thankful for," said Cox. "And I'm thankful that we're in a wonderful city with so many great residents and the opportunity to give back to some folks that have less, I think it's important for all of us to do."
The Salvation Army also distributed food this weekend at multiple locations. Their plan was to give out 2,000 meals to families. At their Kroc Center in Dorchester, volunteers gave out frozen turkeys and bags with stuffing, vegetables, and apple pies.
Major Elvie Carter, administrator of the Kroc Center, said requests for need at the center have gone up 50%, with some people working two or three jobs just to make ends meet. At the same time, it's costing more to provide that support, especially during the holidays.
"The price of turkeys have gone up, the price of stuffing has gone up ... all facets in the area [has gone up], but the need has also gone up," said Carter. "So although it costs more, we still have an obligation to meet those needs the best that we can."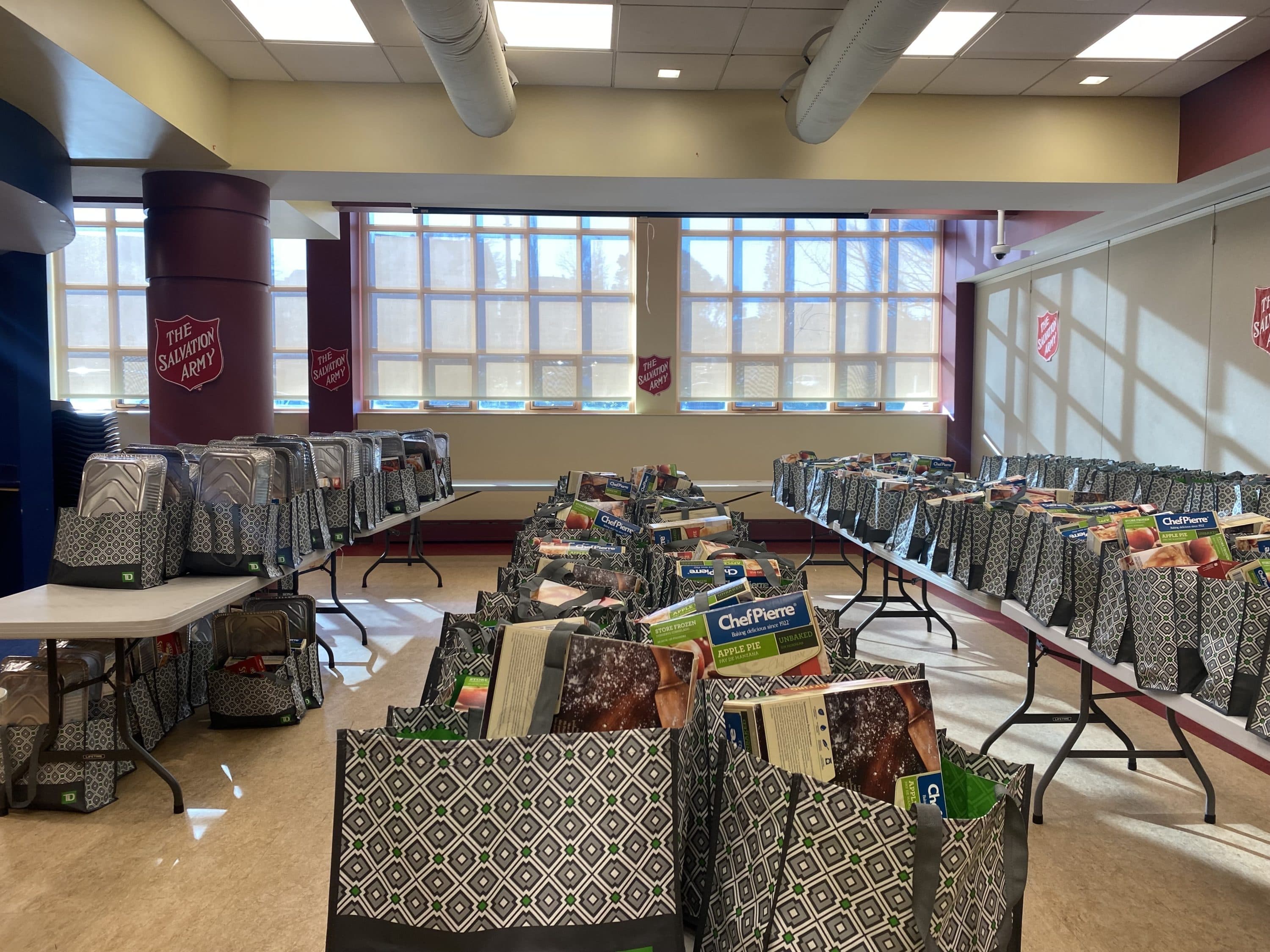 According to data from the Farm Bureau, the average cost of a traditional Thanksgiving meal has increased roughly 20% over the last year, with the cost of a turkey alone going up roughly 21%.
Lesley Kennedy was picking up a turkey and trimmings on Saturday for the holiday.
"This is my first year being in charge of taking care of Thanksgiving dinner, so let's pray for the turkey, and let's pray that I cook to the best of my abilities," said Kennedy, of Dorchester.
Kennedy said Saturday isn't the first time she's depending on the Salvation Army for support. As a single mom, she says it's a community at the Kroc Center. She says this Thanksgiving, she's thankful for a lot after a tough pandemic.
"I'm thankful for my family, that we're all here this year to celebrate because my mother caught COVID and my sister caught COVID and they're both long term suffers," said Kennedy. "So every year that we are able to sit down with each other, that's what I'm thankful for."
The Salvation Army says it plans to do more food distributions on Monday in Chelsea, Jamaica Plain and Brockton.
Correction: A previous version of this story incorrectly identified a member of the Catholic Charities team. The vice president of basic needs is Beth Chambers.