Here are the places and apps that want in on sports betting in Mass.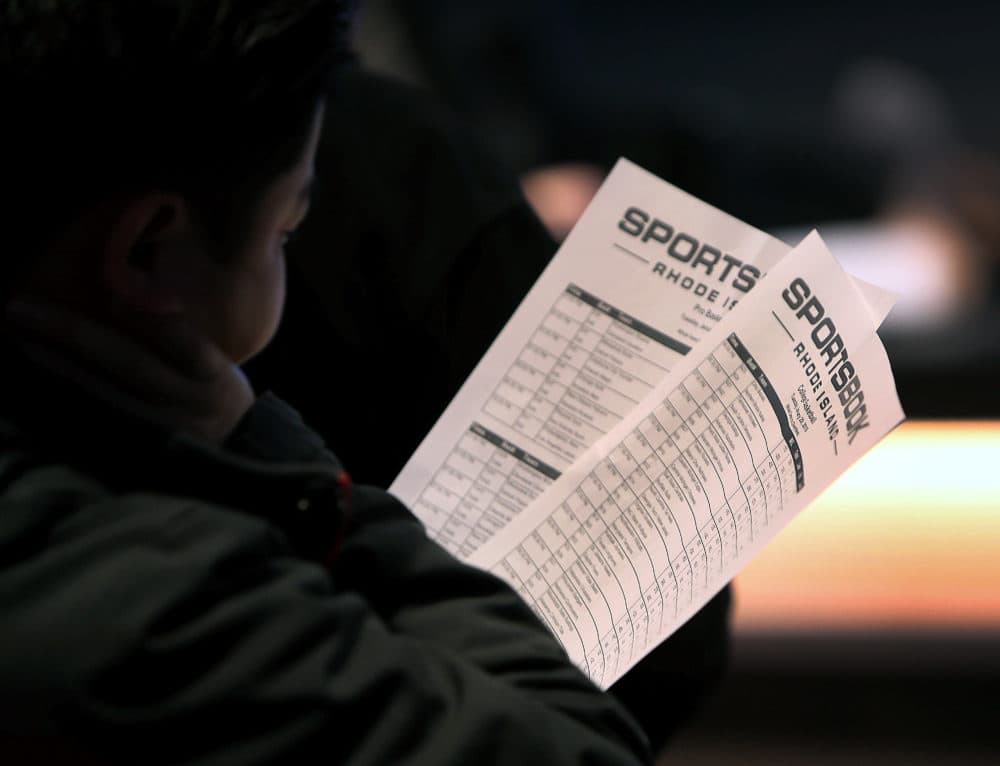 Editor's Note: This is an excerpt from WBUR's daily morning newsletter, WBUR Today. If you like what you read and want it in your inbox, sign up here. 
---
After pardoning two turkeys (even though they did nothing wrong!), President Joe Biden is returning to Nantucket today with First Lady Jill Biden to continue their Thanksgiving tradition on the island. We'll get through today's news quickly so you can get started on your holiday ASAP, too — especially if you're hitting the road today.
We knew the likely "when" of sports betting in Massachusetts. Now, we know the likely "who." The state's Gaming Commission said Monday that it received 15 applications (and the $200,00 application fees) from potential sports betting operators by yesterday's Monday deadline. Time to get familiar with these names (because, at the very least, you're likely going to see them in a lot of ads):
As expected, the applications include bids to open in-person sportsbooks in late January from Encore Boston Harbor, MGM Springfield and Plainridge Park Casino. The state also got sportsbook applications from Raynham Park and Suffolk Downs (via a slightly different licensing process), but those two won't be ready to open by the state's January target for in-person bets.
The state's three casinos are also planning to partner with online sports betting platforms, according to the Gaming Commission. That's in addition to the six applicants hoping to offer "stand-alone" betting apps in Massachusetts: Bally Bet, Betr, Betway, DraftKings, FanDuel and Pointsbet. (The state can offer up to seven mobile-only sports betting licenses.)
What's next: While regulators are hoping to get in-person sportsbooks up and running in late January (ahead of the Super Bowl), the timeline for mobile betting's launch is early March.
Officials are still looking for answers about what caused an SUV driver to ram into an Apple store Monday in Hingham, killing a man and injuring at least 16 other people. Police say they are questioning the driver — but have not charged them or released their name or age.
The sole victim has been identified as Kevin Bradley, a 65-year-old New Jersey resident, who was helping out with construction at the store, according to Apple. South Shore Health's Dr. Christopher Burns told reporters that there are also "multiple patients with life-threatening and limb-threatening injuries."
The City of Boston is using federal COVID-19 relief funds to provide free classes and job training to local residents who want to get a degree in early education. WBUR's Carrie Jung reports that it's the city's latest effort to address its lack of child care workers.
The details: The $7 million is enough to fund scholarships for up to 800 people to take classes and trainings at Bunker Hill Community College, UMass Boston, Urban College and Neighborhood Villages, an early education advocacy group. It also comes with a job guarantee after graduation and stipends for internships.
The catch: To get the benefits, you have to work as an early educator in Boston for a minimum of two to three years.
The big picture: As we reported earlier this year in our series "The cost of child care," the COVID pandemic led many child care workers to leave their low-paying jobs, exacerbating a staffing shortage that has lingered in the industry for years. Boston officials said Monday that about 50 early education classrooms in the city are empty because there isn't enough staff.
Last year around this time, many of Massachusetts' largest colleges and universities began requiring students and staff to get COVID boosters, once eligible, as the first omicron surge began to take off. And after the new bivalent booster designed to combat omicron was approved, Tufts University and Harvard University made them a requirement as well in order to enroll next semester. But as WBUR's Vanessa Ochavillo reports, no other big schools have followed suit.
While most local colleges are lightly encouraging students to get the new boosters and holding clinics, just 7% of vaccinated adults ages 16 to 29 have received the second booster shot, according to state data.
P.S.— Speaking of COVID, this might be the most normal-feeling holiday season since the pandemic began. But with hospitals feeling the strain of a "triple-epidemic" of COVID, RSV and flu, WBUR's Gabrielle Emanuel reached out to four local disease experts to ask how they're approaching Thanksgiving. You can sign up for our weekly health newsletter to get their advice in your inbox this afternoon.