How should the MBTA extend the Silver Line? Here are the options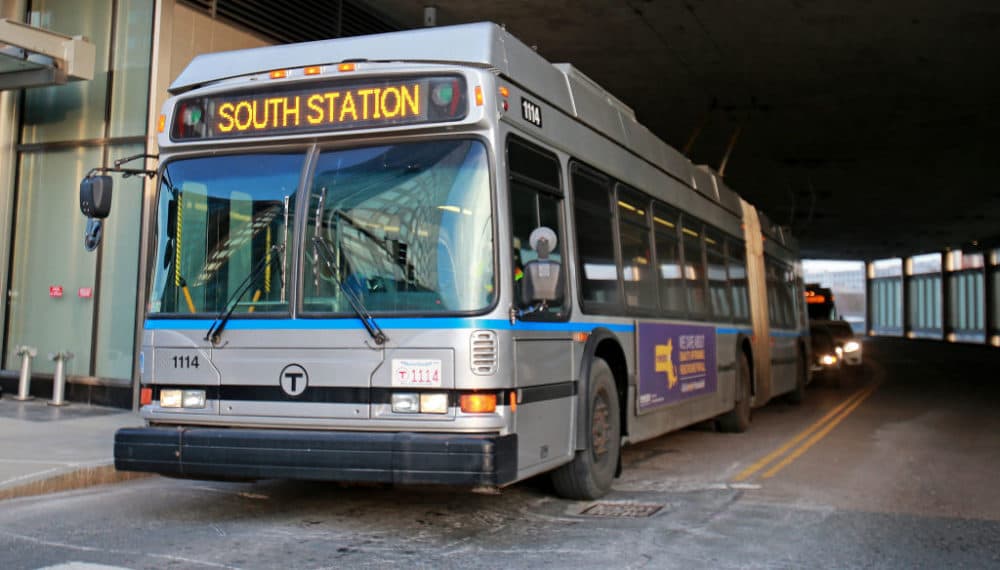 Editor's Note: This is an excerpt from WBUR's daily morning newsletter, WBUR Today. If you like what you read and want it in your inbox, sign up here. 
---
I'm still working through Thanksgiving leftovers and relishing in Winston the French bulldog's triumphant victory. But alas, it's Monday again and we're back to work. At least it's finally OK to put on Christmas music (when you're not listening to WBUR, that is). To the news:
With the rest of the Green Line Extension finally opening two weeks from today, the MBTA is eyeing the extension of another part of the system: the Silver Line. For years, T officials have been quietly working on the less-exalted project to extend the bus-rapid transit line to Everett, Somerville and maybe even Cambridge. Now, they're giving riders the chance to weigh in on seven different options — grouped into two general concepts (click the links below to zoom in on the proposed maps):
Path 1: Extend the SL3 route from its current terminus at the Chelsea commuter rail station through Everett to the Orange Line — either at Malden Center, Wellington or Sullivan Square.
Path 2: Create a new Silver Line route called the SL6. It would run from Glendale Square in Everett to Sullivan Square to either Kendall Square in Cambridge or downtown Boston, potentially intersecting with the Green, Orange and Red lines. One more different SL6 alternative would provide a direct ride from Chelsea and Everett to Kendall Square, via Sullivan Square.
It's not an "either/or situation," according to MBTA spokeswoman Lisa Battiston. The T could move forward with a combination of the SL3 and SL6 options, if they determine that's the best to way to connect Chelsea and Everett to the rest of the Boston area. However, that route could need a phased-in approach, since it would require more buses, drivers and money.
Not just a bus: MBTA officials say the Silver Line extension also has "considerable overlap" with the agency's larger plans to reshape its overall bus route map (which focuses on improving service in growing but underserved cities like Chelsea and Everett). But it wouldn't be just another bus line. T officials say most of the new Silver Line routes would run primarily along dedicated bus lanes and include other bus rapid transit elements.
What's next: The MBTA wants to hear local residents' opinions on all the options at a public meeting on Dec. 13.
Coming across the pond: Prince William and Kate Middleton will be in the Boston area this week to announce the winners of their Earthshot Prize for climate change solutions. It's the couple's first U.S. visit since 2014, and they're planning a few local stops along the way.
According to a schedule obtained by NBC Boston, they're planning to swing by Cambridge, Chelsea and Somerville before announcing the prize's winners Friday at the MGM Music Hall at Fenway in Boston. They also plan to meet with Boston Mayor Michelle Wu and other Boston leaders.
Watch out, drivers: It's peak season for car crashes involving deer. According to AAA, there were over 1,600 collisions between vehicles and deer in Massachusetts last fall, and the number has been rising.
Why: Deer mating season runs through the end of the year, so they're a little more active and willing to come out of the woods.
When: Most crashes occur at or just after sunset, per AAA.
Where: Southeastern and central Massachusetts see the most crashes.
Today: Mayor Wu and other local leaders will make their way to Bay Village this afternoon to commemorate the 80th anniversary of the deadliest disaster in Boston's history: the Cocoanut Grove fire. They're planning to hold a public vigil at 3 p.m. at the former site of the popular nightclub, which was at over two times its capacity when a fire broke out in 1942 and killed nearly 500 people.
P.S.— Wu is also making her monthly appearance on Radio Boston this morning — live at 11 a.m. Have questions for her? Tweet them to @RadioBoston or send them through our text club by texting BOSTON to 617-766-0382.