Here's a look at Prince William and Kate's busy Boston itinerary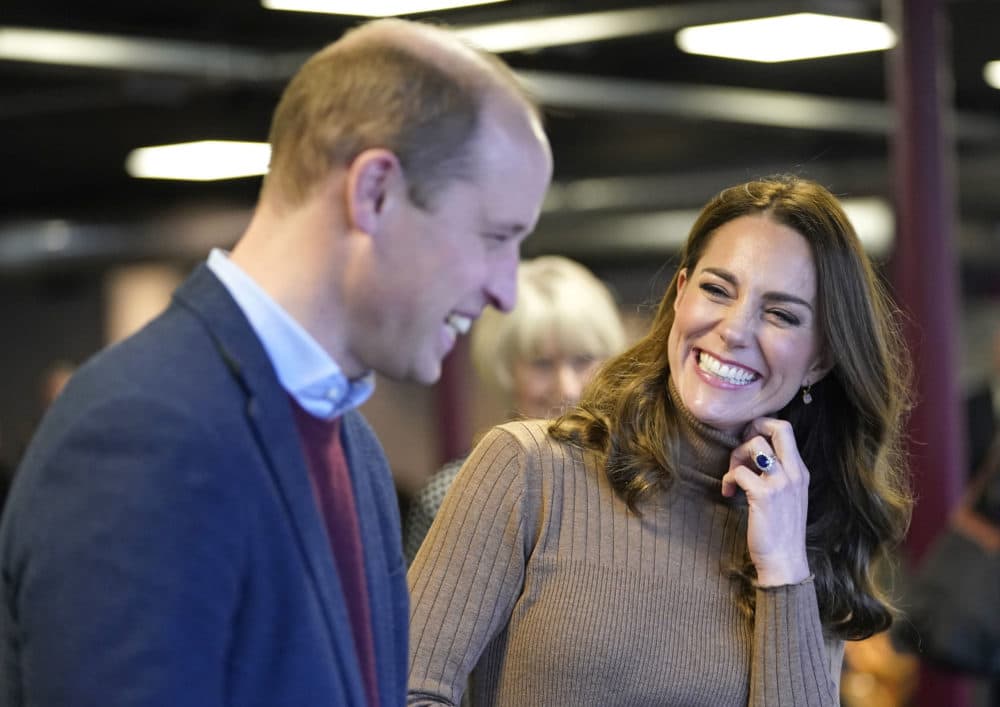 Editor's Note: This is an excerpt from WBUR's daily morning newsletter, WBUR Today. If you like what you read and want it in your inbox, sign up here. 
---
It's one if by land; two if by sea. But how many if by plane?
The British — specifically Prince William and his wife, Kate, the Princess of Wales — are coming. To Boston. Today! In their first trip to the U.S. since 2014, Prince William and Princess Kate are spending three days here to "get to know" Boston and its "ambitious action to combat the effects of climate change." Their visit begins this evening with Boston Mayor Michelle Wu and a public event at City Hall, and it concludes Friday night with Billie Eilish and the announcement of the second annual Earthshot Prize awards. But they have a busy schedule in between. Here's a look:
Wednesday: The visit officially begins with a private meeting with Wu in her office, followed by a welcome event outside City Hall at 4:30 p.m. with speeches from Wu, Prince William and others. A British Consulate official tells me the welcome event "really will be the best opportunity for the general public to see Their Royal Highnesses," if Mother Nature cooperates. Right now, there's rain and heavy wind in the forecast.
Thursday: The couple will visit Greentown Labs, a climate tech startup incubator in Somerville, to learn about local innovations around 10:30 a.m. Then, they'll head to Chelsea around noon to visit Roca, a nonprofit focused on reducing youth violence.
Friday: Their last day in town begins with an 11:15 a.m. visit to Harvard's Center on the Developing Child in Cambridge. Then, they're taking a short tour of the JFK Library with Caroline Kennedy. Last but not least, they'll unveil the five winners of the 2022 Earthshot awards at the new MGM Music Hall in Fenway. (You can read about this year's 15 finalists here.)
Psst: The royal couple may or may not be making other public appearances during their time in Boston. But for now, Kensington Palace is keeping the details of any other plans under wraps.
A controversial proposal to build a new electrical substation in East Boston is another step closer to reality, after getting a special permit Tuesday from the state's Energy Facilities Siting Board. The Boston Globe reports that the board gave Eversource a special certificate allowing it to circumvent the 14 final environmental permits needed for the project — outraging local environmental justice advocates.
Eversource says the substation is necessary to meet growing demand for electricity in the East Boston area. But critics have raised concerns about its vulnerability to flooding and potential safety hazards in a neighborhood already burdened by pollution. Last year, 84% of Boston voters came out against the substation in a nonbinding ballot question.
What's next? Environmental groups told the Globe they plan to appeal the latest decision and hope Gov.-elect Maura Healey — a critic of the plan — can find a way to intervene.
The Boston City Council plans to once again take up a proposal today to allow residents as young as 16 to vote in municipal-level elections (i.e. mayor and city councilor). City Councilor Kenzie Bok, a former civics teacher and lead sponsor of the home rule petition, told WBUR's Amy Sokolow that she's seen how "young people are absolutely capable of engaging with the questions that are burning in their community."
Bok isn't the only supporter. Nearly half the City Council is co-sponsoring the measure. During her mayoral campaign last year, Wu said she also supports lowering the local voting age to 16.
But even if approved by the City Council and Wu, the measure would face an uncertain road. That's because home rule petitions need approval from the Legislature and governor, too. And similar efforts to lower the municipal voting age to 16 by neighboring communities — including Brookline, Cambridge and Somerville — have all failed to get through the State House.
P.S.— It wasn't pretty, but the U.S. men's national team is headed to the 16-team knockout stage of the World Cup, after an arduous 1-0 win Tuesday over Iran. Next up: the Netherlands. The two sides will face off Saturday at 10 a.m. to advance to the quarterfinals.