Find your way to Louise Penny by land, book or new 'Three Pines' series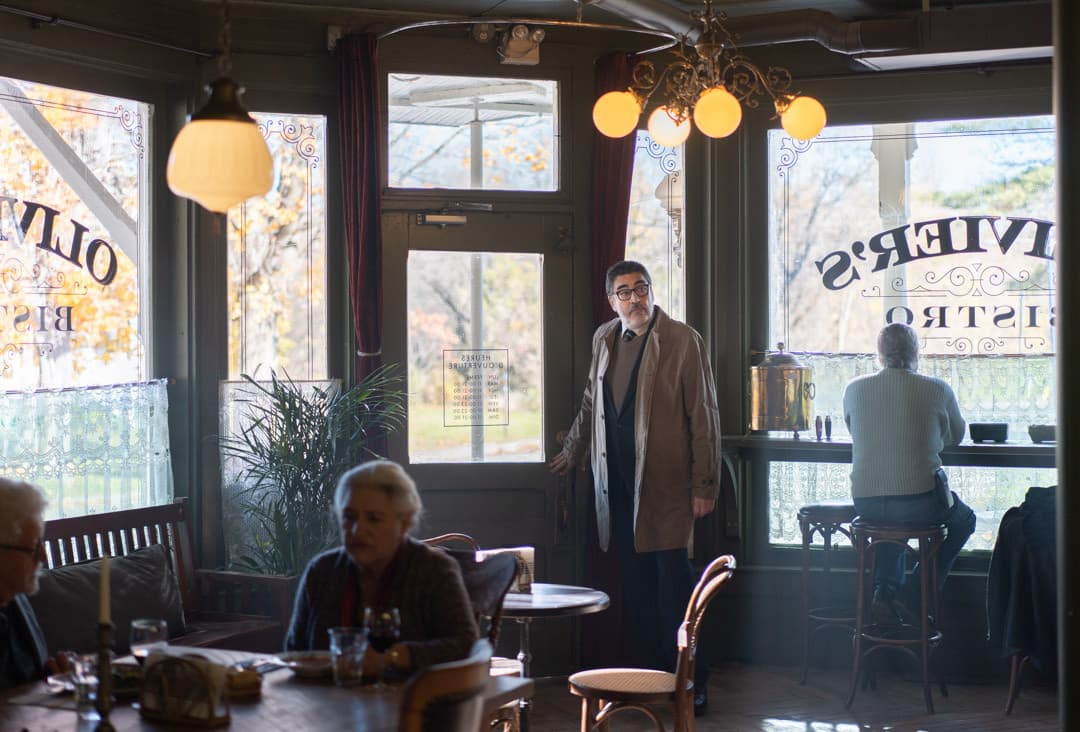 Just over Vermont's northern border lies a bucolic region of Quebec known as the Eastern Townships or Cantons de l'Est. Along the string of quiet villages, tucked among forests and farmland, lies jolts of the extraordinary. Like a mouth-watering smoked duck sandwich or an especially lush section of rail trail. Most American tourists zip by, none the wiser, en route to Montreal.
When I visited more than a decade ago while researching a travel guide, it struck me as a place I could return to again and again. Probably because it felt a little like home. That feeling returned around the onset of the pandemic, when I finally picked up my first Inspector Gamache mystery. Author Louise Penny relocated to the region (also called "Estrie," recently debated, as language use often is in Quebec) from Toronto, a new start after a career in journalism. She published her first Gamache book, "Still Life," in 2005. Her 18th, "A World of Curiosities," came out on Nov. 29.
Normally averse to bestselling and genre fiction, and anything to do with murder, I was a late adopter. Then, gripped by pandemic pressures I couldn't stop reading.

Based in the fictional, hidden village of Three Pines—an amalgamation of Estrie towns like Knowlton, Sutton and North Hatley—individual books focus on a murder that Gamache and team solve. But the setting and his quirky chosen family of a disheveled artist, cranky poet, therapist bookseller and bistro owners took me in with every hot cup of coffee they poured, every log thrown on a fire in the middle of the night.
Almost always in Penny's books, one character performs these small graces for another. Their anchor, the reverent but not religious Gamache, head of homicide for the province, embodies decency in a constantly failing world. Penny's books are more than that, too. They're peppered with Quebec history, Estrie points of interest, and plucky humor. My bilingual cursing ambitions have expanded, thanks to Penny. And Ruth, the swearing poet.
Perhaps obvious, but count me among the converted. Penny's now exceedingly popular books have inspired pilgrimages to her "hometown" Brome Lake bookstore (from which I ordered handmade Three Pines masks during a pandemic fundraiser), Three Pines guided tours, and on Dec. 2, Prime Video premieres the first two of eight episodes of "Three Pines" the series, starring Alfred Molina as Armand Gamache. When I learned about the program from Penny's monthly newsletter (yup, it's a gem), I knew I'd watch every minute.
First things first. The books can be read independently but many threads build chronologically, which is how I recommend reading them. The series takes a similar approach. Yet Penny's most strident fans will find stories told out of order or not at all (or not yet, depending on approval of a second season). I don't mind loose interpretations and see adaptations as a new opportunity. But when it comes to Gamache, I read for the people and how they deal with snow, not for the murder. Six episodes in, the series leans into murder and the relationships coalesce at a snail's pace. Or at some tables, escargot.

Yet I didn't give up and neither should you. The series, tonally bleaker than the books, foregrounds new, urgent material, like an arc that addresses atrocities committed against indigenous and First Nations peoples. Penny's books touch on these issues as well. But here, multiple episodes show with authority how those traumas still reverberate and demand attention. A cluster of superbly cast women (Elle-Máijá Tailfeathers as Isabelle, Tantoo Cardinal as Bea, Georgina Lightning as Arisawe) propel facets of several linked narrartives forward, as law enforcement, activist and survivor, respectively. Tracey Deer, born and raised in Kahnawake Mohawk Territory, started in documentary ("Mohawk Girls" 2005), has since shifted to fiction ("Mohawk Girls" the series), and directed two episodes, "The Cruellest Month'' parts one and two.
Then there's Alfred Molina. What a task he has, shouldering the safety of a province while pleasing a faction of semi-rabid international pandemic mask-buying fans. He's not what I pictured. But he's what the series needs. As Gamache, he exudes self-assurance yet aptly conveys why someone should tattoo "I am wrong" inside their arm. He convincingly listens like a therapist but can't quite get himself to see one, despite personal demons. With a tilt of his head or slightly furrowed brow Molina portrays the essence of Gamache and what we all are – humans in process. Gamache just happens to care deeply about that bumpy process.

In so many ways, an embrace of imperfection perfectly befits Penny. That's what I told myself about how the "Three Pines" village didn't add up, visually, either. Though the overall landscape of the series, shot in Quebec, works. When reading I imagined a picturesque common, surrounded by cottages, smoke puffing from chimneys, windows cracked for fresh air. A neighbor standing on her porch, beckoning you in for supper. In the series, key locations have more distance between them. So do the characters. The result has less warmth.
Beloved books always set a high bar for adaptations. Even Penny admits that it took time to acclimate to the series, based on her mysteries but not written by her. Reading between the lines of her diplomatic interviews, I bet she wanted something more. Something else. I can relate. While her books have helped me escape reality, the series brought me back to it in unexpected ways. I'll confess it gave me a newfound appreciation for fictional murder. Because pandemic or not–by book or by series–the joys of life take on greater meaning when the stakes of walking out your front door are so unfathomably high.