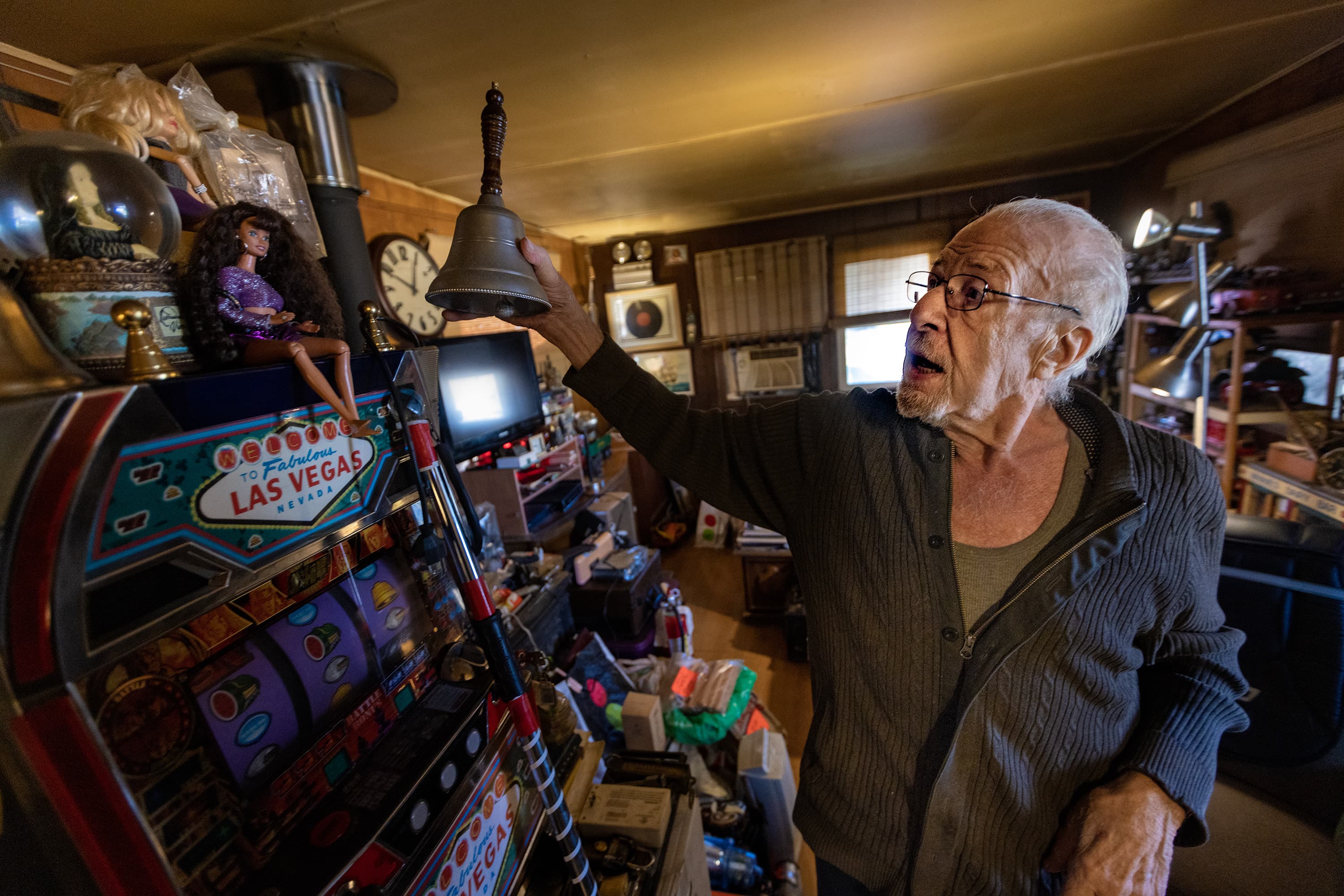 Big investors are buying mobile home parks — and upending the lives of residents
John Piazza remembers when he first moved to Lee's Trailer Park in Revere in 2000, after his rent skyrocketed in Boston.
Piazza fell in love with a 720-square-foot mobile home, finding it more spacious and affordable than his small apartment in the North End.
He said the park owners charge him just $575 a month for the lot under his home — a fraction of what he would pay in rent for an apartment in Greater Boston. He also paid $20,000 for the mobile home itself, far less than the cost of a traditional single-family home or condo.
The 84-year-old planned to spend the rest of his days at Lee's Trailer Park. But last year, the park was sold to Parkway Homes, which is managed by the Boston investment firm Helge Capital. And the company soon started asking people to leave and demolishing their homes to make way for new housing.
"The whole place is gone," Piazza said, sitting in his mobile home, one of the few still left at the park. "You see it? I'm all alone."

All across the country, investors are buying mobile home parks like the one in Revere, upending the lives of residents who have lived there, often for decades. In some parks, the new owners have cleared mobile homes to make way for new development. In others, they have jacked up rents.
"We've had a lot of predatory owners coming in, seeing value in the land," said Sandy Overlock of the Manufactured Home Federation of Massachusetts, which represents the interests of mobile home residents in the state. "All they see is money."
Housing advocates say the sales are particularly worrisome because mobile home parks have become a refuge for millions of people who can't afford soaring home prices and rents elsewhere.
Moreover, they say, mobile home owners are particularly vulnerable to bad landlords because, contrary to the name, mobile homes aren't actually all that mobile. Once they are trucked to a park and attached to a foundation, they are often too expensive or difficult to relocate. So owners usually have to sell or abandon their mobile homes in order to move.
"We've had a lot of predatory owners coming in, seeing value in the land. ... All they see is money."

Sandy Overlock
Lee's new owner, Parkway Homes, wouldn't agree to an interview. But in a statement, a spokesperson said the company has helped residents find new housing and is replacing "dilapidated" and aging mobile homes with modern, transit-oriented housing. A city councilor said the development will likely create an unspecified number of upscale apartments, including roughly 50 units of affordable housing.
Packing up and leaving
The new owners of Lee's have offered residents compensation for the trailers they had to leave behind, but the amounts vary widely. Some residents said neighbors were paid $5,000 to leave and turn over their trailers. Others who have stayed longer have managed to negotiate payments up to $25,000, advocates said.
Some of those remaining said they have until September to leave. Yet moving can be hard on residents, especially seniors who never planned to move. And rents in Revere average more than $2,500 — nearly five times the typical cost of renting a lot at Lee's.

Piazza, a retired court officer and harbor captain, said he'll get $6,000 for his trailer, less than one-third of what he paid for it years ago.
Over the past two decades he has collected thousands of tools, toys and pictures, placed along every square inch of his home. But he won't have room for most of them at the assisted-living facility he's moving to in his native North End. Holding an axe-like implement, he explained it was used for building ships 150 years ago, recovered from the home of a famous shipwright in East Boston.
"It came from the greatest shipbuilder I've ever heard of," Piazza said, sitting in front of a wood stove in his living room. "His name was Donald McKay."
Piazza hopes a museum will take the tool, called an adz, but he'll likely have to toss much of the rest of his collection. Outside his home, there were shopping carts filled with dusty LPs, a hand-cranked apple peeler and tools he can't identify — all destined for the dumpster.
His son, John Piazza Jr., has been helping him pack. He said it's sad to see his dad forced to leave this way. And once he moves into the assisted living facility, he'll have to give up his car. "I mean, his independence is gone," he said.
Some other residents said they had nowhere else to go — even those who live in recreational vehicles, which in theory could be easily driven to another location.
William Villanueva has lived in an RV at the park for six years, and he said he's having trouble finding another park.
"I've looked and I can't find anything," he said in Spanish, standing beside his home. "There are plenty of parks, but nobody takes you in. It's even worse when you're Latino."

Villanueva said the displacements have been devastating for some of the families who lived here. "You see that site over there," he said, pointing to a boarded-up trailer with "no trespassing" signs painted on sheets of plywood. "There was a family with three kids living there."
Now they're living in their car, he said. "It's not right."
Revere City Councilor Joanne McKenna said multiple residents have asked her for help to stop the displacements and demolitions. But when she learned they had signed papers agreeing to move in exchange for compensation for their trailers, she told them nothing could be done.
Lee's former owner, William Settipane, still visits the park regularly and feels the new owner is treating outgoing residents fairly. "They're paying the people," Settipane said.
Settipane, 78, sold the park to the new owners for $5.6 million last year, triple what he paid for it 12 years earlier.
He said the park has long been dogged by drugs and crime, and he feels the new housing development will be a big improvement.
"The city should be glad that they got rid of the park because it was nothing but a problem," he said.

Some observers also fault the current and former owners for failing to maintain the park over the years.
Boston University public health instructor Ethan Mascoop recently surveyed the park and spotted one health violation after another, despite the fact that people still live there.
"It looks like the remains of a war," said Mascoop, who sits on the Manufactured Homes Commission, a state body that helps mediate disputes between park owners and residents. He pointed out open dumpsters, debris from demolished homes and people's belongings strewn around the park. "It's very, very sad."
The mayor's office did not respond to multiple requests for interviews, though McKenna, the city councilor, said city inspectors have been active at the park.
Finding another solution
Across Massachusetts, two dozen of the state's 250 parks are now owned by investor groups, according to the Cooperative Development Institute, which advocates for park residents.
"It's a fad right now," said Megan Haggerty, a New York real estate investor and broker who's planning to enter the Massachusetts mobile homes market. Haggerty has personally bought and sold several parks and brokered deals for larger investors. "It's sexy real estate."
Haggerty said real estate investors like mobile home parks because they generate steady streams of cash from renting lots to homeowners, more than they can typically get from other kinds of rental properties.
But some residents are fighting back. That's what happened at the Royal Crest mobile home park in Wareham, on the southern coast of Massachusetts.

Royal Crest is a neatly-kept community, and residents say they cherish living there because it's like a small village. There are no fences and people know their neighbors. It's also a cheap place to retire.
Bob Costa, 78, and his wife cut their monthly housing costs in half when they sold a five-bedroom house on the Cape and moved to Royal Crest.
"Our intent was to finish out our lives here," Costa said.
But the couple worried they would be forced to move after learning an Arizona investment firm planned to buy the park for $12.1 million.

Still, residents say a letter about the sale contained a ray of hope. It mentioned a state law that gives park residents the first shot at buying a park before it's sold — a so-called "right of first refusal."
One catch: Residents would have to raise enough money to match the bid from the investment firm. And under state law, residents had just 45 days to determine whether they could match the offer. So they had to move fast.
"Our intent was to finish out our lives here."

Bob Costa
"I thought, who in the world in this park would be able to come up with $12.1 million?" said Royal Crest resident Rachel L'Heureux. That works out to nearly $80,000 per household.
Tenant advocates tried to help the residents put together a deal. They persuaded the state to chip in $1.9 million from the state Affordable Housing Trust Fund to help pay for the purchase.
But the homeowners would still be on the hook for $10 million — money they would have to borrow and ultimately pay back in the form of higher rents.
They also learned about other challenges. Residents would become responsible for running a cooperative, and hiring contractors to maintain the park and collect rent.
"It really requires a lot of resident buy-in," said Nora Gosselin, of the nonprofit Cooperative Development Institute, which helps advise residents on buying their mobile homes.
Still, more and more residents are taking on the challenge. Of the state's 250 mobile home parks, about 1 in 5 are now owned by residents — double the number bought up by big investment companies over the last decade.
Ultimately, Royal Crest residents voted overwhelmingly to form a co-op and purchase their park.

Earlier this fall they packed their community center to celebrate. A hundred people congratulated each other, hugging and helping themselves to platters of chicken, scallops and baked goodies.
"How does it feel to beat a billion-dollar industry?" said Kevin Dodge, head of the newly-formed Royal Crest Residents Association, before cutting a ribbon and chanting "We own it!" with his neighbors.
Long-time resident L'Heureux attended the party with her 90-year-old mother, who's lived at Royal Crest since the mid-1970s.
Now that the residents own the park, L'Heureux said, her family will never have to worry about being forced to move.
"I get teary-eyed," she said. "I'm so, so, so excited that this happened for us. Everything fell into place."

Advocates are hoping to help residents of many other communities organize similar buyouts. That means residents, rather than outside investors, will finally control the land beneath their homes.
This article was originally published on December 08, 2022.
This segment aired on December 8, 2022.