Meet the weird (and very climate friendly) new addition to Boston's skyline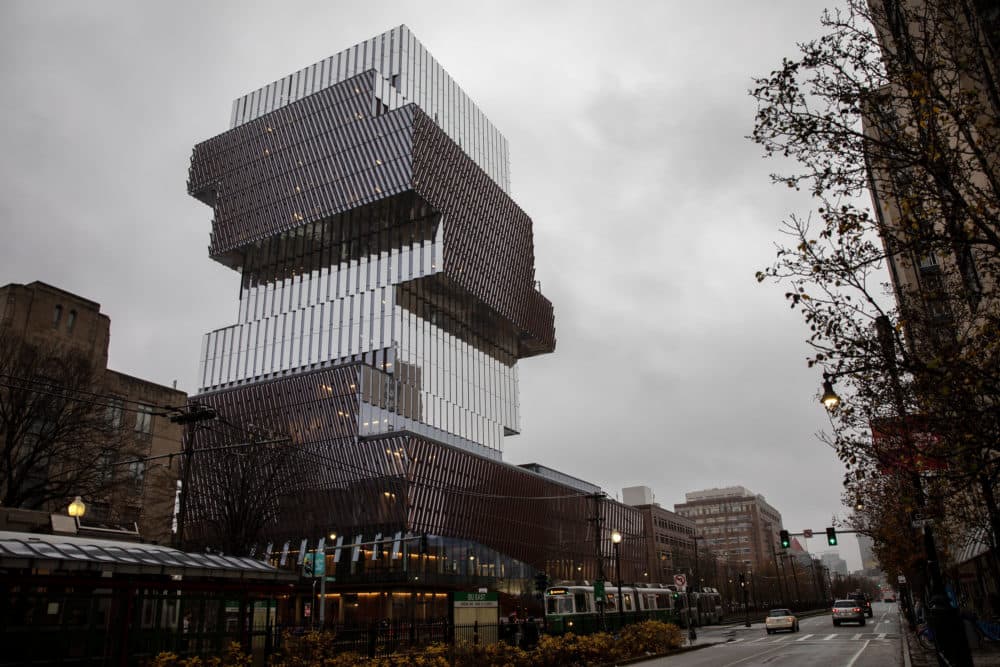 Editor's Note: This is an excerpt from WBUR's daily morning newsletter, WBUR Today. If you like what you read and want it in your inbox, sign up here. 
---
You've watched it ascend, zigzagging above the Charles River, over the last few years. But at last, today is the big day for Boston University's new Center for Computing & Data Sciences — or what you may know as the big Jenga tower or the stack-of-books-like building just west of the Citgo sign on the city's skyline. And its story goes deeper (literally) than just the architecture:
BU officials are holding a ribbon cutting this afternoon for the center, which WBUR's Paula Moura reports will be the largest net-zero emissions building in the city. In fact, BU says it's 100% fossil-fuel free. There are no gas lines. The building buys its electricity from a wind farm in South Dakota. And it is mainly heated and cooled using geothermal wells that run deep into the ground.
How it works: BU officials told Moura that the building essentially uses the earth like a battery — using the geothermal wells to carry the heat down into ground during the summer and then bringing it back up in the winter.
What's in it: The building will bring BU's mathematics & statistics and computer science departments under one roof, as well as house a new cross-disciplinary Computing & Data Sciences faculty. BU officials say faculty members have already begun moving into their offices and the building will hold its first classes with the start of the spring semester in January.
Fun fact: The building is 19 stories tall, but actually goes further down than up. According to BU, the boreholes for the geothermal pumps are 1,500 feet deep. (That's almost a third of a mile, or twice as deep as the John Hancock building is tall.)
The question everyone's asking: Why does it look like that? KPMB Architects said in 2018 that BU asked them to design something "iconic" and engaging."A remarkable piece of architecture is architecture about which everyone makes a remark," BU President Bob Brown said at the time.
Researchers are drawing lessons from the city of Chelsea's big guaranteed basic income pilot. During the pandemic, Chelsea gave debit cards loaded with $400 a month to over 2,000 households — or around 15% of the city's population — for nine months. WBUR's Yasmin Amer reports that a new Harvard study shows 65% of the money was spent in places that primarily sold food, while the rest went to retail purchases, services and transportation. Furthermore, researchers found that payment recipients worked the same number of hours as non-recipients.
What it means: Jeffrey Liebman, who led the study, says the findings have broad implications for relief programs. Instead of complicated programs to help economically struggling residents, he suggested that it may be better to simply "give people money and let them go figure out how to solve their own problems."
What's next: Amer reports that Chelsea plans to run another three-month direct payments program next year.
Brace yourselves Red Sox fans: Xander Bogaerts is leaving Boston. After 10 seasons with the team, the Sox shortstop is departing for an 11-year, $280 million deal with the San Diego Padres, according to multiple reports late last night. It's the end of an era that many Sox fans had been dreading since Bogaerts opted out of his contract with Boston earlier this year. According to The Boston Globe, there was a "huge gap" between what the Sox offered and what the Padres offered the four-time All Star. (Let me know if this story sounds familiar.)
Meanwhile, the Red Sox are spending their money elsewhere. ESPN reported yesterday that the team has signed Japanese star outfielder Masataka Yoshida and All-Star closer Kenley Jansen.
P.S.— One more fun fact about BU's new building: the architects put its indoor stairs next to the windows so that the sweeping views help promote physical activity over taking the elevator. You can read more about the building's health and sustainability features here.