'Tis the season for 'TubaChristmas,' a low brass love fest in Boston
Play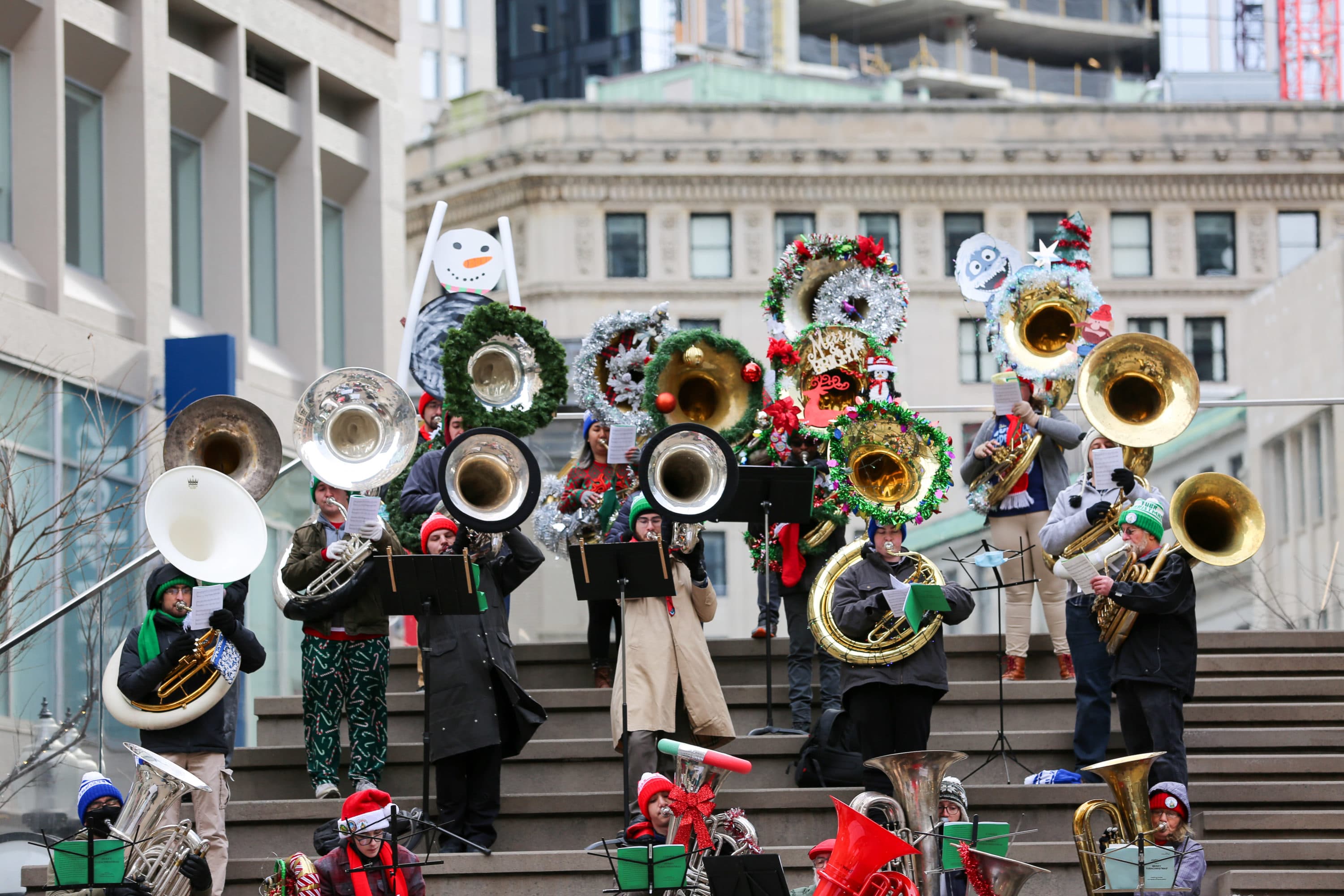 Tubas are loud, large and undeniably mighty, but they're rarely the stars onstage in orchestras and ensembles.
"So often, as a tubist, you sit in the back going 'bom, bom, bom, bom," 37-year-old Natalie Sheeler explained as she mimicked the tuba's tell-tale "oompa" sound.
Once a year, though, Sheeler gets to join a small army of kindred, low brass spirits to play holiday melodies — rather than bass parts — in what's known as "TubaChristmas."
"It was created in order to honor the noble tuba family," she said. "And to bring attention to the tuba family — which often doesn't get as much attention as other families of instruments."

Tuba master Harvey Phillips founded "TubaChristmas" to celebrate his teacher William Bell who was born on Christmas Day, 1902. The first concert surprised holiday skaters and shoppers at New York's famed Rockefeller Plaza in 1974. (Most of the holiday tunes were arranged by composer Alec Wilder for the inaugural event and are still played today.) Over the decades, these low brass love fests spread to cities across the globe. Sheeler, a Pennsylvania native, experienced her first in Philadelphia.
"I've gone to the Boston 'TubaChristmas' the last eight years since I've lived here," she said. "And every year my father and I play alongside each other."
Sheeler's dad travels from Pittsburgh for this all-age, all-level event. Participants hail from farther-flung places including California and other countries. "They just are so happy to play Christmas carols together on their favorite instrument, that it's become a tradition," Sheeler said.

Turns out Sheeler, a Sturgis Charter Public School music teacher from Plymouth, doesn't actually play the tuba. Her instrument is the euphonium.
"The tuba is the lowest member of the brass family, and the euphonium sounds an octave above," Sheeler said. "It looks like a mini tuba."
There's also the much larger, more curvaceous marching band version known as the sousaphone.
"Some of them actually have double bells, and we've had those over the last couple of years at the Boston 'TubaChristmas' events," Sheeler said. "There's a couple of ancient versions of the tuba that have shown up. One person has already emailed me that they might bring what's called an ophicleide — which is an old, more kind of bassoon-looking version of a tuba."
All together, Sheeler said the brass players form a pretty eclectic bunch when they reunite on the steps of Millenium Tower in Downtown Crossing.
"It looks very Dr. Seuss-like," Sheeler said. "Or kind of like the brass band that you'll see in the Harry Potter movies."
Sheeler says the sound of 100 to 200 tubas together is always showstopping. "It makes your whole body vibrate in a way that's kind of like when you go to a rock concert."
Some tubists joke that their music is indeed "heavy metal." Over the years, Sheeler has observed how low brass players seem to share a few quirky personality traits. "Goofy...a little bit silly...lighthearted. And I think this event suits that personality."

"We Wish You A TubaChristmas" sing-alongs, festive (likely ugly) holiday sweaters and tubas decorated with tinsel or Christmas lights all play a part in this pretty wacky public spectacle. Sheeler is conducting the free event for the first time this year and looks forward to regaling audiences with all sorts of insights into these huge but humble instruments.
"This is the Euphonium and Tuba Awareness Day," Sheeler proclaimed. "So I hope they walk away with a little bit more understanding of what these instruments are — and also with a little more holiday spirit."
---
Boston's "TubaChristmas" concert begins at noon on Saturday, Dec. 10, on the Millennium Tower steps at Downtown Crossing.