What you need to know about Boston's First Night celebration this year
First Night is back "full throttle" for the first time since the pandemic hit. That's according to Dusty Rhodes, president of Conventures, Inc., the production company that orchestrates the New Year's Eve celebration.
The annual two-day, family friendly celebration, with two fireworks shows, takes place in the Copley Square area on Saturday, Dec. 31 and Sunday, Jan 1.
At a press conference Wednesday, Boston Mayor Michelle Wu said, "my family can't wait. I really appreciate the focus on ensuring that those with kids and every generation has something to enjoy at First Night."
This year, the celebrations are expanding. Indoor performances are back, but there are still plenty of outdoor events to choose from. Organizers say the footprint of the festival is larger, too — stretching from the Prudential Center to Boston Common. On New Year's Day, the ice sculptures will continue to be on display for parents who didn't want to keep the kids up late, with additional live music scheduled.
"It's not just midnight and enjoying great music," Rhodes said, "It's Sunday with strollers and little 3- and 4-year-old children coming in from parts of the city or the suburbs. And that, to me, is a true family festival."
Rhodes expects attendance to exceed last year's, which she said was about 200,000. The Boston Police Department estimates 300,000 have shown up during past First Nights.
To help you prepare, here's a guide -- along with some dos and don'ts — for First Night 2023. (Click here for more information from the organizers.)
Where to go
First Night's main stage will be in front of the Boston Public Library in Copley Square. Other parts of the event will be held at the Copley Place Mall, Boston Public Library, Boston Common and a few churches. Ice sculptures will be outside of Trinity Church in Copley Square. This year's theme is the 250th anniversary of the Boston Tea Party.
Getting there
The best way to get to First Night festivities is by public transportation, organizers and city officials say.
On Dec. 31 (New Year's Eve), the MBTA will increase service starting at 3 p.m. Trains will continue through 2 a.m. on Jan. 1 (New Year's Day). The commuter rail and bus will run a Saturday schedule. Click here for more details. The MBTA will not collect fares after 8 p.m. on New Year's Eve.
There will be a number of road closures and parking restrictions in downtown Boston. See the city of Boston's list of traffic advisories for a detailed breakdown.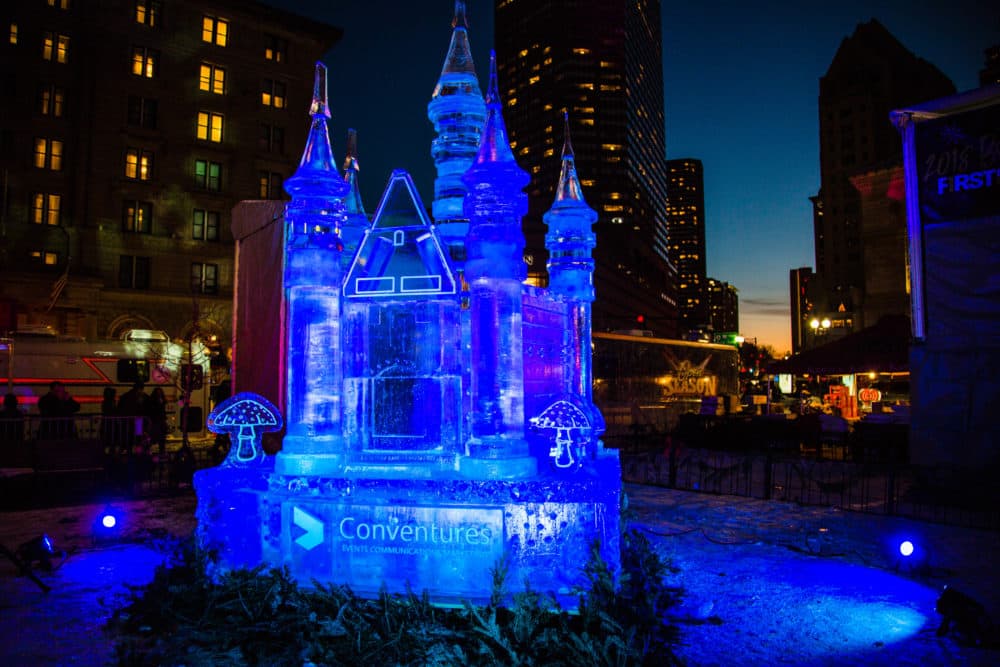 Programming highlights
Saturday at noon – First Night kicks off with a performances by the Chu Ling Dance Academy outside the Copley Place Mall; the Boston Saxophone Quartet (which plays more than just saxophones) at the Boston Public Library; the Alex Minasian Trio in the Rabb Lecture Hall at the Boston Public Library (fun fact: Minasian played his first First Night in 1995 when he was just 10 years old); and the genre-spanning, vocal performance troupe Sweet Harmony in Copley Square.
1:30 p.m. – The Puppet Showplace Theater and CactusHead Puppets present bits from their show, "Magnificent Monster Circus" inside the Center Court at Copley Place (they perform multiple times throughout the afternoon until 3:45 p.m.)
3 p.m. – In what's being billed as the "King of the Instruments" audiences can experience the Old South Church's historic E.M. Skinner pipe organ in all its glory.
3:30 p.m. – Interactive drumming in the Rabb Auditorium at the Boston Public Library. Percussionist Bob Bloom's concept is described as "high octane" and "joyous." Also at 4 and 4:30 p.m.
5 p.m. – Outside at Copley Squre, Koliba's musical exploration of music from ancient Africa to present day. Expect to dance.
5:50 p.m. – Opening ceremony followed by the First Night parade with Mayor Michelle Wu, which travels from Copley Square to Boston Common.
6 p.m. – Wee, it's the Frog Pond skating spectacular!
7 p.m. – Early, family friendly fireworks display on Boston Common.
A range of performances continue through the evening until 11:30, including Sons of Levin, a Pipes and Pops Concert, Nancia, Amanda Mena, Guess Method, Debo Ray and Seba Molnar.
11:30 p.m. – First Night Copley countdown and pyrotechnic display at midnight, with live rock performance by the Sultans. Midnight fireworks will also go off over Boston Harbor.
Do's and Don'ts
Do be prepared for warm, possibly wet weather.
Don't drink alcohol or smoke marijuana at any of the events.
Do use public transportation.
Don't drive if you've consumed alcohol.
Do speak up or call 911 if you see dangerous activities.
Don't join the party if you're experiencing cold- or flu-like symptoms.
Do wear a mask if it makes you feel more comfortable indoors.
Don't bring your own fireworks. (They are illegal in Massachusetts.)
Do be respectful of families, older citizens and people with disabilities at the events or when you're riding the T.
Safety
Boston police will have a presence in Copley Square during First Night celebrations to monitor crowd safety.  Officers will also be monitoring neighborhoods, nightclubs and venues. As always, officials are asking people to say something if they see something suspicious or dangerous throughout the evening.