From classical to experimental, here are the dance performances to watch this winter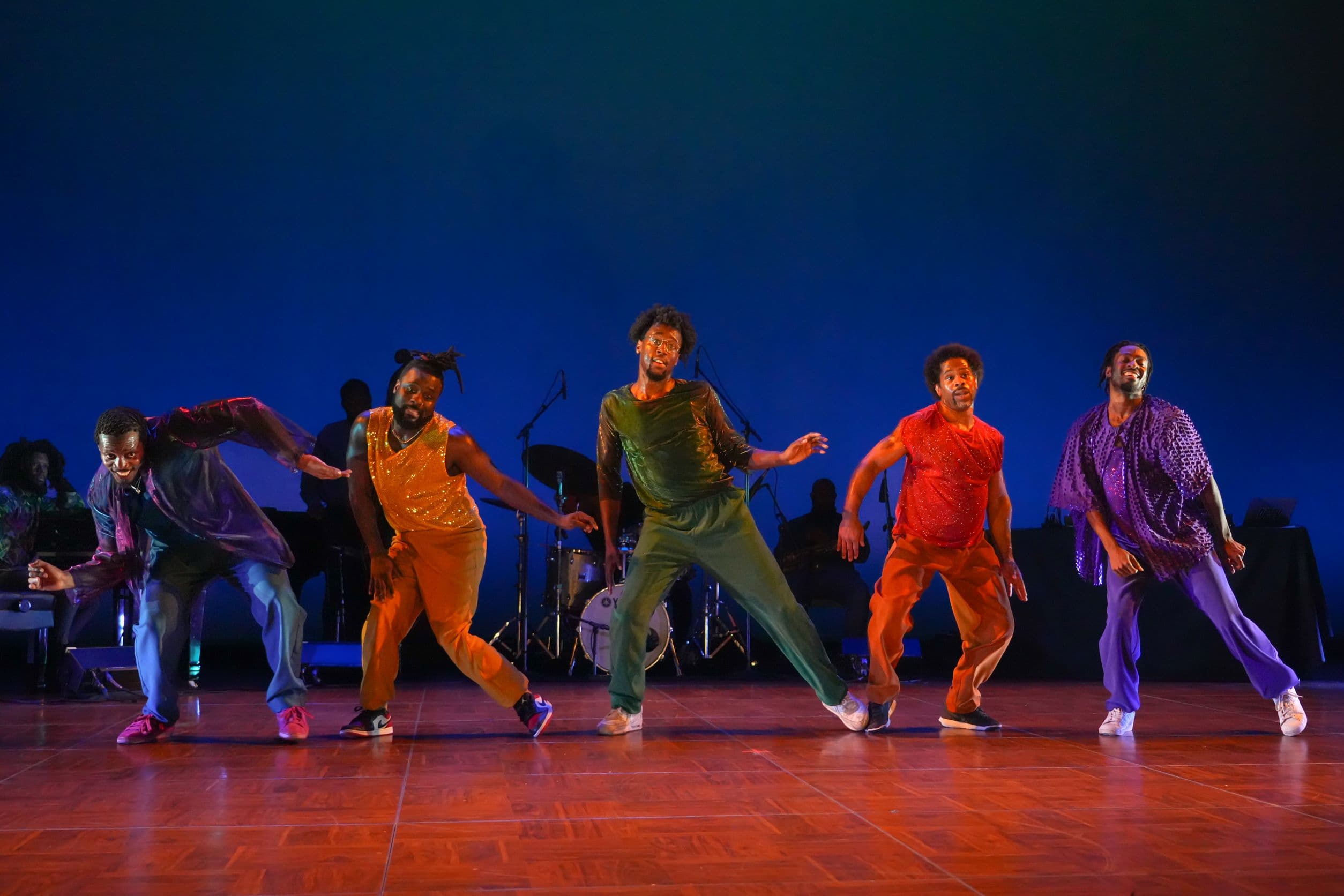 While storing away holiday "Nutcracker" memories of whirling snowflakes and waltzing flowers until next year, you might want to mark your calendar with the dates of the winter 2023 dance festivals. Boston is lucky to have no less than four major dance presenters bringing delights from the hometown troupes and highly praised, out-of-town companies to propel fans into seats at a variety of venues — Celebrity Series, The Dance Complex in Cambridge, Global Arts Live (often in partnership with the Institute of Contemporary Art), and, of course, the Boston Ballet's line-up. Listed below are just some of the treats ahead.
'Look Who's Coming to Dinner'
Celebrity Series of Boston | NEC's Plimpton Shattuck Black Box
Jan. 14-15
"Look Who's Coming to Dinner" was created by Stefanie Batten Bland, who established her own company, Company SBB, in France in 2008 while serving as head choreographer at the Opera-Comique in Paris. Born in New York, she returned to the city in 2011 where she received support from Mikhail Baryshnikov and continues to perform at his Arts Center. She has also performed at The Yard on Martha's Vineyard. SBB has worked extensively overseas and in the U.S. Her works are currently in repertory at American Ballet Theater and Alvin Ailey II, among others. SBB and her company of seven dancers present a work that hearkens back to the film of the same name, "Look Who's Coming to Dinner," set around the rituals of a family at a dinner table, but concerned with issues of race, gender and class. The work was previously performed in New York at La Mama and Lincoln Center.

---
'The Jazz Continuum'
Celebrity Series of Boston | NEC's Plimpton Shattuck Black Box
Jan. 19-21
LaTasha Barnes was declared the "It Gal" of 2021 by the New York critics for leading her troupe of 15 dancers and musicians in a show that combines the connections between the waves of social dance: Lindy Hop, house, breaking, voguing, among others. Sounds like party time on stage and for the audiences now able to view the work here in Boston.

---
Winter Dance Fest 2023
Global Arts Live | Emerson Cutler Majestic Theatre
Jan. 21, Jan. 28, Feb. 4
Compagnie Hervé Koubi — an energetic, all-male troupe of 13 performers who hail from North Africa and the Mediterranean — brings a program of works that draw on dance styles as diverse as capoeira, martial arts, acrobatics, contemporary modern dance and ballet, under the direction of one of Europe's "most distinctive choreographers." The group performs Jan. 21.
Onstage Jan. 28, Rennie Harris Puremovement has restaged the landmark work, "Rome and Jewels," described as a hip-hop retelling of Shakespeare's "Romeo and Juliet," in honor of the company's 30th anniversary. Harris has moved the time and space to the streets of Philadelphia, where the choreographer was born.
Then on Feb. 4, contemporary dance company BalletX (also based in Philadelphia) brings a repertory of works by a clutch of highly praised choreographers, among them Matthew Neenan (who trained as a child at the Boston Ballet and is one of the school's most illustrious alums), Justin Peck (resident choreographer of New York City Ballet), and Jennifer Archibald (who heads her own NYC troupe but also choreographs for companies throughout the U.S.).
---
Through March 12
"30 Dialogues" is a new video installation by Lindsay LaPointe, a year-long display during 2023, in the windows at The Dance Complex of the street-side Studio 7, after classes and rehearsals are over for the day. Fifteen pairs of dance-connected people, each from a different generation, were recorded in conversations and edited into short videos, accompanied by visual text. Each video will be on view for several weeks. Among the stalwarts of the local dance community participating in the project are Anna Myer, De Ama Battle and Marcus Schulkind.

Onstage Feb. 10-12, Maggie Cee's "Ladies at a Gay Girl's Bar, 1938-1969," a solo work that pays homage to the women whose stories are often forgotten but who paved the way for the gay rights movement that came after them. Cee is an artist, activist, dancer, writer and educator committed to social change. She explores her years as a teenage gay rights activist, her own queer identity and the history of feminism in her solo work, bringing to life femme/butch lesbian bars in the 20th century. She has been described as a "graceful, down-to-earth performer who is passionate about her subject."
On Feb. 18-19, Omayra Amaya Flamenco presents the percussive and lively Velada Flamenca. The performances will feature flamenco dance with a modern look, with original choreography by Amaya and music by flamenco guitarist and composer Roberto Castellon.

Billy and Bobby McClain—The Wondertwins—are hometown, street dance pioneers, who began their careers at age 6. They are six-time winners of Showtime at the Apollo Theater, and no less appealing (and amazing) as adult performers. The brothers perform two shows Feb. 25-26.
Then March 11-12, Boston Dance Theater brings its first performance for the BLOOM residency and program, which aims to "acknowledge and uplift specific genres of dance." Under the direction of Jessie Jeanne Stinnett and Israeli choreographer Itzik Galili, the company has a commitment to presenting works of socio-political relevance. BDT will be joined by Khambatta Dance Company, based in Seattle, in collaboration to create and present a world premiere work in Boston.
---
Bill T. Jones/Arnie Zane Company: 'Curriculum II'
Institute of Contemporary Art
March 10-12
Bill T. Jones, one of the most extraordinary performers, choreographers, and thinkers of our era, returns with a new work inspired by the Cameroonian philosopher Achille Mbembe, but informed by the choreographer's references to the news of the day about climate change, racial violence, identity politics and more. Always intense, but intensely entertaining and compelling, the company is a must-see on every dance fan's calendar.
---
'Don Quixote'
Boston Ballet | Citizens Bank Opera House
March 16-26
Boston Ballet returns to begin its spring season with the mega production of Rudolf Nureyev's "Don Quixote," based on the 19th-century, full-length classic by Marius Petipa, somewhat gerrymandered by the star to make more of a big deal of the role he performed. Some of us still remember Nureyev's appearance in the Boston Ballet's staging of the work in 1983 when he injured himself in a preview performance, limped offstage and had to be replaced before the finale of Act 1. The projected tour was canceled and Lloyd's of London, which had insured his participation on the tour, had to cover the expenses (after a long battle for reimbursement).

---
Gibney Company
Global Arts Live | Institute of Contemporary Art
March 17-18
Choreographer and entrepreneur Gina Gibney brings in world-class dance makers to create the repertory for her New York City-based Gibney Company. Three Boston premieres are on the program: "Oh Courage!" by Sonya Tayeh (choreographer for "Moulin Rouge," now on Broadway which had its' out-of-town try-out at the Colonial Theatre); "A Measurable Existence" by Yin Yue; and "Bliss" by Johan Inger (formerly performer and choreographer for Nederlands Dans Theater).
---
Malevo
Global Arts Live | Berklee Performance Center
March 25
Malevo, an all-male percussive dance company, under the direction of Matias Jaime, is based in Argentina. The troupe performs in the style of Malambo, a traditional Argentinian folk dance and has appeared with Cirque du Soleil and TV's "America's Got Talent," among many others, where the company progressed to the semi-finals. They perform a kind of tap dancing dressed in gaucho boots and whirling flaming and glowing boleadoras, a type of throwing weapon of weights interconnected on cords.