Boston Marathon bomber is appealing his death sentence again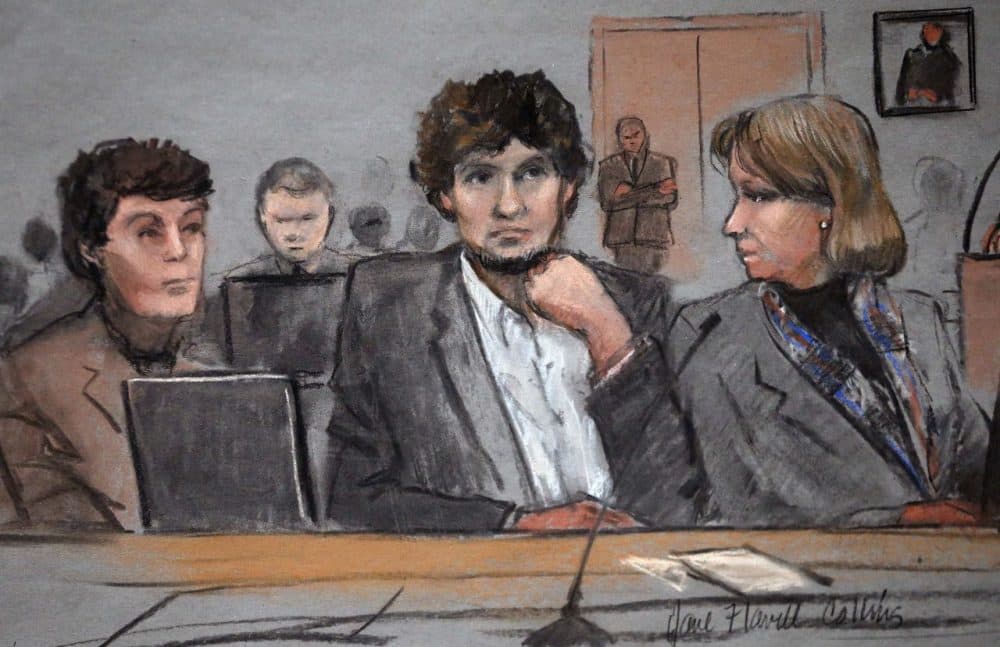 Editor's Note: This is an excerpt from WBUR's daily morning newsletter, WBUR Today. If you like what you read and want it in your inbox, sign up here. 
---
It's nice to see that Ben Affleck is finally getting paid for all the publicity he gives Dunkin'. Before you head out in search of other celebrities at your local drive-through, here's what to know today:
The legal battle over Dzhokhar Tsarnaev's future may not be over yet. Months after the Supreme Court effectively reinstated the Boston Marathon bomber's death sentence, Tsarnaev's lawyers are again pushing to spare the 29-year-old from execution. In a federal appeals court hearing Tuesday, they urged judges to toss his sentence over juror misconduct claims that weren't part of the Supreme Court case.
What was the misconduct? Tsarnaev's lawyers say two jurors lied about their knowledge of the high-profile case during questioning — and they argue the trial judge wrongly denied their move to exclude the two from the bench. Specifically, one juror said she hadn't posted about the case online, despite sharing a tweet calling Tsarnaev a "piece of garbage." Another juror was urged by a Facebook friend to get on the jury to ensure Tsarnaev was convicted, but denied it ever happened before the trial.
Expert's view: Retired federal judge Nancy Gertner told WBUR's Amy Sokolow that Tsarnaev's lawyers have a "very good" case. "The system doesn't work if people are not candid with the court," Gertner said, noting that "a key in this case was the judge could have done something about it." While she said it's becoming harder to ask jurors to tune out all outside media in a social media world, Gertner added, "at least you want the jurors to try."
What's next: Several judges appeared sympathetic to the Tsarnaev team's argument on Tuesday. President Joe Biden has also put a pause on federal executions, so Tsarneav doesn't immediately face the death penalty, however this current appeal plays out.
What does Gov. Maura Healey means for the MCAS? State House News Service reports that Democratic control of the governorship and Legislature could spell the end of the 30-year-old exam as a high school graduation requirement.
For the last eight years, Gov. Charlie Baker's administration has stood behind the MCAS and, controversially, voted to raise the minimum scores needed to graduate last year.
However, the state's largest teacher's union and other education advocates have long opposed the MCAS, which they say is "punitive" and leads to "teaching to the test." Healey and other top Democrats have floated alternative assessments — like the MCEIA — aimed at advancing both "excellence and equity."
Zoom out: As of last year, Massachusetts was one of only 11 states still using a test as a high school graduation requirement.
Today in rankings-you-don't-want-to-top: Boston is now back up at No. 2 in the country for the worst traffic congestion, according to INRIX's 2022 global traffic scorecard. The company estimates that Boston drivers lost an average of 134 hours in traffic last year — which they say comes at a cost of $2,270 per driver.
The big picture: Across the country, the report found traffic got worse in 2022, thanks to millions of Americans returning to the office — primarily via car rather than public transit.
Boston Calling is back, announcing a 2023 lineup heavy with radio-friendly Xennial and Millennial bands. The three-day festival is set to return Memorial Day weekend at the Harvard Athletic Complex. WBUR's Andrea Shea has more details, but here are your headliners:
P.S.— Mark your calendars. We're officially two weeks away from WBUR City Space's winter events schedule kicking into high gear. The slate includes big names from The New Yorker, NPR and CNN; chefs and musicians; and a special performance by one of WBUR's own. Click here to get your tickets before they sell out.