Indie horror sensation 'Skinamarink' is an immersive, terrifying experience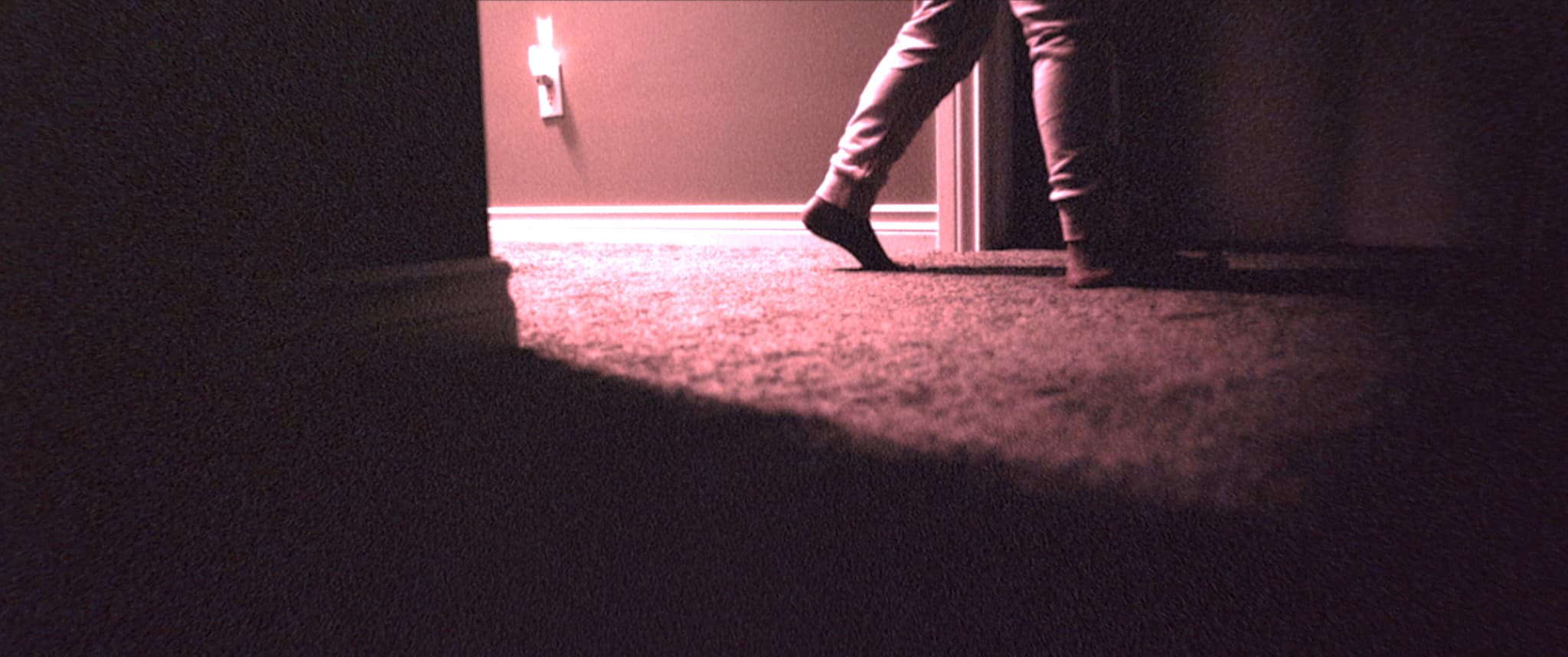 The most comforting, familiar places look different in the dark. Even your childhood bedroom can seem sinister after the lights go out. This might be an obvious observation, but it's one from which filmmaker Kyle Edward Ball has mined a richly evocative sense of unease in the indie horror sensation "Skinamarink." This microbudget, experimental effort has captured the imaginations of TikTokers and Redditors ever since it accidentally leaked from a film festival's home screening platform late last year. Pirated copies have been passed around as the latest viral phenomenon, arriving in inboxes with warnings that you're about to see "the scariest movie ever made."
Maybe that's overselling it a bit. But "Skinamarink" is indeed terrifying, and what's exciting is that it's scary in ways we aren't used to seeing at the movies. This an immersive experience, at times more akin to installation art than an actual narrative feature. The story — so much that there is one — is about two small children waking up in the middle of the night to find their parents have disappeared. As have the doors and all the windows. (And the toilet, too.) They're trapped in a big, dark, empty house, the only light source coming from the living room where an old CRT television is blaring creepy vintage cartoons — their singsong nonsense rhymes echoing through the cavernous home, the flickering video signal illuminating a rug cluttered with toys. After a while, we put together that there's something in the house with them. Something very bad.

You don't watch the movie so much as you sink into it, allowing yourself to be enveloped by the intensely unsettling atmosphere. We don't see the children's faces, just glimpses of their feet here and there as they make their way up the stairs or down these dark, foreboding hallways. Most of the movie is shot from the kids' POV, keeping the camera close to the ground and peering into the shadows, attempting to make out shapes that never quite materialize. Ball shot it all on video in extreme low light conditions, and then pushed the image to make it as grainy and degraded as possible. A lot of "Skinamarink" conveys that feeling of when the lights have just gone out and your eyes haven't quite adjusted yet. He's also added on an artificial layer of scratchy film print imperfections and a soundtrack full of hums, hisses and pops to make the movie feel like some sort of cursed relic, recently unearthed.
Every decade or so, one of these underground horror movies punches through to the mainstream. I'll never forget when, shortly after Sundance back in 1999, a pal mailed me a VHS tape with no explanation, just a cryptic label that said "The Blair Witch Project." Watching that movie totally cold — after midnight in a basement rec room with a noisy furnace — was one of the most frightening viewing experiences of my life. (Afterwards, I called and woke up the friend who'd sent the tape, demanding he explain what the hell it was that I'd just watched, as there was no way I was going to sleep anytime soon.)
I also fondly recall the first local screening of "Paranormal Activity." Paramount Pictures had purchased the festival favorite and was testing the waters for a wide release with a run of late-night weekend shows in major markets. I was sitting in the AMC Boston Common struggling to stay awake (the movie bored me out of my mind) while a rather large and imposing gentleman seated behind us was having the wits scared out of him. He loudly moaned and muttered throughout the film until the shocking final scene, when he shouted "F--- this movie!" and ran clear out of the auditorium. It was so funny that, to this day, I still have my suspicions that the guy might have been a studio plant hired to stir up word-of-mouth.

It's tough to imagine "Skinamarink" crossing over to mass blockbuster business the way "The Blair Witch Project" or "Paranormal Activity" did, but the film scratches a similar itch. Like those seminal lo-fi scare pictures, it brings the shock of the new — that dangerous feeling of a movie coming from somewhere beyond formula, where the regular rules don't apply. You get the queasy sensation that anything can happen in "Skinamarink," because it can. There are no story beats being followed that will help you guess where we're going, no rising or falling action to carry you along on a movie's usual momentum. You just have to sit in it and keep staring into the dark, struggling to make out what's happening in these ominous, flickering images.
This rudderlessness does, however, make you really feel the film's 100-minute running time, and I'm pretty sure a shorter "Skinamarink" would be a more effective one. But I'm even more sure that your feelings about the film will depend mostly on the conditions under which it's viewed. I've heard from folks who have had revelatory experiences watching it hunched over their laptops with their earbuds in at three o'clock in the morning, and I likewise can't think of a movie worse for watching in the middle of the afternoon the sun streaming through your windows while the rest of the world goes about its day. Personally, I saw a screener link on my home theater setup late at night with the shades drawn, but I'm pretty sure I'll get even more out of seeing it on the big screen with an audience. Especially if some scaredy-cat runs out screaming, "F--- this movie!"
---
"Skinamarink" opens at the Coolidge Corner Theatre on Friday, Jan. 13.