Andrea Campbell sworn in as the state's attorney general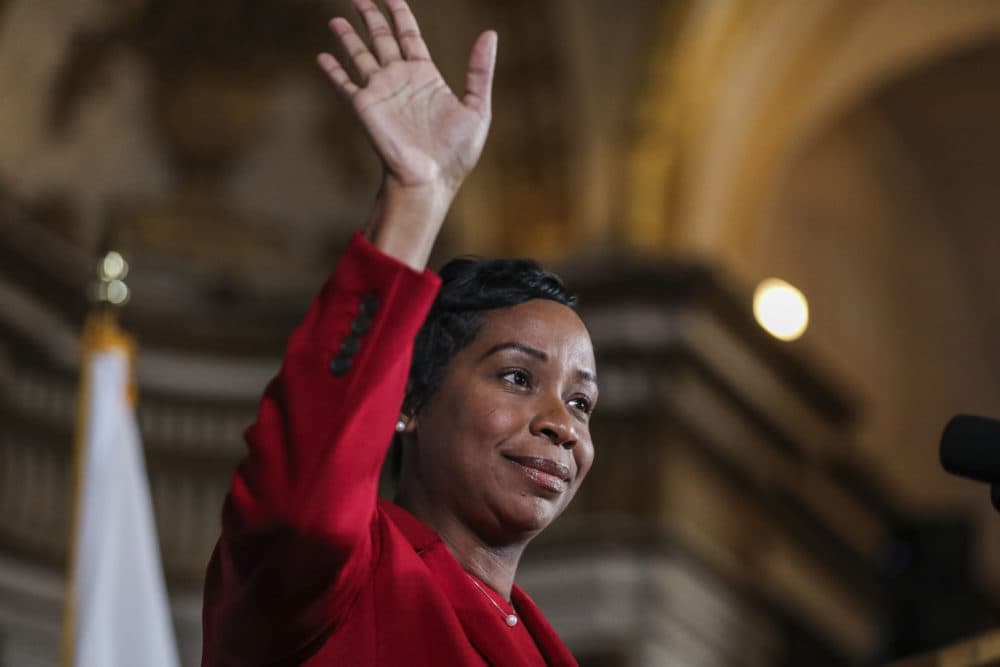 Andrea Campbell made history Wednesday, becoming the first Black woman sworn to serve as the state's top law enforcement official. She's also the first Black woman ever elected to statewide office in Massachusetts.
During a ceremony at the Boston Convention and Exhibition Center, Campbell officially become the 45th attorney general of the commonwealth.
"My hope is that every day, women and young people who look like me — and see the incredible work of this office — will feel less invisible, despairing and lonely, because there continues to be a shining example of what is possible," Campbell told a crowd of about 1,000 people at her inauguration at the Boston Convention and Exhibition Center.
Here are some of the issues Campbell promised to take on as attorney general:
creating an elder justice unit to protect seniors from hardship and fraud;
forming an office of gun safety enforcement;
creating a reproductive justice unit to protect reproductive rights;
and helping to bring accountability and transparency to correctional facilities and the juvenile justice system.
"We can ensure that the government is responsive to your needs and do it with integrity, empathy and urgency," Campbell told the crowd. "Government must remove barriers and not stand in the way of progress or justice. And as attorney general, I will make sure it does just that."
In her campaign, she said she had the right combination of professional and personal experience to serve in the position.
The 40-year-old is a former Boston city councilor and mother of two children. She was the first Black woman to serve as the council's president and unsuccessfully ran for mayor in 2021.
Campbell attended Boston Latin School, Princeton University and UCLA Law School. She worked as deputy legal counsel to former Gov. Deval Patrick.
Campbell has often publicly spoken about traumatic events that she said shaped her life while growing up in Roxbury and the South End.
When she was an infant, her now-deceased father was sentenced to prison for eight years. Her mother died in a car accident on her way to visit him in prison. Campbell and her siblings spent most of their childhood in foster care or living with relatives. Her twin brother died 10 years ago while in the custody of the state Department of Correction. Her older brother, Alvin Campbell Jr., is in custody facing rape charges.
"My faith has allowed me to turn significant pain into purpose," Campbell said during her election victory speech.
During the campaign, Campbell said she would "look at every issue through an equity lens."
Campbell has appointed Pat Moore as first assistant attorney general. Moore is a former White House attorney and worked as counsel for Massachusetts Govs. Deval Patrick and Charlie Baker.
This article was originally published on January 18, 2023.