Winter storm to deliver big variation in snow totals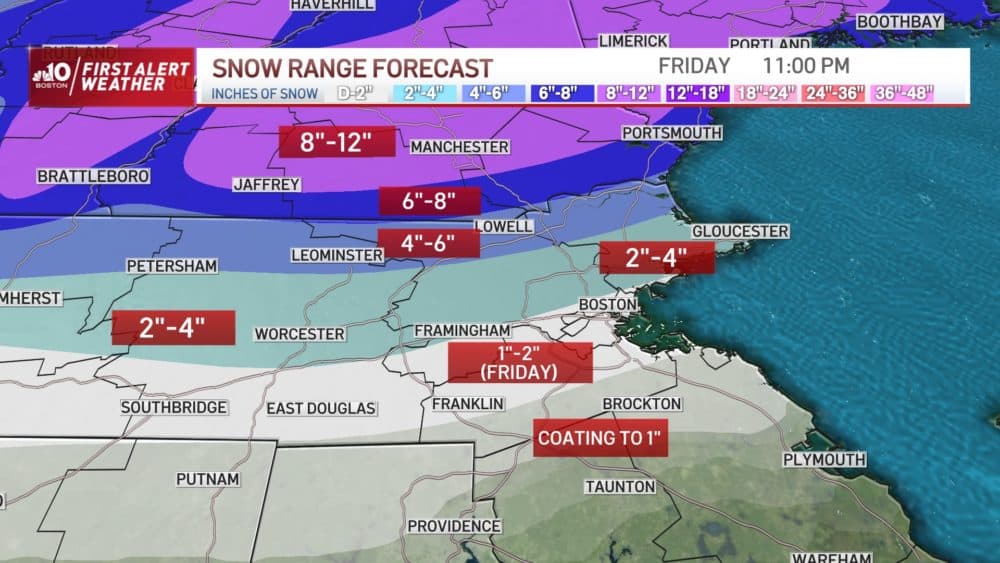 A multi-hazard winter storm will continue to move over the Midwest and Great Lakes region Thursday, spreading east towards New England. With a lack of significant cold air, this storm will have a tough time producing high snowfall totals in much of southern New England.
There will be a sharp rain/snow line that makes this a high stakes forecast though: a 25- to 30-mile difference in northern Massachusetts with separate snow amounts – from half-a-foot to nothing at all – early Friday morning. Though the areas with nothing in the morning will add a bit of snow over the course of the day Friday.
In terms of timing, rain develops Thursday afternoon southwest to northeast, and slowly transitions to snow Thursday evening and overnight as far south as northern Massachusetts.
Farther south (near and south of the MassPike) precipitation is likely to stay as rain overnight tonight into early Friday morning, waiting for a colder north and northwest wind to change leftover pockets of rain to snow throughout southern New England Friday. This could add a fresh one to two inches of snow on some spots that would have been snow-free up until then.


Although the weather is expected to quiet Saturday with more clouds than sun and high temperatures in the 30s, another storm will be organizing along the Louisiana Gulf Coast, ready to pull northeast.

Chances are good this storm will carry enough warmth that southern New England will see mostly rain when the storm arrives Sunday evening, but northern New England's ski and snowmobile country is likely to see accumulating snow again.

The worst impact of the storm will be overnight Sunday night, though the morning commute Monday very well may be impacted by rain and snow as the storm starts its exit. Couple this with another storm midweek next week – perhaps a slightly colder

scenario with a rain/snow line farther south–  there will be plenty to watch in the days to come.