In hands of Andrew Bird, Dickinson's 'Funeral, in my Brain,' becomes an indie pop ballad
An English major might find it sacrilegious to even try, but singing an Emily Dickinson poem to the theme from "Gilligan's Island" is known as sort of party game.
Some prefer the game with the folk ballad "The Yellow Rose of Texas."
Indie pop musician Andrew Bird heard about this from an academic friend who teaches a course on Dickinson. And even with a packed performance schedule and a new album in process, Bird said he had to see if it would work.
"I was scanning through her poems with that in mind because I thought, 'No, this can't be true,'" Bird said.
Bird ended up composing an original, less jaunty melody to accompany Dickinson's words.
"I got kind of engrossed in this particular poem. That first line — 'I felt a Funeral, in my Brain' — just grabs you right away. It doesn't' hold back at all," Bird said.
Bird had read Dickinson in the past, but it had been years. This poem, he said, seemed like a dispatch from some dangerous place Dickinson traveled.
"You know, it just communicates so well an internal world — her particular internal world. There's so much fascination with her private life," Bird said. "It's like a report — like journalism in a way. Like, 'Wow, I went to this really scary place deep within myself and here's what I saw.'"
Bird ended up putting the poem to what he described as a "simple two-note melody." The popular singer-songwriter Phoebe Bridgers joined him on vocals.
A music video was also produced, in collaboration with the Emily Dickinson Museum in Amherst, Massachusetts, using footage from around Dickinson's home.
"So, you see the the decor of of her home as the song plays, and ... her script, her handwriting." Bird said.
The copyright status of Dickinson's poetry is complex. "I had a Funeral, in my Brain" isn't among Dickinson's poems in the public domain. Bird needed permission from Harvard University, which controls the rights to much of her poetry and letters.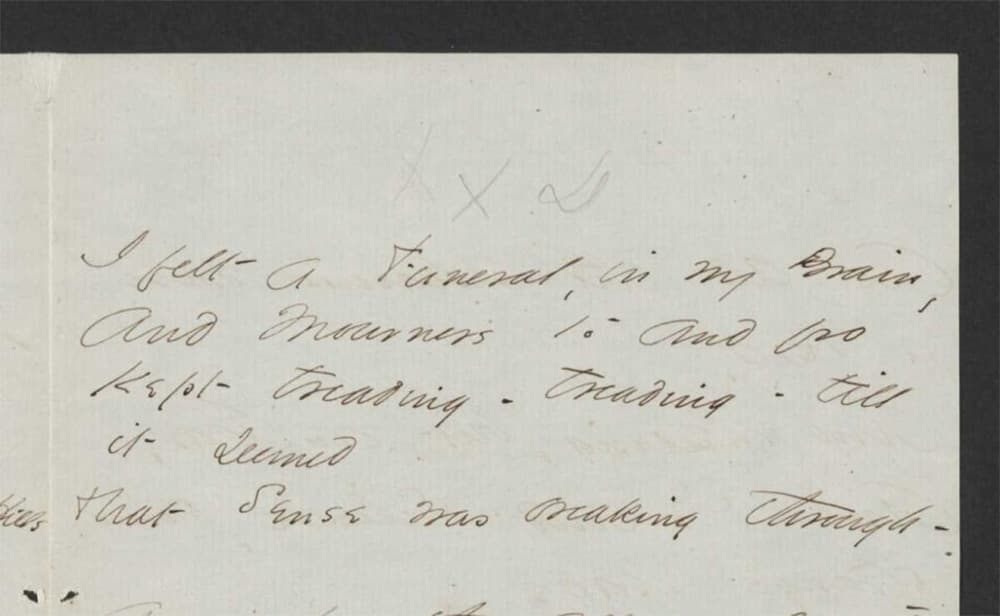 As long as he didn't change the poem too much, Bird said, Harvard was open to its use in a song.
As for singing Dickinson's poetry to the tune of "The Yellow Rose of Texas," Bird said it doesn't really work. And he said Dickinson gave her readers all the direction they need.
"Her original unedited manuscripts were really the way she intended it," Bird said, "with a lot of odd punctuation and interesting notes that really told you how to speak or sing it."
This story is a production of New England News Collaborative. It was originally published by New England Public Media.