Charlestown Rehearsal Studios has an uncertain future and unclear past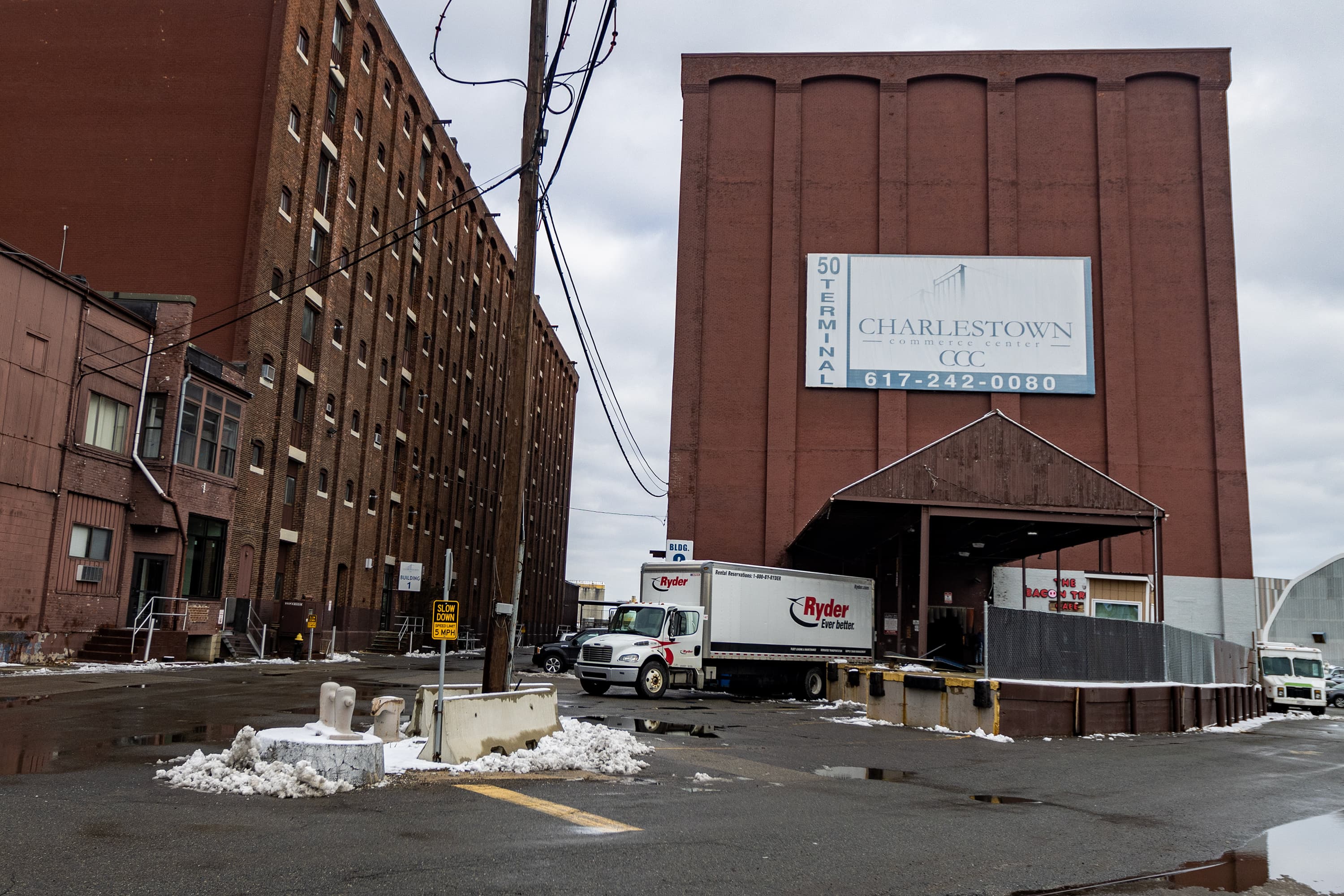 When the COVID-19 pandemic first emerged in the U.S. three years ago, Jesse Vengrove would head to his space at Charlestown Rehearsal Studios at 50 Terminal St. to play drums, spending two to four hours a day practicing. "Living in Charlestown, there's no way that I can practice my instrument at my house without getting instant noise complaints," he said. Vengrove has been at his space since 2016 — it's where his bands Glacier and Greylock practice. After spending years moving around practice spaces, like many other musicians, Vengrove was happy to find a stable place to play music. Plus, it was convenient, only a short walk away from his home.
That sense of stability was jolted on Jan. 4, when Vengrove saw a Facebook post about the rehearsal studio closing and being converted into storage space. Vengrove called the office the next day and spoke with Dennis Barden, general facility manager at Stor-U-Self, the space Charlestown Rehearsal Studios operates in owned by R.J. Kelly Co., Inc., a commercial real estate firm based in Burlington. While Barden declined to be interviewed, tenants including Vengrove have been told there was no exact timeline for the practice space closing, but it is estimated to occur in June or July. Tenants haven't been issued a formal eviction notice, but they're worried about the uncertainty surrounding the future of Charlestown Rehearsal Studios and the general loss of practice space and performance venues for musicians living in the Greater Boston area.
"Our leases say that they're only required to give us 30 days notice," said Vengrove. "Everyone's a bit nervous that there's the potential for them to come on the first of some month and say, 'Okay, you have 30 days to get out.'"

An uncertain future
Charlestown Rehearsal Studios contains approximately 95 rooms and is home to at least 500 musicians. It has been in operation for over a decade, with the practice space occupying the second, third and fourth floors of the building. Information about the date the business was established was not available from the city of Boston.
When contacting the city of Boston's Inspectional Services Department about when Charlestown Rehearsal Studios was established, Lisa Timberlake, director of publicity at the ISD, learned that previous owners of 50 Charlestown St. never obtained a permit for a music practice space. Timberlake noted that ISD visited Charlestown Rehearsal Studios in mid-January and spoke with the current owners, R.J. Kelly, saying if they were to continue in that space, they would need to apply for and obtain the necessary permit. ISD and R.J. Kelly were in agreement with that, Timberlake said. When Scott Kelly, executive vice president of R.J. Kelly, was asked about knowledge of the permit, he said that at the time the company purchased the space, he believed the permit had been obtained.
The building housing the studios is also home to self-storage and small businesses. According to Vengrove, the second floor has seen plenty of construction and building of new storage spaces over the past year. Vengrove was unaware he was renting rehearsal space that was never permitted for that purpose.
The rehearsal studio takes up a small amount relative to the entire building, according to Kelly. The company purchased 30-50 Terminal St. for $19.82 million on Dec. 31, 2021, according to the Registry of Deeds. R.J. Kelly still advertises musician rehearsal space on the Charlestown Stor-U-Self website at the time of publishing.
Kelly said his company hasn't yet filed any plans for the space at 50 Terminal St. — Brittany Comak, assistant director of communications at the Boston Planning and Development Agency, confirmed this statement. However, Kelly noted that investing in storage space was a plan R.J. Kelly has considered since purchasing the building. "It was something that we've been considering since day one, to convert the entire building [to storage space] eventually," he said. Compared to practice space, storage space will yield more money per square foot.
"There was a storage facility that was in the area that was closed. So there's now a shortage of products to meet the demand of the area. This investment backfills that loss," Kelly said. "That was our valuation when we bought the building, so that we would obviously have an opportunity to fill a gap given the…storage facility in the area that has already closed relatively recently."
Charlestown Rehearsal Studios tenants have yet to receive official communication about the future of the space. They did receive an urgent message via letter at their door at the studio on Jan. 6 about changing access to the building, but no mention of the potential closing.
Jimbo Jones, the tenant behind the post that made the rounds on social media, said he found out about the space's future when he asked Barden if there were any available rooms, only to be told all tenants will have to vacate the space by June. Jones said he learned from Barden that the building owners invest in self-storage units, not band rehearsal spaces.
Kelly said he's been in the storage business for a long time. "We attract pharmaceutical lab type tenants … we attract small businesses … it's very expensive to get your own industrial space … to store equipment or tools or things like that," he said. "We attract clearly residential users, people in apartments. Obviously, space is extremely expensive residentially."
"No one coming into Charlestown to go to their storage unit is going to serve any benefit to other businesses in Charlestown or the surrounding neighborhoods."

Jesse Vengrove, musician
Musicians are pushing back against the conversion of Charlestown Rehearsal Studios into more storage units. "Storage spaces just seem like a waste of space when you compare it to something like [a practice space]," said Andrew Kramer, a tenant.
Vengrove added that local businesses benefit from musicians practicing at Charlestown Rehearsal Studios. "On top of the community that is possible when you have such a dense population of musicians, you also get a benefit to the neighborhood businesses. People would bring food from Jenny's or Anna's Cafe or Brewer's Fork or go out to eat before or after practice, or hit up Charlestown Liquors for a six-pack, or go to Ace Hardware to grab something to fix gear," Vengrove said. "No one coming into Charlestown to go to their storage unit is going to serve any benefit to other businesses in Charlestown or the surrounding neighborhoods."
Charlestown shines a light on larger problems
Kevin Ordway, who's practiced at Charlestown Rehearsal Studios for the past five years, has good memories of the space. "The best part definitely was the size of the rooms," Ordway said. "You can actually move around, practice stage moves and all that crap … everybody that practiced there was super cool, wicked nice."
But if Charlestown Rehearsal Studios were to be converted into storage space, Ordway said that finding a place to practice would be tough. "It really screws us because there's Studio 52 left and they have a 10-mile-long waiting list going on. There's other smaller spaces, but that's getting more and more outside the city, which is hard," Ordway said. "[If] you want to have a strong culture of music and art in the city, you've got to provide people in that city areas to go express themselves and create that art that you like so much."
Ami Bennitt, a cofounder of the #ARTSTAYSHERE Coalition that was born out of organizing artists at Humphreys Street Studios in Dorchester, said artists need places to work on their craft, but the cycle of displacement pushes them out of their spaces. The more property values increase, the more businesses want to sell and the more developers buy. "What we like to practice is a term called place-keeping," Bennitt said. "If we can get in early enough when we know about potential displacement or development, we can have conversations with people from the neighborhood and with the owners and developers and say, 'how could we all work together?'"
Bennitt said that the long-term solution to displacement is to change the ownership model. "Whether that's turning into a nonprofit, whether that's getting an angel investor or crowdsourcing, whether that's becoming a co-op, etcetera, because otherwise the cycle will continue," she said. "You could talk to some musicians and artists and they've been displaced five times in their career because it keeps happening."
Organizing efforts and solutions
A press release issued by the City of Boston and the #ARTSTAYSHERE Coalition on Jan. 11 announced that starting March 1, displaced musicians from the Sound Museum will be able to move into a two-year interim practice space at 55 Morrissey Blvd. in Dorchester while a permanent home is being built in Brighton. Kara Elliott-Ortega, the city of Boston's chief of arts and culture, said in an email that while the interim swing space will prioritize Sound Museum tenants, anyone, including Charlestown Rehearsal Studios, can apply.
Regarding Charlestown tenants, Sum Studios in Malden has offered support should they be displaced. "Our existing expansion plan will support them in the spring and summer," said Bob Logan, director of Sum Studios. "In the interim, we're offering equipment storage and hourly studio access to displaced artists."

Much like the situation at the Sound Museum, Bennitt is working with tenants to make a plan, which could include delaying the expected eviction or finding a swing space. "Regarding Charlestown, we're just beginning that work and we're going to have to figure out what kind of real estate is available in Charlestown, who else has things going on." On Jan. 16, Charlestown Rehearsal Studios tenants formed a tenants association with the mission of creating a united front to better organize for their needs.
"That's the very point of starting the discussions — to say, okay, well you want it to be self-storage and the musicians need rehearsal space. Is there any possibility to do both? And if not, then we'll have to find new places for the musicians," Bennitt said. "I feel hopeful because the work that we're doing seems to be working. Whether you end up actually saving or rehousing a whole place is an ultimate win. But even raising awareness, getting more people to join the coalition, getting more people to wanna help, is a win." The tenants association will start meeting on a regular basis.
For Kramer, these organizing efforts are worth the work if the end result is seeing a robust music community. "Playing music and being able to meet with your friends and rehearse … it's really good for everything from your mental health to socializing from just doing something that you love," Kramer said. "[The music community] is a population that I really care about and I want to see thrive and enjoy themselves and be able to kick back and do something that they love. I think that's just as important as all the other very affluent voices in the city."